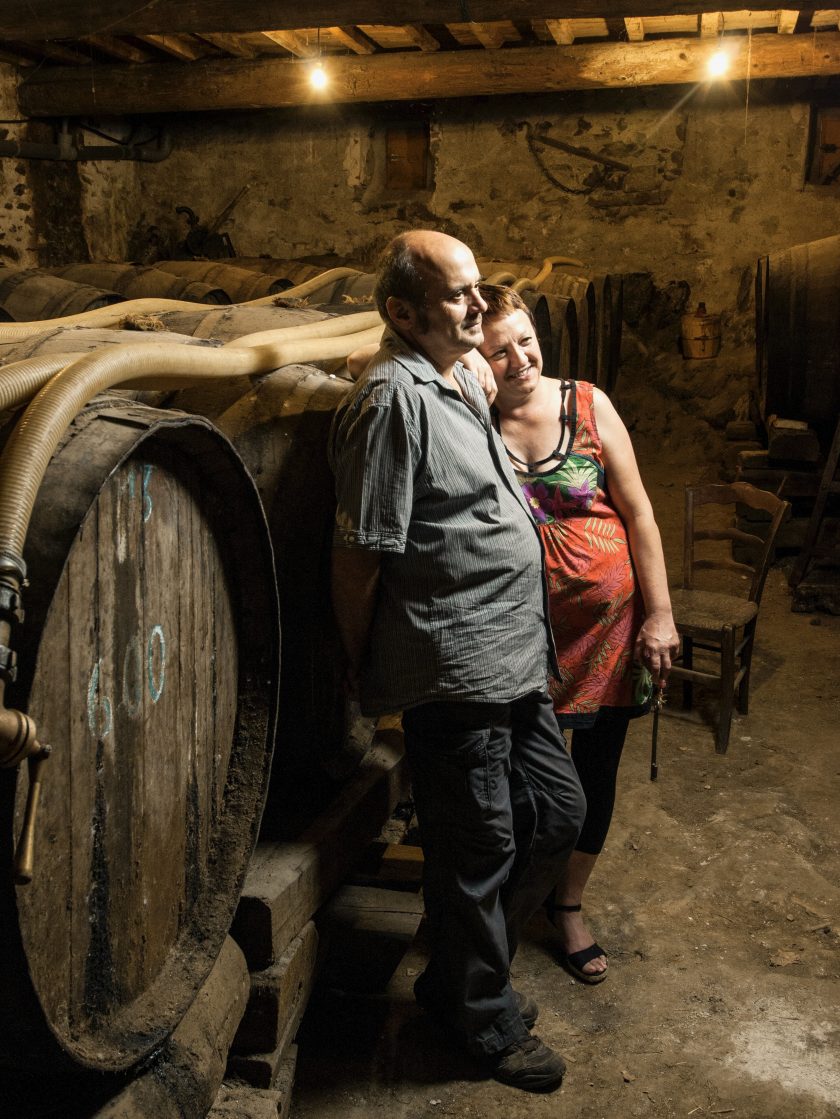 Domaine de Rancy
| | |
| --- | --- |
| Vigneron | Jean-Hubert Verdaguer |
| Location | Latour-de-France (Pyrénées-Orientales) |
| Size of Domaine | 17 ha |
| Terroir | Mediterranean climate, Tramontane (northern wind) influence. Limestone-clay and schist soils. Steep slopes and terraces, various aspects. 150-450m altitude. |
| Viticulture | Certified organic (Ecocert) |
| | View Domaine de Rancy wines ↓ |
Cyril Fhal from Clos du Rouge Gorge introduced us to Domaine de Rancy, extolling the virtues of their extraordinary long aged Rancio Sec and Rivesaltes VDN made (principally) from the white grape maccabeu. Based in the village of Latour de France in the Vallée de l'Agly, Jean-Hubert Verdaguer and his wife Brigitte were the first in the village to sell all their production in bottle back in 1989. Jean-Hubert's father Marcel founded the domaine in 1970, he used to take red grapes to the co-op while concentrating on making Rivesaltes (maccabeu) that he sold to private customers 'en vrac'. Their 50yo+ vines occupy prime hillside sites in the villages of Latour-de-France, Estagel and Montner, planted in a mix of schist and limestone soils. They have always looked after their land and vines sustainably, and with important holdings of maccabeu (12ha) they were a natural port of call for Cyril who buys his grapes here, picked early at a time of his choosing to make his Hors Champ dry white La Femme Soleil.

"Working with yields of around 16hh and ageing a significant part of their production for over 20 years, Rancy's work is a monumental labour of love."
Jean-Hubert and Brigitte specialize in producing oxidative wines and prefer to pick late harvested maccabeu in the autumn to make three cuvées of Rancio Sec. The rules for the Rancio Sec AC are fairly loose, stipulating the different grapes that can be used, a minimum ageing period of five years (doubled by the Verdaguer!), and that the wine must be dry with no added alcohol. Beyond that, most decisions are left in the hands of the producer, which leads to a fascinating diversity of production methods and expressions. Despite the appellation's young age (2011), making that particular style of wine is a centuries-old tradition. Only tiny quantities have been produced in this Catalan corner of France and the wines have traditionally been drunk by family and friends. But the recent uptick in interest in Roussillon's natural wines has helped bring attention to the category and the appellation was created. The production of Rancio Sec is non-interventional, you don't need to sulphur up your barrels, top up to prevent oxygenation, or add anything at the end of a long élevage that naturally stabilizes the wine.
Jean-Hubert presses the grapes and ferments the wine dry, gives it eight months élevage on the fine lees in cement, before transfer to 100yo 600ltr demi-muids for ten years barrel ageing, not topped up and with no voile (which doesn't form when the alcohol is 15% or higher). As the Rancio Sec ages and gently evaporates (at a rate of about 5% a year), its power is tempered and the incredibly complex 'goût de rancio' develops; umami driven flavours as well as chestnut, almond and dried fruit aromatics emerge, perhaps most similar in character and mouthfeel to a Sercial Madeira.
Blessed with the patience of saints, Domaine de Rancy go many steps further by producing VDN Rivesaltes Ambré aged for between 12 to 65 years, where late harvested maccabeu (plus a touch of grenache blanc/gris) is vinified in cement and then an home-distilled marc is added part way through the fermentation, typically leaving 125g/l of rs. After a couple of months ageing on fine lees, the fortified wine is then transferred into old barrels where it gently ages away, not topped up, in one of three cellars dug into the rock where a year round temperature of 18C is maintained (the same temperature is used for sherry cellars in Jerez). Whilst this may seem warm for a cellar, it's relatively cool in this region which endures fiercely hot summers, and it's a vital element for the gradual development of complexity in Rivesaltes. After such extended barrel ageing, the wines are naturally stable and often bottled with no added sulphur (and when used there is never more than 5mg/l added). When we visited and tasted in July 2018, we could buy the following vintages: 2004, 1992 (which after 24 years barrel age starts to get seriously complex), 1984, 1973 and 1952 made by Hubert's parents, all bottled off in 2017.
Working with yields of around 16hh and ageing a significant part of their production for over 20 years, Rancy's work is a monumental labour of love, and their reasonable pricing reflects an incredible generosity of spirit. There cannot be many producers in the wine world, where the grower chooses to age many vintages for more than 20 years. Even Jean-Pierre Boyer at Marquis Bel Air d'Aligre in Margaux would raise a quizzical eyebrow at the Verdaguer's business model!

Domaine de Rancy Wines
Domaine de Rancy
CÔTES CATALANES RANCIO SEC 2011
Well accustomed to exercising patience with their élevages, the Verdaguer picked the grapes late in 2011, fermented out dry to 18% and then gave this ten years demi-muids ageing (double the AC's minimum élevage requirement), before bottling unfined and unfiltered. A pale amber colour, the nose gives a blast of aromas from almonds, chestnuts, confit orange, fenugreek to marked salinity and even seaweed. On the palate it is very well-balanced offering up almond flavours, good acidity and a saline, umami quality playing and driving the wine on, with dry extract marking the finish. Like a dry Amontillado or Sercial Madeira, it's typically served at around 13C as an apéritif or alongside seafood, like the Côte Vermeille's famous anchovies, and it's brilliant with manchego and blue cheese too. For drinking now to 2030+.
Domaine de Rancy
RIVESALTES AMBRÉ 1992
Vin Doux Naturel
95% Maccabeu, 5% Grenache Blanc/Gris
(18% alc, 125g/l of rs)
Late harvested grapes were fermented in cuve, before the fermentation process was arrested by the addition of home-made marc. It was then given 24 years élevage in old demi-muids, not topped up at any stage before bottling in 2017. A deep amber, tobaccoey colour, it offers a herbal, medicinal nose, with prunes, saffron and typical saline edge. The palate is rich but silky and seamless (there's no heat whatsoever), with fig and prunes, orange peel, totally integrated sugars, umami and salinity leavened by an acidic cut and a super long finish. It would be extremely difficult to find a better Vin Doux Naturel and even the finest Tawny Ports would suffer by comparison. For drinking now to 2035.