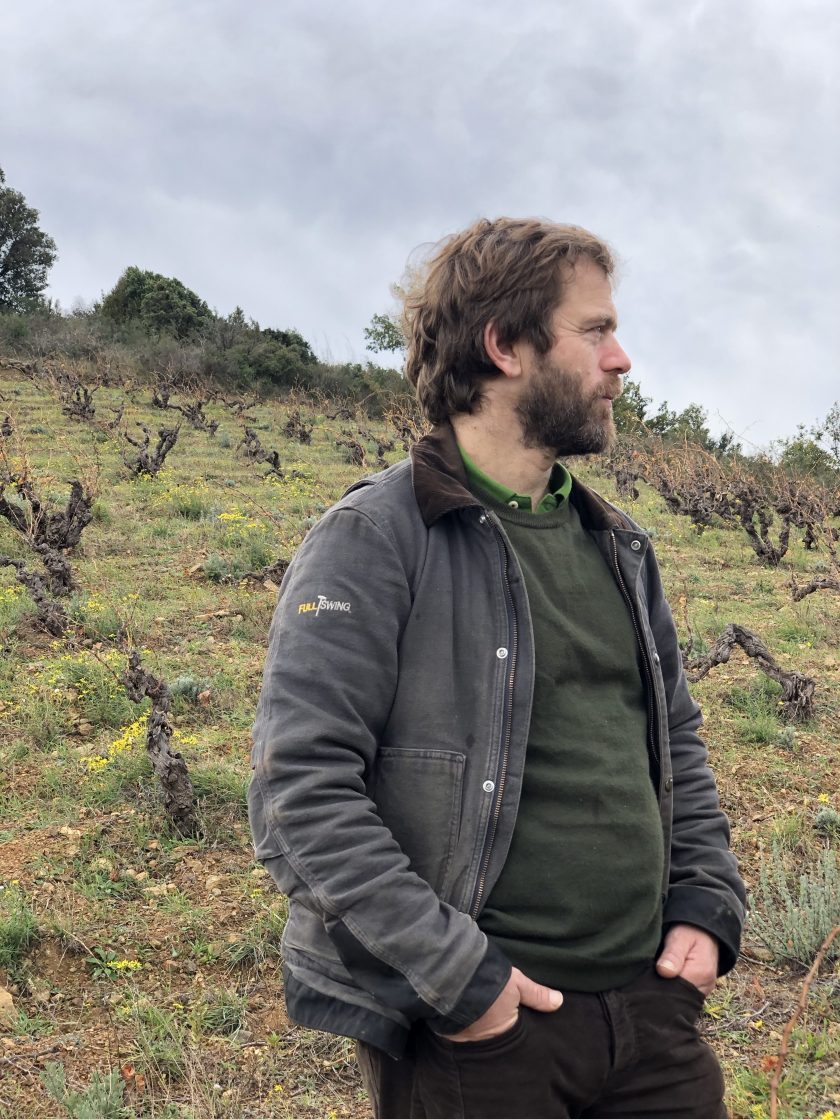 Clos du Rouge Gorge
| | |
| --- | --- |
| Vigneron | Cyril Fhal |
| Location | Latour-de-France (Pyrénées-Orientales) |
| Size of Domaine | 7.5 ha |
| Terroir | Mediterranean climate, Tramontane (northern wind) influence. Clay, limestone, schist, gneiss and granite soils. Steep slopes and terraces, various expositions. 150-200m altitude. |
| Viticulture | Practising biodynamic |
| | View Clos du Rouge Gorge wines ↓ |
Cyril Fhal's Clos du Rouge Gorge comes from the village of Latour-de-France whose schist and gneiss terroirs are some of the best in Roussillon.
Cyril bought 5ha of old vineyards in 2002 (since when he has gradually added another 2.5ha) having previously worked with Mark Angéli and Charlie Foucault in the Loire, and then as the chef de cave of Mas Crémat in Roussillon. Right from the outset he chose to work outside the Roussillon-Villages appellation, as he believes that rules such as prescribing a minimum 30% syrah and/or mourvèdre make for wines that are contrary to the tradition, soil and climate of Roussillon.

Since he took over, Cyril has searched for a natural balance in the vineyard to help give finer and more complex expressions in his wines. To avoid soil compaction he uses no tractors, just a motorized hand-held cultivator and a horse to help with ploughing. He also sows leguminous plants between the rows of vines, rolling them and folding them back in the summer so that they act as a reserve of humidity, helping each vine to suffer less from the heat and keep enough freshness in its grapes, which is crucial as the village of Latour-de-France is known to have the driest non-irrigated vineyard in the world (an average of just 250mm of rain a year). The crux of viticulture for Cyril is observing the nature of each of his vines and their environment with a lot of attention and reacting according to their specific needs.
Yields are tiny, in the 10-20hh range, and back in the new cave that he converted four years ago, the fruit is gently handled with extractions more like infusion, élevage in 500/600ltr demi-muids and foudres, no fining or filtration and total sulphur levels of just 10-15mg/l.
The range comprises two outstanding whites, the principal cuvée a mix of maccabeu and carignan blanc, with a couple of barrels of grenache gris producing a wine from the exceptional terroir of L'Ubac. The reds include a Jeunes Vignes grenache that shows that this grape can give wines with finesse and elegance, an old vine cuvée that is made from gnarled old carignan, and a red from L'Ubac that is a mix of carignan, grenache and cinsault. In addition, Cyril has just bottled off an exciting new cuvée called Col du Loup from a terroir that he prepared and then planted with grenache noir in 2014.

Cyril is a workaholic and held in maximum respect by his fellow vignerons, and such is the inspiring quality of the man and his work that all of the other growers in Latour-de-France have now adapted to organic viticulture.
All his wines are exceptional, southern by their flavours and northern by their tension, acidity, precision, freshness and incredibly low alcohols (for Roussillon) in the 12-13% range.
Losing half of his crop in 2016 because of drought, and employing four people full-time, Cyril was obliged to bring in some money to make ends meet and with good connections throughout Roussillon, he decided to source fruit from growers working organically in neighbouring villages, insisting on sending in his own team to pick the grapes at a time of his choosing. There is some exceptional fruit grown locally by growers who are more used to turning this into VDN, and launching a project called Hors Champ with his right-hand woman Alice Gendron, Cyril managed to extract some of their grapes to make very different, nuanced, terroir-driven wines with alcohol close to 12%.
The production is limited to around 4,000 bottles of both whites and reds, from which we have bought the two principal cuvées, La Femme Soleil, a maccabeu from 70yo vines grown on schist in Montner, and Une Vie La Nuit, a syrah grown in the highest altitude vineyards in Roussillon, at 600m on the slopes of Montalba and Trevillac.
Clos du Rouge Gorge Wines
Clos du Rouge Gorge
CÔTES CATALANES IGP 2018
70yo maccabeu planted on hillsides of gneiss and orthogneiss (north and east facing which helps to preserve freshness). The wine is aged with no bâtonnage in a new 500ltr barrel made by famous Austrian tonnelier Stockinger and several 4yo barriques. Delicacy, precision and terrific freshness characterise this wine, citrus and white fruits with herbal notes of lemon thyme, anise, lavender, mint, a mineral cut and saline with gentle bitters on the long finish. Unfined and unfiltered, very low sulphur. An excellent alternative to white burgundy. For drinking now to 2025+.
Clos du Rouge Gorge
CÔTES CATALANES IGP 2016
L'Ubac
100% Grenache Gris
(13% alc.)
Cyril's top cuvée of white comes from minuscule yields of 65-70yo vines planted in gneiss on the dramatic 70% hillside of L'Ubac. Cyril lost 50% of his production due to drought in 2016, and in the light of that problem, this laser-like fresh wine seems almost like a miracle. It definitely helps that the vines are planted on a north-facing hillside - Ubac is Occitan for the shaded side of a mountain. Mechanisation is impossible here, so viticulture is either carried out on foot or with the help of a horse. Vinified and aged slowly over 20 months in Stockinger demi-muids, this was bottled by hand with a micro touch of sulphur added at bottling of around 10mg/l. When we tasted this wine in July 2018, it was so good it sent shivers down Nick's spine (that doesn't happen very often!). The finesse and freshness are astonishing, the fruit is so sleek and stylish, the finish goes on forever with gneiss imparting a subtle stony character. A wine that puts almost all white burgundies firmly in the shade. Cyril has allocated us 12bts. For drinking now to 2026+.
Clos du Rouge Gorge
CÔTES CATALANES IGP 2018
Jeunes Vignes
Cyril's 'young' vines are 25yo, planted in thin soils developed over upturned schist. Vinified in 500ltr wooden cuve for three months, and then aged in stainless steel for eight months, to capture the fruit and freshness, Cyril's approach is one of extreme delicacy, producing a floral, finely tuned grenache with a notable schisty, mineral print and very fine grained tannins, miles away from the rustic brutes that grenache can sometimes produce.
Clos du Rouge Gorge
CÔTES CATALANES IGP 2017
95% Carignan, 5% Grenache
(13% alc.)
Very low yields from 70 to 100yo vines, meticulous grape selection in the vineyard, gentle extraction (more like infusion), sensitive handling of oak (ten months in recent 500ltr and older barriques), and minimal sulphur, combine to produce this extraordinary wine. It has a gamey hint of reduction on the nose that quickly floats off to reveal complex notes of dark cherry fruit with thyme/oregano, menthol, and a hint of nutmeg. This wine has radical finesse and freshness for a wine from Roussillon (or anywhere from the south of France). Unfined and unfiltered. For drinking now to 2030+.
Hors Champ
CÔTES CATALANES IGP 2017
La Femme Soleil
100% Maccabeu
(11.5% alc.)
Purchased from the organically certified Domaine de Rancy, the maccabeu comes from 70yo vines planted on the lower slopes of Montner in a schist derived soil. Aged in cuve primarily with just 15% in barrique for a little added texture, sulphur here is a very low total 10mg/l, the wine is very pure, and the fruit supple and attractive, with pears and peach to the fore and a hint of spice and pepper, with a nice saline touch on the finish.
Hors Champ
CÔTES CATALANES IGP 2020
Une Vie la Nuit
This wine comes from purchased grapes picked at the highest altitude in Roussillon at 600m on the hills of Trevillac and Montalba, permitting a long, slow maturing cycle, which help the freshness and delicacy in the wines. Cyril's idea was also to work the juice very delicately and make wines as close to the grape as possible. Aged in older barrels for just under a year and bottled off with a minute 10mg/l of sulphur it is very digeste and sapid, with black cherry fruit and hint of spice and salinity.