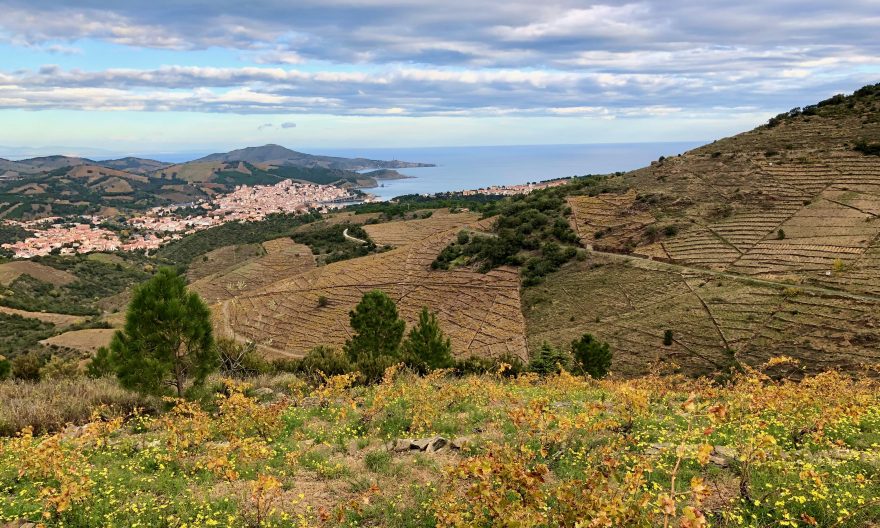 Oiseau Rebelle
| | |
| --- | --- |
| Vigneron | Guido and Melanie Hube |
| Location | Banyuls-sur-Mer (Pyrénées-Orientales) |
| Size of Domaine | 9 ha |
| Terroir | Mediterranean climate, Tramontane (northern wind) influence. Pre-Cambrian schists on steep terraces. 100-400m altitude. |
| Viticulture | Certified organic (Ecocert), practising biodynamic, permaculture. |
| | View Oiseau Rebelle wines ↓ |
Guido Hube emanates from Germany where he worked for 18 years as a senior lecturer at the German Wine and Sommelier School, chairing the national examination commissions at the end of his term. Together with his wife Melanie (who worked as a lawyer) and their three young children, they took the plunge and left behind the security of their old lives in 2014. Attracted by the terrific potential and quality of the terroir, they purchased 9ha of gnarled old vines on the precipitous, ancient, Precambrian schist-based hillsides scattered around Banyuls-sur-Mer on the Côte Vermeille. They are part of a micro-movement taking place throughout France of idealist winemakers from many countries (Japan, Denmark, Holland etc), taking a fresh, innovative approach, unfettered by current local tradition and practices, or as Guido puts it, "Using my privilege of the unclouded gaze of a stranger, I would like to humbly point out possibilities that work for this region, in order to lead back to ancient regional traditions".

Completely independent, quick to learn and working with a savage passion, they set about improving the condition of the vines, which had previously been treated conventionally, starting the process of organic conversion the following year. However, they weren't content to stick to organic guidelines, going way beyond. Coming from a scientific background Guido weighed up what the effects of working the soil would have both on his grapes and the environment. "Ploughing our soils would simply release very large quantities of nitrogen that could not be absorbed by the vines, and would eventually be washed away by rainfall into the Mediterranean, which I would not want at all. Furthermore, a greater amount of nitrogen would alter and complicate the fermentation process and would require corrective action that I don't want either". Always based on the matrix that his efforts are aimed at depicting the maximum reflection of his terroir with minimal influence, he develops and refines his own sustainable approach to work. He has completely cut out the use of copper in the vineyards, adds nothing whatsoever to the soil bar a sheep dung fertiliser (from their own sheep) applied homeopathically, and uses only elementary sulphur to protect against oidium (applied just twice a year).

Oiseau Rebelle's vineyards around Banyuls-sur-Mer have been painstakingly created over many generations, terrace after terrace, dry-wall after dry-wall, adopting the tormented topography of a location where the Pyrénées abruptly plunge into the sea on the Mediterranean border with Spain, and the Tramontane winds can reach a mind boggling 190km/hr. Guido and Melanie decided that every single task in their vineyards should be done by hand and foot, all the time respecting the rhythms of nature. After pruning the vines down to produce microscopically small yields (averaging around just 5hh), they leave the vines and the soils alone - no ploughing of the 80cm deep topsoil (avoiding erosion), going through the vines on a regular basis by foot, observing and learning, pulling out any unwanted weeds using a traditional xadic (hoe). Little by little they have adopted some biodynamic practices "without allowing ourselves to be discouraged by the waffle of certain theorists on the subject". As well as setting about strengthening and rebuilding the shallow stone walls which had fallen into disrepair, they have also started the herculean task of bagging up the many tonnes of earth that had slipped down to the bottom of the hillsides because of erosion, and reintegrating the soil throughout their vineyards.

When it comes to the harvest, they are assisted by a dynamic team of 40, who are well looked after, fed and remunerated, as Guido and Melanie consider it is vital that the team bring positive energy to the wines. All the grapes are harvested early in the morning during the coolest hours, and the crop is then brought back to the cave in a refrigerated truck. The grapes are meticulously sorted, destalked by hand, then crushed by bare foot and transferred into stainless steel vats for fermentation. After pigeage at the start, the must is (usually) not pressed and the wines are fermented and macerated on the skins for extended periods. No sulphur is used whatsoever for any wine, and bottling is carried out by gravity without any pumping. Attention to the tiniest detail continues with the use of small, dark glass bottles that have an extra coating of matt black paint applied to ensure no contamination from UV light, and high quality natural corks tested to guarantee no TCA.
Most of their wines are given extended periods on the skins, from a minimum of 12 months to 36 months. As Guido explains, "Strict selection and long maceration are the key to a balance of phenolics and terroir reference. A source of special inspiration were qvevri-aged wines from Georgia. As I want to mature essentially without oak, desirable phenolic qualities must therefore be concentrated in my wines. Long maceration ensures the presence of precisely these long-chain compounds which, on the one hand, have a sensorially balanced effect on wines, on the other, favour long bottle ageing".

Guido and Melanie are not the types to be constrained by administrative shackles and appellation rules that dictate that wines be made in a certain way, particularly when they fundamentally disagree with them (for example that Banyuls can only be made by the addition of spirit to fermenting wine). They researched local regional traditions and discovered that before the practice of 'mutage' began 150 years ago, unique sweet wines from late harvested members of the grenache family had been made in the Banyuls region for hundreds of years, helping to induce the Kings of Aragon to add this privileged land to their empire in the thirteenth century.
Their range of wines has a startling originality. One cuvée XRS was macerated on the skins for 18 months, and then aged for 30 months under flor. Another BRMTH is made from grenache noir pressed for three days for extra bitters to produce a wine very similar to Vermouth. Finally, CRBR produced from grenache noir harvested at the end of November, was vat aged including a period spent outdoors in the torrid summer heat to produce a naturally sweet, non-fortified and unsulphured Banyuls 'à l'ancienne' – this is one of the most exciting vin doux we have tasted.
Oiseau Rebelle counters the trend to pick earlier and earlier which often makes one-dimensional wines – Guido and Melanie want to accurately reflect their terroir as it is. The wines are so packed with umami, tannins, salt, minerals and just so drinkable you don't notice the alcohol. Re-interpreting the wines of the Côte Vermeille? Or, more simply a return to a willingness to let the original grapes of a great terroir speak for themselves, which the recent industrial, chemical and mechanised era has only devalued and undermined. Very few winemakers accomplish what the couple has achieved since starting from scratch just six intense years ago. Their dynamic work ethic, sensitivity to nature and creativity assure a very bright future.
Oiseau Rebelle Wines
Oiseau Rebelle
XRS 2015
Vin de France
85% Grenache Gris, 15% Grenache Blanc
(14.5% alc.)
This cuvée was macerated on the skins for 18 months until March 2017 and, inspired by the wines of Xeres (Jerez), 150ltr was aged in one 220ltr 3yo barrel under flor until Sep 2019 when the flor broke down. Just 360bts of 370ml were bottled in October 2019. It offers a beautiful onion skin colour with a glint of pink and is subtly nutty with a hint of oak on the nose. It is dense, dry, spicy and nutty on the palate with herbal, medicinal notes, with the flor conferring almond flavours, sapidity and a silky texture with both lift and umami on the very sustained finish. For drinking now to 2025+
Oiseau Rebelle
BRMTH 2015
Vin de France
100% Grenache Noir
(17.5% alc.)
In 2015 one of Guido and Melanie's young daughters tragically died, hitting the family very hard. Amidst their sadness they were somehow inspired to produce another unique cuvée. They decided to produce a wine like a Vermouth from black grapes but rather than adding sugar to a base wine, simply used the clear juice from ripe late October harvested grenache noir (so a blanc de noirs). The grapes were pressed hard (for three days) to extract the maximum bitters. It was fermented dry leaving just 0.9g/l of rs and an alcohol level similar to most dry Vermouth, then aged in a reductive atmosphere in stainless steel for two years without touching at any stage. It offers a beautiful deep coppery colour, intense herbal, menthol, black cherry on the nose with notes of dark chocolate, tobacco and Indian spice. On the palate there is a terrific play between the fruit and bitters, with a restrained power and gentle tannic grip, salinity, and excellent lift on the finish.
Oiseau Rebelle
CRBR 2016
Vin de France
95% Grenache Noir, 5% Grenache Gris
(14% alc, 224g/l of rs)
Guido and Melanie explain the reasoning behind the name of this cuvée: "We've opted out of the Banyuls appellation and Cerbère is the name of the little village close to us and next to Banyuls. It's also the name of the mythical dog with three heads that guards hell!" If conclusive proof were needed that you don't need to corrupt top quality juice with the addition of spirit to make the finest Banyuls, this extraordinarily good and naturally sweet (red) wine provides it. Super late harvested on 22nd November (with sugars indicating a potential alcohol of 26.5%!), destalked by hand, then foot trodden, the juice was given plenty of pigeage at the outset, then allowed to tick along, slowly fermenting in a stainless steel vat with no sulphur added whatsoever. The vat was put outside in the early summer heat, Guido explained, "Based on a very simple, practical consideration: if fermentable sugar is not metabolised under conditions that promote fermentation (a wine temperature of 27C) then there is the greatest possible certainty that unintentional fermentation after bottling is also impossible." Bottled in July 2017, on the nose it has a mesmerising array of aromas – fig, pine needles, cigar-leaf, spice, menthol. There is a tannic framework on the palate, with notable dry extract but the voluptuous sweet fig and prune fruit is set at ease by a beautiful freshness and acidity, super ripe tannins, sense of umami and saltiness on the finish. For drinking now to 2030.