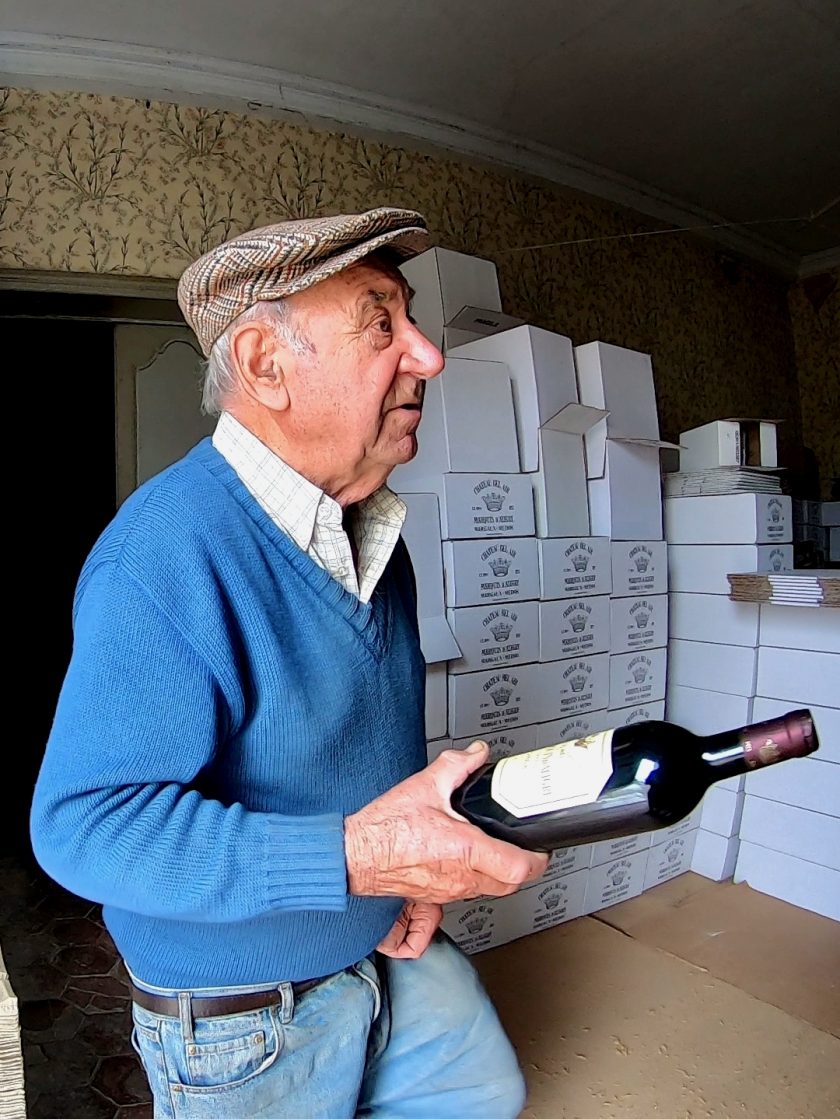 Château Bel Air Marquis d'Aligre
| | |
| --- | --- |
| Vigneron | Jean-Pierre Boyer |
| Location | Margaux (Gironde) |
| Size of Domaine | 5 ha |
| Terroir | Atlantic climate. Quaternary soils of deep gravel, sand and clay-limestone. Mostly flat and gentle hills around 25m altitude. |
| Viticulture | Lutte raisonnée |
| | View Château Bel Air Marquis d'Aligre wines ↓ |
Château Bel-Air Marquis d'Aligre in Margaux is run by the redoutable Jean-Pierre Boyer who at 86 years old (in 2019) has produced 69 vintages in his life, all of them at the same propriété. He remembers helping his dad making the legendary 1947!
What is even more remarkable is that during all these years almost nothing has changed at Bel-Air Marquis d'Aligre: the vines, the winery, the way Mr Boyer makes the wine, while everything else has changed around him, as he likes to point out.
The one and only notable adjustment was the oak barrels which he got rid of in the 1950s, as he regarded them as mere marketing gimmicks and reverted to cement tanks for both fermentation and ageing.

"When tasting Jean-Pierre's wines, one gets a glimpse of a bygone era when Bordeaux on such incredible terroirs were made to last, were released when ready and never exceeded 12.5% alcohol."
Jean-Pierre owns close to 50ha but only thirteen are planted, eight of which are leased to illustrious neighbours, and the other five worked by himself with the help of one trusted employee who has been with him for over 20 years. The youngest vines are more than 50yo while the oldest ones are co-planted and can reach over a century. Ancient strains and lost varieties are also found among the five traditional Bordeaux varieties with none of them exceeding 35% of all plantings.
Yields here are very low, around 25-30hh, extraction is delicate, and the wine is aged for three years in 100hl cement cuves, before bottling after fining but with no filtration. The wines are then bottle-aged for many years before release, being protected by Jean-Pierre's "little friends who he has an agreement with" - a group of bats live in the ancient chai and hunt butterflies who would otherwise lay eggs in the cork spoiling the wines in return.

Jean-Pierre is an affable character, always happy to share his views on the world whether you would like to hear them or not. He doesn't care too much for technical details - yields, proportions in the blend, cuvaison, extraction, none of these matters much to him as long as what's in the glass speaks honestly of its origins.
When tasting Jean-Pierre's wines, one gets a glimpse of a bygone era when Bordeaux on such incredible terroirs were made to last, were released when ready and never exceeded 12.5% alcohol. These are incredibly long-lived wines (40 years plus!) that show a level of elegance, subtlety and complexity all too rare in Bordeaux nowadays. They are monuments of a past slowly coming back to life under the impulse of domaines such as Clos du Jaugueyron, Closeries des Moussis, Château des Graviers, Champ des Treilles and others.
Château Bel Air Marquis d'Aligre Wines
Château Bel Air Marquis d'Aligre
MARGAUX 2001
35% Merlot, 30% Cabernet Sauvignon, 20% Cabernet Franc, 10% Petit Verdot, 5% Malbec
(12.5% alc.)
It's quite rare to be the first UK importers of this wine direct from the estate (it's sometimes available via the grey secondary market) from a vigneron who has already produced 68 vintages in his life and is 85yo (in 2018)! The vines here are suitably old, some over 100yo, from the west of the appellation above Virefougasse, where there is a fine, sandy texture to the soils. Jean-Pierre Boyer has never followed trends, dispensing with all oak for ageing back in the 1960s and instead carrying out a long patient three years élevage in cement cuves, and then selling the wine when it's at least ten years old. All his wines are renowned for their long ageing capacity. Tasted from cuve the young juices show incredible breed and class, they are very pure (no herbicides) and harmonious with an old viney stamp and reserve. The 2001 is quite open, offering a brick red colour, black cherries and red currants, mid weight with good intensity on the palate. For drinking now to 2030.