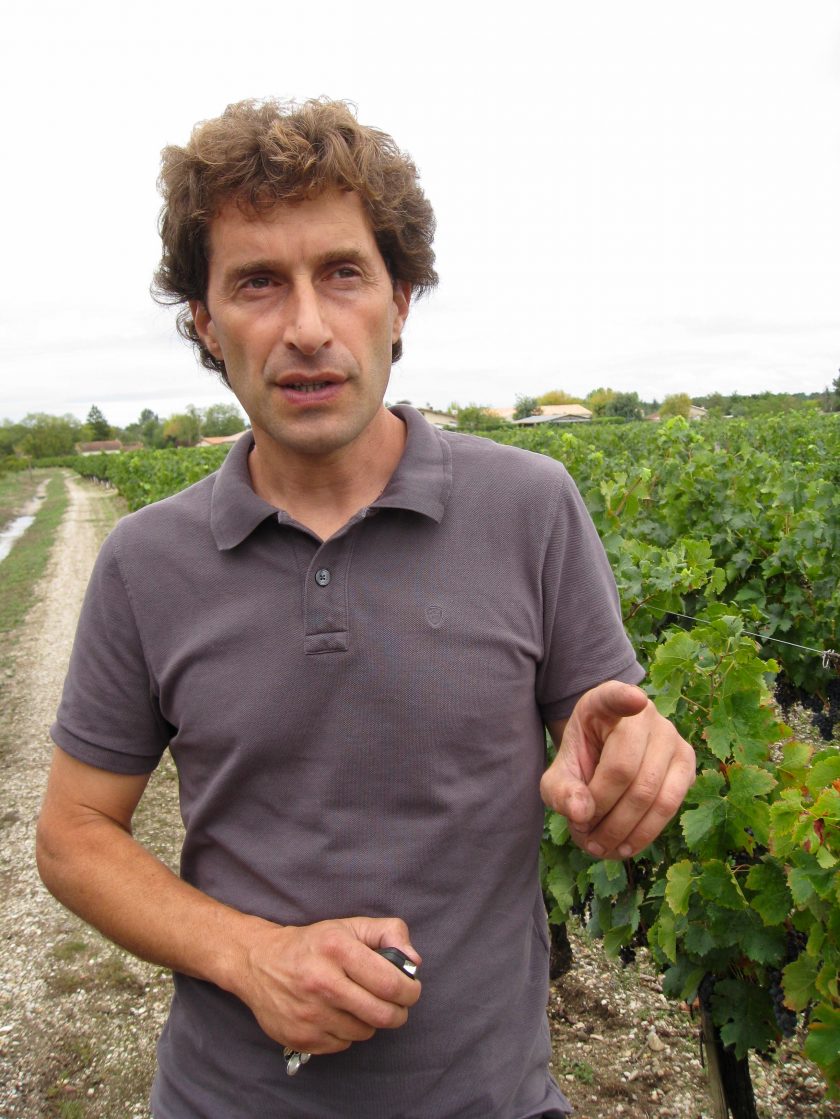 Clos du Jaugueyron
| | |
| --- | --- |
| Vigneron | Michel and Stéphanie Théron |
| Location | Arsac (Gironde) |
| Size of Domaine | 7 ha |
| Terroir | Atlantic climate. Deep quaternary graves: gravels, quartz pebbles, sand with clay in some parts. Gently rolling hills. 25m altitude. |
| Viticulture | Certified organic (Agrocert) and biodynamic (Demeter) |
| | View Clos du Jaugueyron wines ↓ |
Originally from Minervois in Languedoc, Michel Théron was destined to take over the family domaine after completing his studies in Bordeaux but he fell in love with his now-wife Stéphanie, a Bordelaise, and never went back.
Michel quickly became fascinated by the history and beauty of the Médoc and bought his first parcel in Cantenac in 1993, 0.4ha of ungrafted vines that gave their name to the domaine. This historical plot was subsequently leased to their friends Laurence Alias and Pascal Choime when they created Closeries des Moussis.
As outsiders without substantial financial means, Michel and Stéphanie showed patience and determination to acquire vineyards through different fermages (long-term leases). They reached 8.5ha before reducing their holdings to 7ha (4.2ha Haut-Médoc, 2.8ha Margaux), "we want to enhance quality and preserve our health", the couple recently commented. Anticipating the end of some of these contracts, they managed to buy 2ha of abandoned land in Margaux which nobody wanted because of their proximity to the cool and humid Landes forest (susceptible to violent attacks of mildew). Michel and Stéphanie, on the other hand, love taking risks and saw this as an opportunity to benefit from the surrounding woods and its biodiverse wildlife. They painstakingly cleared it, sometimes reclaiming from the forest, and planted at a high density of 10,000 vines per ha.

Clos du Jaugueyron is now composed of 16 parcels around Macau and Arsac, scattered between forest, ocean, and estuary. Granted Demeter certification back in 2008, Michel loves being among his vines, observing and connecting to nature, he adapts his work to the many different soils, sub-soils, and micro-climates of the area.
The winery is rudimentary, at least compared to the regional norm, and is conveniently placed next to their house in the middle of the Landes. Fermentations take place in cement tanks with 20-50% whole bunches, extraction is tailored to each cuve and cépage – it is as light as possible (especially on the cabernets) with a few remontages at the start followed by pigeages done by hand for precision. The wines are manipulated as little as possible at all stages, they are neither racked nor ouillé during their 12-21 months élevage in old barrels and diamond-shaped concrete tanks – it allows Michel to use very low levels of sulphur of around 25mg/l total.
Keen to constantly progress, they tweak things every year to better reflect and express their terroir, and they don't shy away from experiments. For instance, they developed a 'pied de cuve' technique where the CO2 released from the starter is used to inoculate the tanks as opposed to adding and blending some of that starter "which eliminates some families of yeasts other than Saccharomyces Cerevisiae, eventually uniformising taste".

Open-minded and altruist Michel and Stéphanie are pioneers who inspired and fostered a new generation of vignerons Bordelais such as Closeries des Moussis, Osamu Uchida and Vincent Quirac (Clos 19 Bis). They work in harmony with nature to bring the best out of their legendary terroir and, in the process, show the world that Bordeaux hasn't lost its soul.
Clos du Jaugueyron Wines
Clos du Jaugueyron
HAUT-MÉDOC 2017
60% Cabernet Sauvignon, 30% Merlot, 5% Cabernet Franc, 5% Petit Verdot
(13% alc.)
This is a wine of real poise from a small domaine where no effort is spared to produce exceptional wine from biodynamic viticulture. Mid-plum in colour, the nose is understated with hints of cherry and mocha. The palate offers supple, silky fruit. Oak has been well handled and the fine tannins are well knitted in. 2017 was a year of frost, it brings early pleasure, lifted structure, and freshness. Low sulphur of around 25mg/l total. For drinking now to 2025.
Clos du Jaugueyron
MARGAUX 2016
Nout
55% Merlot, 45% Cabernet Sauvignon
(12.5% alc.)
Nout (Egyptian goddess of water and fertility) comes from 25yo vines planted in a gravel-clay soil in the lieu-dit of Tertre. Yields are a low 29hh, and the wine was aged for a year in 50% new oak and 50% 1yo barrels. We love this cuvée from the well balanced classic year of 2016, with its higher proportion of merlot making it relatively open in its youth, it has the purity, clarity of fruit and elegance that you come to expect from Jaugueyron, with a mineral fleck of salinity on the finish. For drinking now to 2030.
Clos du Jaugueyron
MARGAUX 2015
70% Cabernet Sauvignon, 25% Merlot, 5% Cabernet Franc
(12.5% alc.)
Clos du Jaugueyron's top cuvée is a selection from specific parcels and barrels oriented towards cabernet on the best terroirs – the soils are deeper and more gravelly in the higher part of the vineyards where cabernet is usually planted, and sandier for merlot in the lower part. This cuvée is aged for 12 months in 85% new and 15% one-year-old barrels, then allowed nine months in cuve to settle. Michel used a higher proportion of whole bunches in 2015 to balance and tame the power of the vintage. This has a dark cherry colour, very sensitive extraction, the class and reserve of cabernet, and terrific fine-grained tannins on a long finish. An outstanding wine for drinking now to 2035.
Clos du Jaugueyron
THE RISK-TAKERS 2020
Vin de France
50% Petit Verdot, 50% Merlot
(12% alc.)
Michel & Stéphanie attended our London trade tasting 'Bordeaux The Risk-Takers' back in March 2019. On their way back to the Médoc, they dreamed about creating a new cuvée, a special one to be labelled with the striking visual from the event's poster. Michel explains, "I wanted to make a 'poulsard-like' Bordeaux, an extremely 'digeste' wine with lovely bitters – mission impossible with our varieties and climate, right?". The resulting wine comes from vines on graves soils around Macau (Haut-Médoc); hand-destemmed petit verdot steeped in free-run juice merlot for a short cuvaison (without extraction) in concrete vats. Eight months ageing in old 400ltr barrels, and bottled with a homeopathic dose of SO2 only. 1,100 bottles produced, intended for drinking with friends and family. Stéphanie adds, "we loved this event, we were thrilled by the dynamism of the crowd, and got touched by the poster design – the visual captures the essence of what we do, it inspired us." Special dedication to designer Mateusz Piekarski at GPWorks, merci Monsieur!