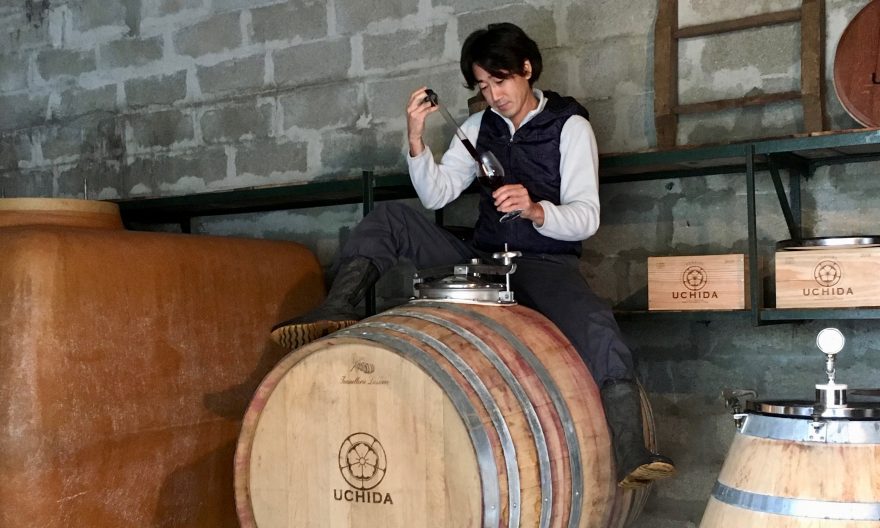 Osamu Uchida
| | |
| --- | --- |
| Vigneron | Osamu Uchida |
| Location | Pauillac (Gironde) |
| Size of Domaine | 1 ha |
| Terroir | Atlantic climate. Draining graves and clay-limestone soils, surrounded by Landes forest and isolated from other vineyards. 25m altitude. |
| Viticulture | Organic certified from 2021 |
| | View Osamu Uchida wines ↓ |
Osamu Uchida grew up in Hiroshima where his parents had a wine shop, fascinated with French culture and having a strong desire to work in wine he made the trip to France in 1999. After learning some basic French, he enrolled for a course on viticulture and oenology before travelling throughout the country, working stages and visiting as many as 300 domaines over ten years.
Like many, his vision of Bordeaux as a wine region was tainted by the bling-bling and corporate image, but drawn to the region's long winemaking history, the quality of its terroir and hooked up by the spirit of camaraderie between like-minded vignerons (e.g. Closeries des Moussis, Clos du Jaugueyron, Château des Graviers) he discovered another facet of Bordeaux. It completely changed his mind and he found himself settling down even though that was never the original plan!
In 2015, after months of research, he finally found a tiny 0.6ha parcel surrounded by cool and humid Landes forest, in the village of Cissac-Médoc, west of Pauillac and St Estèphe. Planted with cabernet sauvignon only and completely secluded. This is a stunning place which Osamu tends like if it was his back garden and where he practises agroforestry. Everything is done by hand with complete focus, precision and obsessive attention to details in typical Japanese fashion.
His gentle approach in the cellar allows him to coax incredibly supple, succulent fruit out of his vines. He produces a mere 2,400 bottles of the cuvée Miracle – when nature permits – from his garage just 125m away from Mouton Rothschild's headquarters. Osamu's wine is lifted, incredibly fine and pure, and rarely above 12% alcohol.
Osamu has recently taken over another 0.4ha plot in Cissac from where he produces the merlot-based cuvée Mélodie, and we hear more tiny 'fermages' are coming into play as well as plans for a brand new cellar...
Osamu Uchida Wines
Osamu Uchida
HAUT-MÉDOC 2019
Miracle
100% Cabernet Sauvignon
(12% alc.)
Osamu has just 0.60ha of 30yo vines in a tranquil spot near Cissac-Médoc surrounded by pine forests (the previous owner ploughed, never used chemicals and sold his grapes to the co-op!) from which he produces just 2,400bts in a good year. Vinifications and élevage are carried out in his garage just 125m away from the high-tech headquarters of Mouton Rothschild! Destalking the grapes by hand, a cool fermentation with pigeage by hand, very gentle extraction (half traditional, half carbonic maceration from the whole grapes not broken up by pigeage), no racking, ageing in one year old 500ltr barrels, no fining or filtration help to produce this beautiful wine. All finesse, it has a very delicate colour, silky structure, no impact from oak, blackberry and blackcurrant fruit with an energetic fresh zing and tannins well knitted in. SO2 total around 40mg/l.