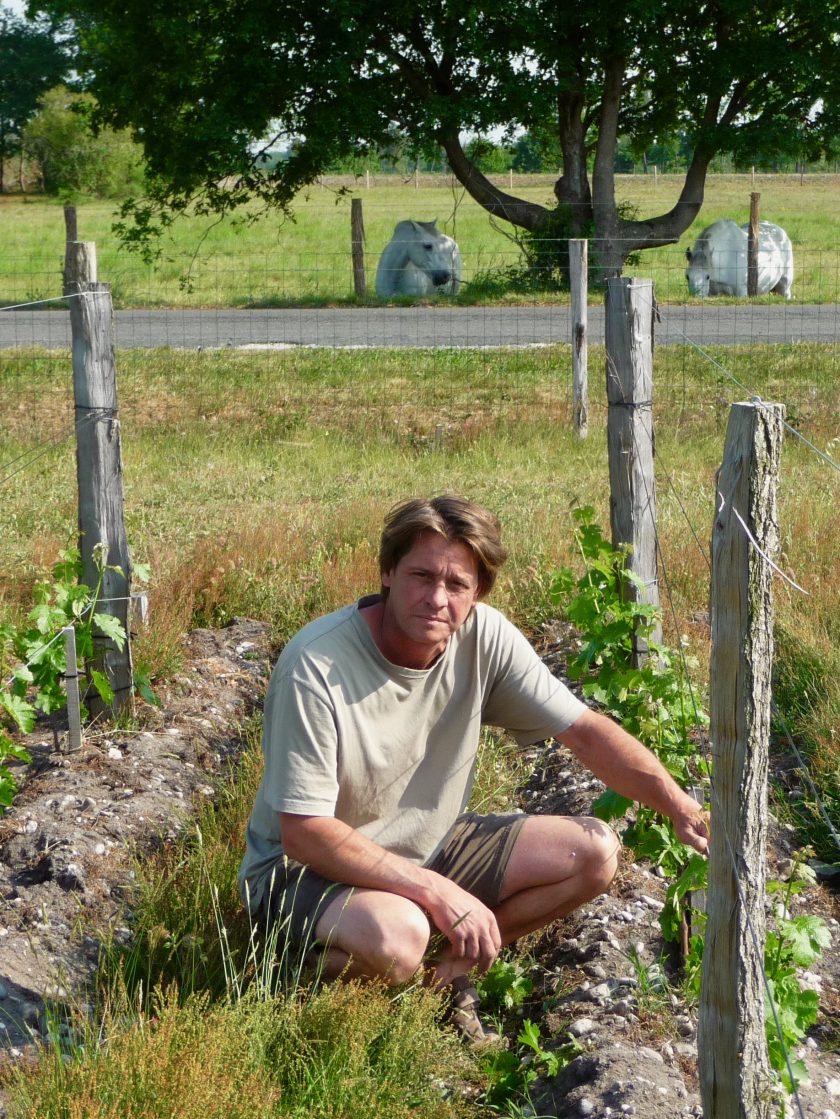 Château des Graviers
| | |
| --- | --- |
| Vigneron | Christophe Landry |
| Location | Arsac (Gironde) |
| Size of Domaine | 19 ha |
| Terroir | Atlantic climate. Deep quaternary gravels with clay-limestone. Some parcels are surrounded by Landes forest. 20-25m altitude. |
| Viticulture | Certified organic (Agrocert) practising biodynamic |
| | View Château des Graviers wines ↓ |
Christophe Landry came back to Arsac in the mid-1990s to take over the reins of the family estate, becoming the fifth generation at the helm. As he observes, "the vineyard is constructed generation by generation, and all you can do is guide it towards the future. For that, we continue to work in an old-fashioned way whilst respecting cosmic rhythms".
Christophe is a hard-working countryman, "love of the land led us to the vine", far removed from the social airs and graces associated with the appellation. But whilst founded on the sound principles of previous generations his work is far from old fashioned – he is a perfectionist with a restlessly sharp mind that questions every little detail, always trying to progress and make better and better wine.

Working with a grower like Christophe Landry in an area where there is sadly still so much mediocrity gives you a little bit of hope for a better world.
The Landry family owns 60ha of land – vineyards alternate with Landes forest as well as meadow and grassland where horses and cows graze peacefully. Christophe knows each parcel of his vineyard inside out, feeling closer to Burgundy in spirit than Bordeaux. Only the best lieux-dits are retained – he doesn't believe in second wines – if a parcel isn't good enough then he sells it on.
Château des Graviers encompasses 14ha of vines split into four main blocks – Le Gravier near the domaine itself, there are also parcels next to Rauzan-Ségla, Issan, Tertre and Monbrison. Christophe increased his holdings by 5ha in 2008, in the lieu-dit of Au Poujeau de Perrain, where 11ha were admitted into the Margaux appellation in 2007 after exhaustive and protracted geological studies of the soil and sub-soil. A unique terroir surrounded by forest and teeming with wildlife where Christophe planted five varieties (including carmenère, malbec and petit verdot to enhance the aromatic range of his wines), and built a state-of-the-art, eco-friendly chai dedicated to these 5ha of vines. The first vintage (2019) will soon be released under the Clos Dufour label as a tribute to a previous generation of the family who developed the estate.
Essentially Christophe's vines are planted on ancient river terraces whose gravel banks (from the quaternary period) are as much as 23m deep. At 14 to 16m you come across many pebbles in the gravels, and there's very little clay, which helps to drain the soils very effectively. The gravel banks are separated by a small series of streams that take away the drained water out to the estuary. The vines have established very deep roots in these soils, extracting mineral elements which bring complexity.

As his wife Isabelle explained to us, "Christophe improved his viticulture by his day to day experiences working in the vineyards for almost three decades". Even though applying the principles, he does not seek biodynamic certification only because that would mean adhering to someone else's rules. The neighbours initially called him Le Druide (referring to the French comics Asterix), "but now they come and knock on his door to ask how it all works!", she comments.
Given the biodiversity on his land that are rich in flora and fauna, Christophe lent some plots to a couple of friends 'maraîchers' (fruit and vegetable producers) who also specialise in medicinal herbs, altogether they produce as many sprays as possible from grasses planted or found in and around the vineyards. They also co-plant fruit trees (used as trellis systems) and different vegetables to create beneficial symbiotic interactions with the vines. Each variety of vine is trained individually, according to what suits best, there is no trimming of the apex, no de-leafing around bunches of grapes, and Christophe experiments non-pruning on some parcels.

At harvest, the grapes are initially sorted by the 'vendangeurs' when picking, and then again at the end of each row. Vinification is carried out by specific parcel and cépage by cépage. Christophe's attention to detail extends to choosing the trees from which his tonnelier makes his barrels and drying the staves for a year longer than most before they are made into barrels. And after exhaustive trials, obsessed by the texture of his wines, he's decided on 400ltr barrels to age his merlot, 225ltr barrels for cabernet sauvignon, and a mix of 600ltr wooden cuves, 500ltr amphoras and 170ltr clay jars for his cabernet franc, malbec, petit verdot and carmenère.
As well as the main wine, Christophe also occasionally produces a special cuvée called Quintessence, made from the barrels, amphoras, cuves that please him the most, usually producing around 2,000 bottles. And that's not all, as Christophe cellars his wines until the point that they start to open out before he sells them. The wines are models of suppleness, purity and finesse with a notable mineral vibration, and they are an incredibly good value for money too!
Working with a grower like Christophe in an area where there is sadly still so much mediocrity gives you a little bit of hope for a better world.
Château des Graviers Wines
Château des Graviers
MARGAUX 2016
61% Cabernet Sauvignon, 26% Merlot, 5% Cabernet Franc, 8% Petit Verdot, Carménère and Malbec
(13% alc.)
Each grape in this wine is produced on the terroir best suited to its qualities and vigneron Christophe Landry practises a different method of pruning for each grape. His merlot is aged in 400ltr barrels and cabernet sauvignon in 225ltr barrels. The percentage of new oak is adjusted according to the strength of the vintage – fluctuating around 30% – the balance comprising 1-2yo barrels. It offers a clear, bright black cherry colour, a kernel of rich fruit with great depth, and superb texture with good freshness and marked mineral flavours. Very, very long on the finish. For drinking now to 2030+.
Château des Graviers
MARGAUX 2016
Quintessence
65% Cabernet Sauvignon, 20% Petit Verdot, 10% Merlot, 5% Malbec
(13% alc.)
Christophe only makes this wine in good vintages and then selects the components by taste from the barrels/cuves/amphoras that please him most, making a bit more than 2,000 bottles from around 0.50ha of vines averaging 30yo. The juice is vinified by parcel and by grape variety for one year in a mix of new and 1yo 400ltr barrels, 600ltr cuves en bois, 170ltr clay jars and 500ltr amphoras. It is then assembled and aged for a further year in 30% new 400ltr barrels, 30% 1yo 400ltr barrels and 40% in 170ltr clay jars. As will be clear there is a lot of work and thought involved! Christophe is driven by texture in his wines, and ensuring that oak élevage does not dry out the fruit in any way – all the wood used in his barrels are chosen at source by Christophe and then the wood is aged for a minimum of four years before being made into barrels. The combination of grape varieties and selection of the best lots combine to give a wine with a thrilling purity of fruit, with more depth and resonance than the main cuvée, and a marked mineral salinity on the finish. For drinking now to 2035.