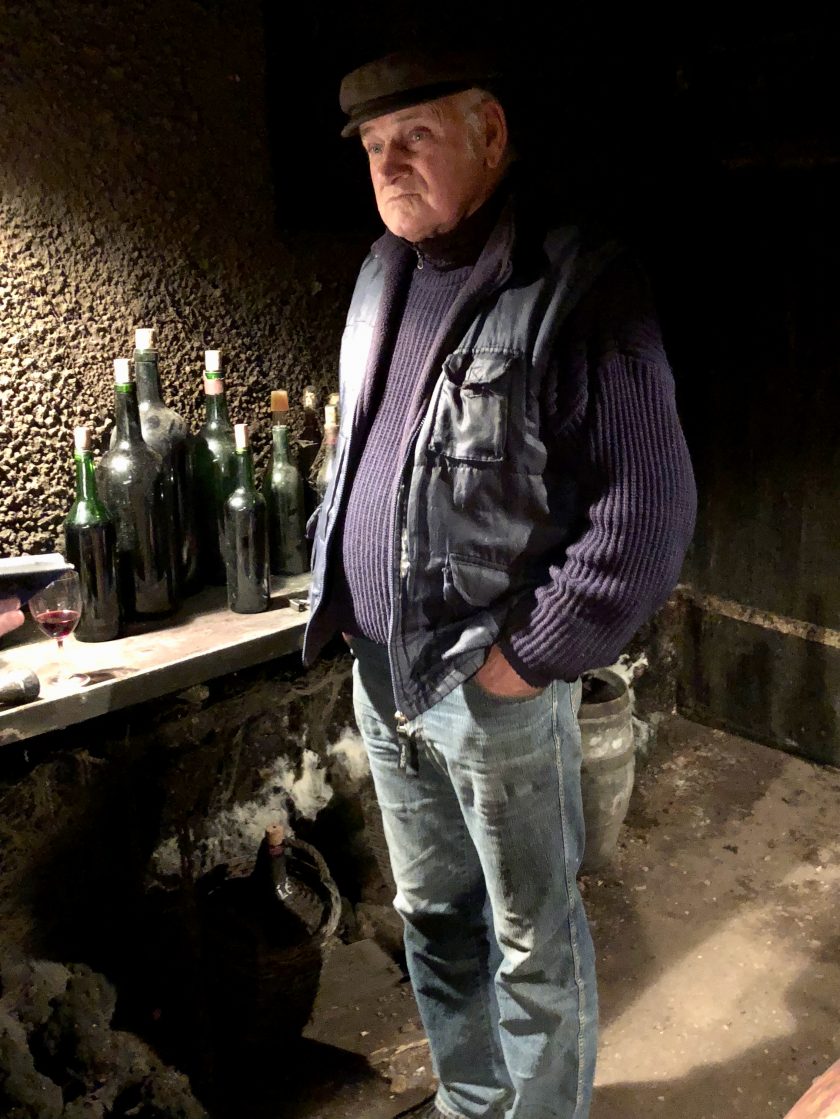 Domaine du Jaugaret
| | |
| --- | --- |
| Vigneron | Jean-François Fillastre |
| Location | Beychevelle (Gironde) |
| Size of Domaine | 1.3 ha |
| Terroir | Atlantic climate. Deep draining gravelly soils with sandy clay and limestone. Gentle undulations around 20-40m altitude. |
| Viticulture | Practising organic |
| | View Domaine du Jaugaret wines ↓ |
Jean-François Fillastre's Domaine du Jaugaret has been in the family for more than 350 years.
He took over the 1.32ha estate in Saint Julien (surrounded by the vines of Gruaud-Larose and Ducru-Beaucaillou) in 1983 following the death of his father who had made the wine here until the age of 90! And without any concessions to fashion or critics, Monsieur Fillastre makes wines exactly as his forebears.
"I make wine to uphold family tradition, not to make money. I try to preserve the old ways", Monsieur Fillastre says.
So old vines, minimal treatments, hand ploughing, no sulphur (other than burning a sulphur stick to clean barrels after racking), three years élevage, fining with egg white are the norm here. And the wines seem to live forever.
We once were lucky to visit whilst he was recorking a small number of 1985. He cracked a bottle and Oh Quel Plaisir! Such charm, restraint, left bank Bordeaux in all its glory – just don't think about opening a bottle until it is at least nine years old.
Giving his wine three years élevage in old barrels and using no sulphur frequently bring him into conflict with the authorities who grant ACs, and three of his last ten vintages have been declassified to Vin de France. Not a problem for Monsieur Fillastre so long as his wines give him and his customers pleasure.

Perhaps more worrying, the government recently decided that to obtain permission to buy and apply bouillie bordelaise (a classic anti-fungal treatment composed of copper and sulphur and used by many organic growers) vignerons had to take a one-day course to learn how to handle it.
Stubborn as he is and having used it for the best part of 40 years, the proud Jean-François refuses to take the course "unless Bernard Arnault and François Pinault take it with me!", he says defiantly. And since then he has not been allowed, nor has he tried, to buy the infamous bouillie bordelaise, rendering his low-yielding old vines defenceless against fungal attacks in a climate prone to mildew.
Subsequently production has been even lower over the past few vintages but, thankfully, quality is as high as it's ever been.
Domaine du Jaugaret Wines
Domaine du Jaugaret
SAINT-JULIEN 2012
80% Cabernet Sauvignon, 20% Petit Verdot, Merlot and Malbec
(13% alc.)
A jewel of a wine made from a clutch of low yielding 50yo plus vines in Beychevelle, surrounded by vines from the famed St-Julien Crus of Ducru- Beaucaillou and Gruaud-Larose. Aged in 2-10yo barrels for three years and racked every four months, it is no wonder that in its youth it doesn't taste anything like wines aged in new oak that are then rushed into bottle after 18 months. Whether the authorities deem his wine St-Julien or Vin de France, it's all the same to owner Jean-François Fillastre. This is strictly for those with a little patience who can age this wine. Given proper ageing, its purity and finesse make it a rival for its Grand Cru Classé neighbours. For drinking now to 2040.