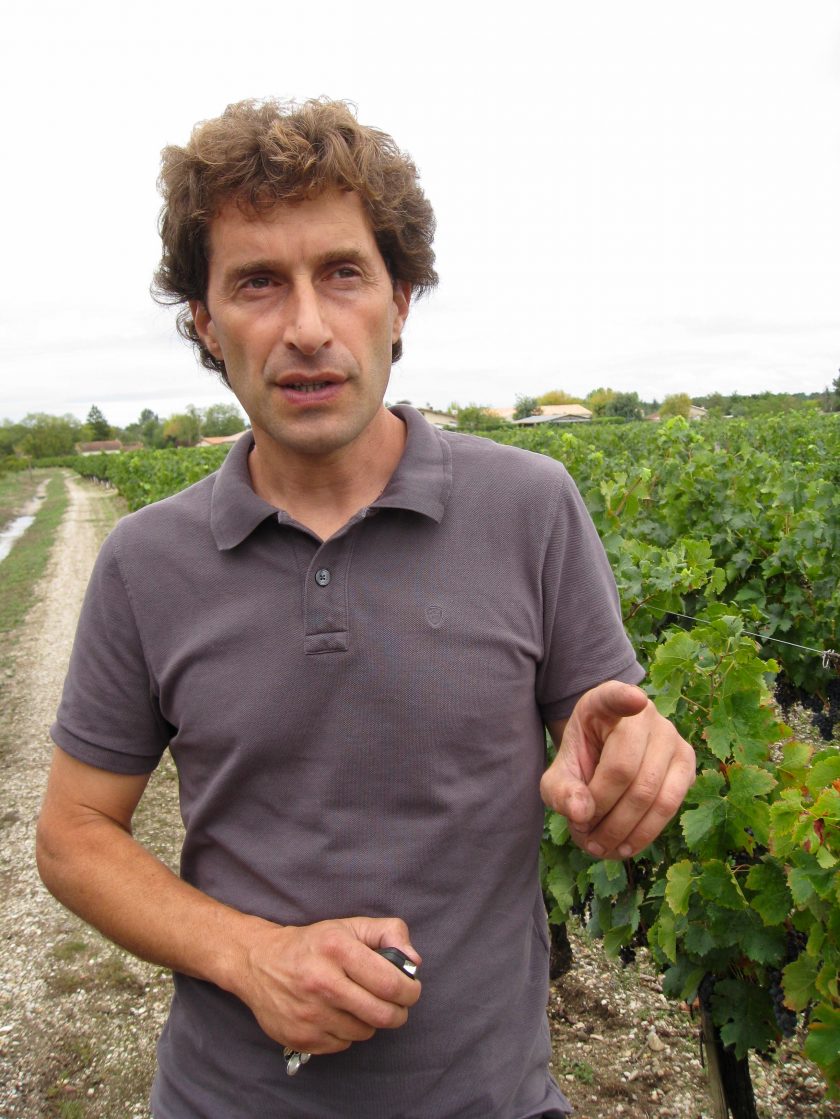 Clos du Jaugueyron
| | |
| --- | --- |
| Vigneron | Michel and Stéphanie Théron |
| Location | Arsac (Gironde) |
| Size of Domaine | 8.5 ha |
| Terroir | Atlantic climate. Deep quaternary graves: gravels, quartz pebbles, sand with clay in some parts. Gently rolling hills. 25m altitude. |
| Viticulture | Certified organic (Agrocert) and biodynamic (Demeter) |
| | View Clos du Jaugueyron wines ↓ |
Originally from Minervois in Languedoc, Michel Théron was destined to take over the family domaine after completing his studies in Bordeaux but he fell in love with his now-wife Stéphanie, a Bordelaise, and never went back.
Michel quickly became fascinated by the history and beauty of the Médoc and bought his first parcel in Cantenac in 1993, 0.4ha of ungrafted vines that gave their name to the domaine. This historical plot was subsequently leased to their friends Laurence Alias and Pascal Choime when they created Closeries des Moussis.
As outsiders without substantial financial means, Michel and Stéphanie showed patience and determination to acquire vineyards through different fermages (long-term leases) to reach 8.5ha today. Anticipating the end of some of these contracts, they managed to buy 2ha of abandoned land in Margaux which nobody wanted because of their proximity to the cool and humid Landes forest (susceptible to violent attacks of mildew). Michel, on the other hand, loves taking risks and he saw this as an opportunity to benefit from the surrounding woods and its biodiverse wildlife. He painstakingly cleared it, sometimes reclaiming from the forest, and planted at a high density of 10,000 vines per ha.

Clos du Jaugueyron is now composed of 16 parcels around Macau and Arsac, scattered between forest, ocean, and estuary. Granted Demeter certification back in 2008, Michel loves being among his vines, observing and connecting to nature, he adapts his work to the many different soils, sub-soils, and micro-climates of the area.
The winery is rudimentary, at least compared to the regional norm, and is conveniently placed next to their house in the middle of the Landes. The wines are manipulated as little as possible at all stages, fermentations take place in cement tanks, and the wines are neither racked nor ouillé during their 12-21 months élevage, which allows them to use very low levels of sulphur of around 25mg/l total.
Keen to constantly progress, they tweak things every year to better reflect and express their terroir, and they don't shy away from experiments. For instance, while all their wines are aged in oak, their latest cuvée (called Perrain) is a pure expression of cabernet sauvignon and franc (no merlot) on the deep quaternary gravels of Margaux, aged for three years in diamond-shaped concrete tanks.
Open-minded and altruist Michel and Stéphanie are pioneers who inspired and fostered a new generation of vignerons Bordelais such as Closeries des Moussis, Osamu Uchida and Vincent Quirac (Clos 19 Bis). They work in harmony with nature to bring the best out of their legendary terroir and, in the process, show the world that Bordeaux hasn't lost its soul.
Clos du Jaugueyron Wines
Clos du Jaugueyron
HAUT-MÉDOC 2015
60% Cabernet Sauvignon, 30% Merlot, 5% Cabernet Franc, 5% Petit Verdot
(13.5% alc.)
This is a wine of real poise from a small 5ha domaine where no effort is spared to produce exceptional wine from biodynamic viticulture. Mid-plum in colour, the nose is understated with hints of cherry and mocha. The palate offers supple, silky fruit. Oak has been well handled and the fine tannins are well knitted in. Very low sulphur of around 25mg/l. For drinking now to 2025.
Clos du Jaugueyron
MARGAUX 2014
Nout
55% Merlot, 45% Cabernet Sauvignon
(13% alc.)
Nout comes from 25yo vines planted in a gravel-clay soil in the lieu-dit of Tertre. Worked biodynamically now by Michel and Stéphanie, yields are a low 29hh, and the wine was aged for a year in 50% new oak and 50% 1yo barrels. We love this cuvée from the well balanced attractive year of 2014, with its higher proportion of merlot making it relatively open in its youth, it has the purity, clarity of fruit and elegance that you come to expect from Jaugueyron, with a mineral fleck of salinity on the finish. For drinking now to 2025.
Clos du Jaugueyron
MARGAUX 2014
70% Cabernet Sauvignon, 25% Merlot, 5% Cabernet Franc
(12.5% alc.)
Michel and Stéphanie Théron's top cuvée is a selection from specific parcels and barrels oriented towards cabernet (the soils are more gravelly in the higher part of the vineyard where cabernet is planted and sandier for merlot in the lower). Aged for 12 months in 85% new and 15% one-year-old barrels, then nine months in cuve to settle the wine. This has a dark cherry colour, very sensitive extraction, the class and reserve of cabernet, and terrific finegrained tannins on a long finish. VLQ. Low sulphur. For drinking now to 2034.