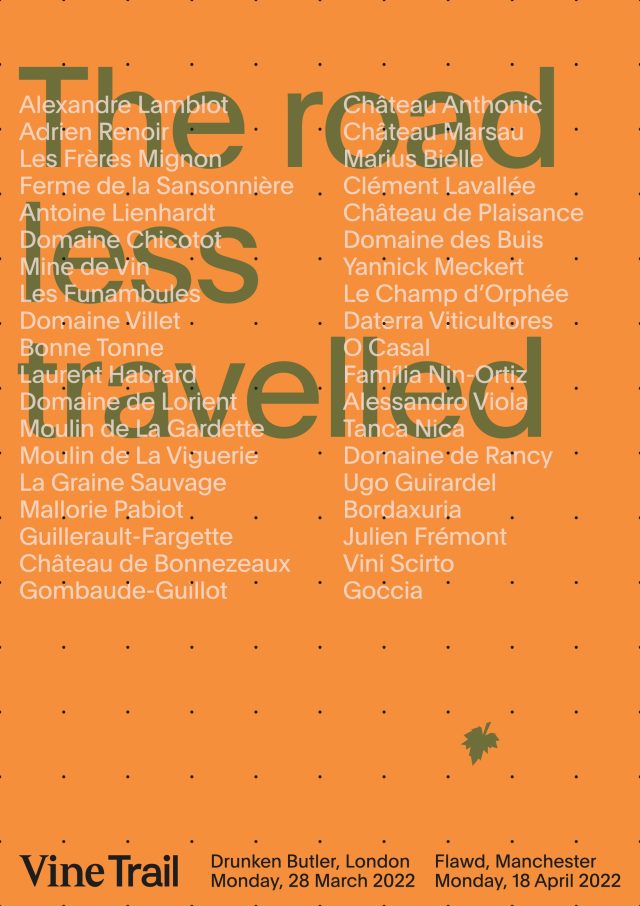 The road less travelled
Dates

28.03.2022

18.04.2022

Locations

The Drunken Butler – London

Flawd – Manchester
In 2020 and 2021 we took a punt – despite adverse trading conditions we travelled extensively, visiting growers, their vineyards and cellars, nurturing close relationships and creating new ones.
Dodging restrictions and lockdowns, we hit the road less travelled and kicked off collaborations with 38 exciting new growers (full list on poster above). From underrated regions to established ones, we've championed the individual, the unique, the underdog.
We will host trade tastings to showcase these vignerons at The Drunken Butler (London) on Monday 28th March, and at Flawd (Manchester) on Monday 18th April.

This will be a rare opportunity to sample the wines of some iconic growers but also discover the emerging talents of tomorrow.
Please be aware these tastings are for those working in the trade, and registration is essential for all attendees.