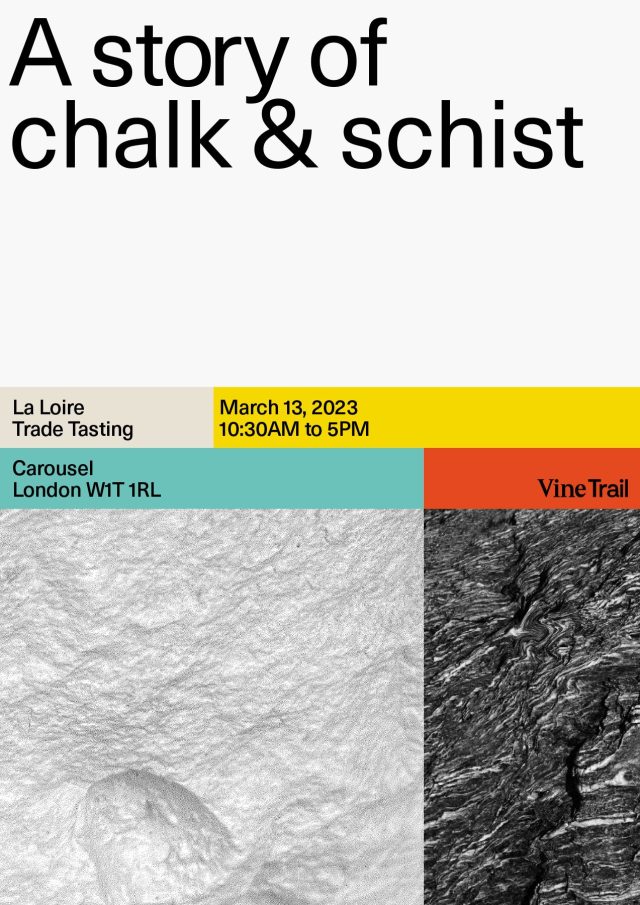 La Loire — A story of chalk & schist
Date

13.03.2023

Location

CAROUSEL
19 Charlotte St, London W1T 1RL
On Monday 13th March we'll resume our regional tastings to showcase the wines of La Loire. The focus will be on the 'Anjou-Saumur & Touraine' geological jigsaw to compare the impact of soil types on chenin & co.
Heading towards the Atlantic Ocean, La Loire runs its course over the many forms of chalk which characterise the Bassin Parisien; as the river leaves behind the limestone of what is known as L'Anjou Blanc (white Anjou), it flows onto more ancient metamorphic and igneous rock formations – the mostly darker schists of L'Anjou Noir (black Anjou).
Every domaine we work with will be represented – see full list below – and most growers will be on hand to pour their wines. This will be a rare opportunity to sample the wines of iconic vignerons but also discover the emerging talents of tomorrow.
CHALK
Domaine de Bellivière
Michel Autran
Bertrand Galbrun
Château de Coulaine
Le Petit Saint Vincent
SCHIST
Stéphane Bernaudeau
Ferme de la Sansonnière
Deboutbertin
Clément Baraut
Constantin Vellis
Richard Leroy
Château de Plaisance
Château de Bonnezeaux
Thomas Batardière
Julien Delrieu