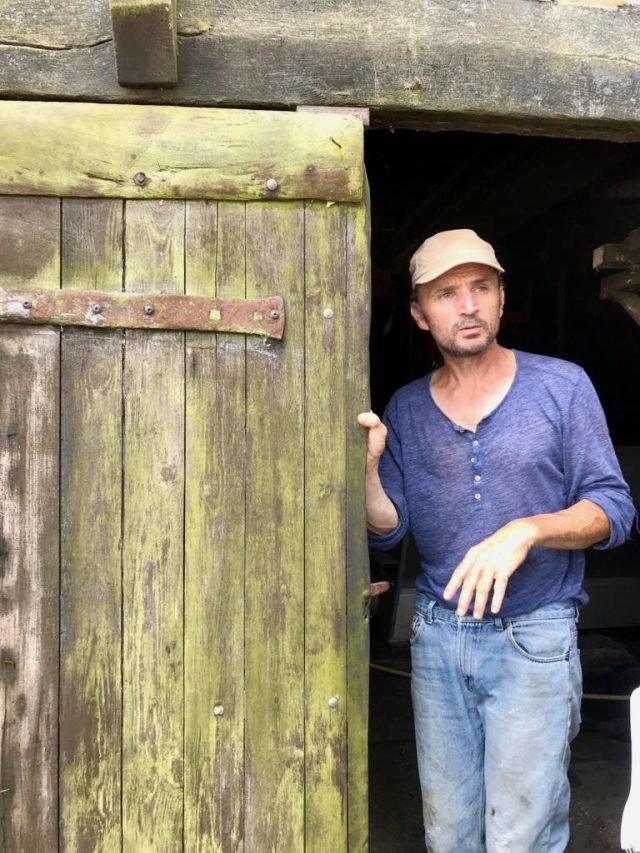 Calvados – Julien Frémont
The Pays d'Auge area of Normandy has a rich agricultural heritage renowned for its famous cheeses, the creamy Camembert and punchy Livarot, as well as being France's largest grower of apples, with a dizzying array of varieties perfectly adapted to the local terroir. Its mild, humid, verdant valleys of clay with silex are lavishly carpeted with luscious green grass, making it a perfect pasture for the Norman cows who graze these hillsides and apple orchards – a unique symbiosis dating back to at least the 8th century.

Nestled in this abundant landscape, in the village of St-Georges-en-Auge, Julien Frémont's farm is a traditional half-timbered farmhouse with 40ha of land that's been in the family since its original purchase in the 1750s. Still dedicated to growing apples – to make cider and calvados – and raising cattle, there are 15ha planted to orchards, including many centennial apple trees that only produce fruit biennially on average. The remaining 25ha is pasture for the 20 (or so) cows that help maintain the orchards – mowing the grass, pruning the trees' lowest branches, providing natural fertiliser, and eating the fallen apples until it's time to harvest from October until early December.

Although much has remained the same at the Frémonts' farm, Julien has been working tirelessly to take the estate to the next level – overseeing the organic certification and advocating the importance of biodynamic practices and permaculture – he's kept a cattle with old breeds as he knows how crucial they are for the health of the orchards. A pioneering spirit he inherited from his father (from whom he took over in 1999) who was the first in the family to bottle his calvados under the Pays d'Auge AC and sell directly from the property.

There are more than 20 different apple varieties randomly planted by massal selection – bisquet, orpolin, groin d'âne, doux moen, egyptia, noël des champs, moulin à vent to name a few – each has its own unique ripening period, sweet and sour balance, and individual contribution to the final calvados blend. Julien's savoir faire allows him to create a blend at harvest (on the spot) based on maturity and taste of the different varieties; he presses the selection together to make a single complete juice rather than pressing many single varietal juices to be blended back together.

Harvest is carried out by hand using ancient wooden baskets, poles, ladders and nets. The fruit is carried up to the granary loft via a pulley system where it cures for up to three months allowing for a natural concentration of flavours. Once ready, the apples are crushed to macerate on their skins for up to 24hrs, and then loaded into a rare, water-operated press with cloth dividers (built by Julien's ancestors in the 1800s) – 800kg produces roughly 500ltr of apple juice, the mulch is given to cows to eat and eventually return to the orchard. Natural fermentation takes place in centuries-old foudres for 6 to 8 months, producing a cider between 5 to 8% alc.
The cider is then continuously distilled in column still (similar to an Armagnac alembic) as opposed to the traditional double distillation via pot stills (Cognac style) compulsory for the Pays d'Auge AC. The resulting eau-de-vie comes out at a high 70%, it spends 3-6 months in younger barrels (up to 4yo) to add structure and 'sucrosité', and then ages in old barrels (50-70yo) for 3 to 5 years – the élevage occurs in a 'cave chaude' (warm cellar) meaning high evaporation and angel's share; Julien also gradually reduces the alcohol with tiny additions of the farm's pristine spring water bringing the calvados down to its final 42-45% alc.
Alcohol content and length of ageing are based on the strength, depth and balance of the original eau-de-vie, another showcase of Julien's skills. He comments, "the alembic acts as an amplifier, it is therefore key to focus on all parameters pre-distillation: healthy orchard, apple varieties and ripeness, native yeasts, quality and age of barrels, no additives whatsoever, etc."
Back in the day, during harvest in the Beaujolais, Julien met Jean Foillard and friends – it quickly distilled in him a vision for the future of his family's farm: first and foremost preserving this 'petit coin de paradis', and then stepping away from the Pays d'Auge AC to make "fresh and 'digeste' calvados with purity of fruit and high drinkability" via continuous distillation – column stills provide a purer, cleaner distillate than pots, though pot stills produce a more powerful spirit, richer in congeners that need long ageing. This soon connected him with like-minded people, vignerons and restaurant owners alike, who found his calvados uniquely pure, reminiscent of the apples and terroir it's made from. A recognition that landed Julien with a regular spot at the cult wine fair La Dive Bouteille, and a cosy space on the shelves of the best Parisian bistrots: Le Baratin, Verre Volé, Repaire de Cartouche etc.