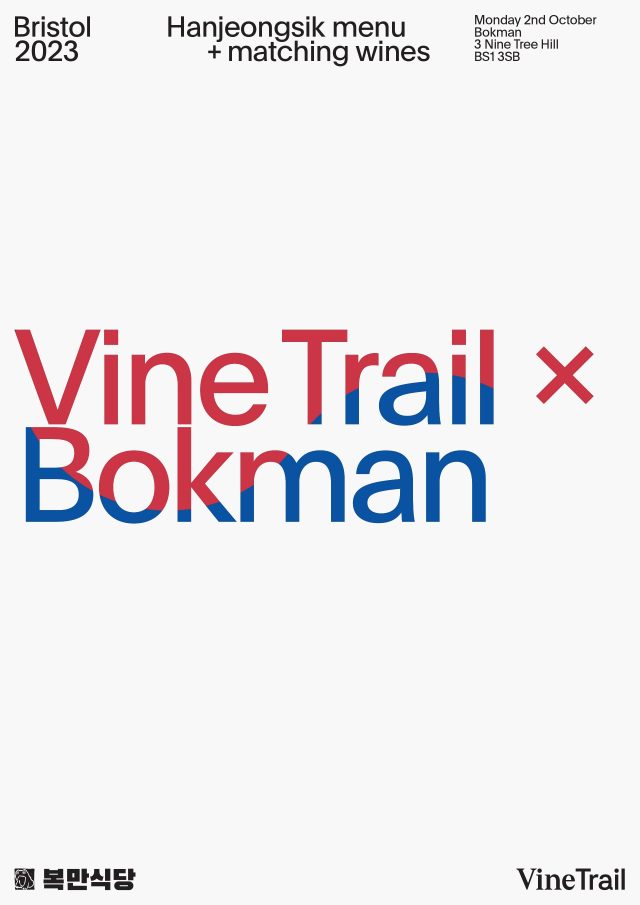 Vine Trail x Bokman
Date

02.10.2023

Time

Seatings from 6PM to 8:30PM

Location

BOKMAN
3 Nine Tree Hill, Bristol BS1 3SB

Price

£110 including wines and service charge
SNACKS 주전부리
Crudités with 5 year old house fermented ssamjang.
Icefish paper and kelp crisps.
NV Champagne La Loge, Pierre Gerbais
Porlock oyster with kimchi ice.
Jumeokbap with gamtae seaweed, oscietra caviar.
2019 Alsace Lieu-dit Rittersberg, Beck-Hartweg

Young Korean radish and mustard leaf dongchimi.

RAW 회
Wild cornish sea bream sashimi, home brewed soy sauce, simmered kelp, fresh wasabi.

2020 Côtes-du-Jura Savagnin, La Pierre, Les Granges Pâquenesses


FISH BONE BROTH 매운탕
Mojaban tofu, dulse salad, whelk with chojang, seasoned radish leaves.
2021 Tavel La Combe des Rieu, Moulin de la Viguerie, Rhône


RICE 식사
Wagyu dolsotbap, chanterelles, perilla seed oil dressing.
Pickled mushrooms with virgin sancho oil, fermented squid condiment, selection of kimchi.
Doenjang stew.
2017 VDF Clangrenourvèdre, Oiseau Rebelle, Banyuls


DESSERT 후식

Matcha soft serve, red bean jam, tteok.
2022 Neta Madrecuixe, Don Tomas Cruz, Miahuatlán Oaxaca


RESERVE NOW