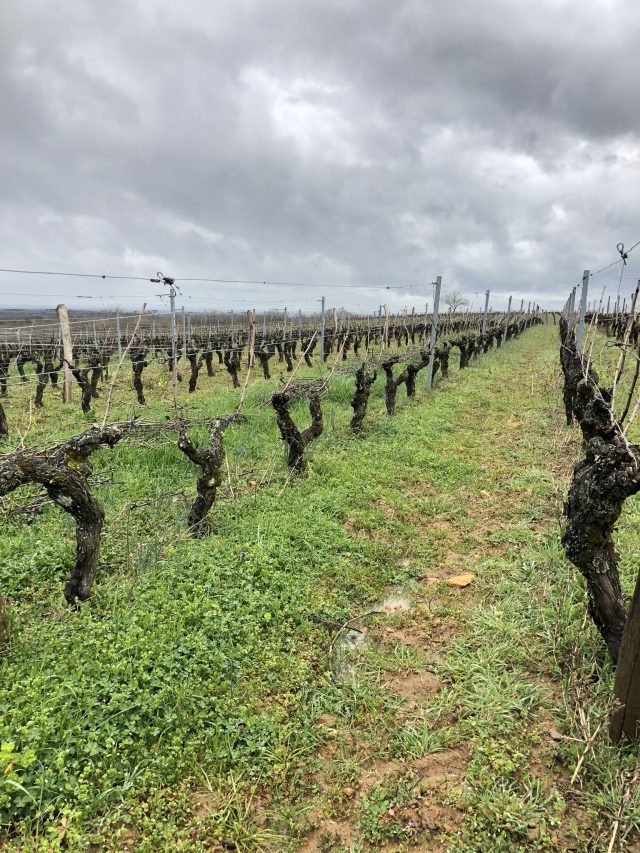 Jura – Three New Domaines
| | |
| --- | --- |
| Author | Jean-Remi Barris |
| Date | August 5, 2019 |
It's no secret that the wines of the Jura are close to our hearts – we were after all the first ones to take the region seriously when in 2004 we started importing the wines of Jacques Puffeney and Labet senior – so you can imagine how incredibly excited we are to introduce not one, not two but THREE new domaines.
Created in 2010 Domaine de Touraize may be fairly recent but it has already grabbed the attention of the press and other growers. In fact we recently found out that Vincent Aviet sent his son there for a stage which is testament of the esteem in which he holds André Jean Morin, the owner of the estate. Most of the vineyards are in Arbois so the reds do superbly well here, the trousseau especially are extremely fine and pure. Located in the Sud Revermont, Domaine des Marnes Blanches is a neighbour of the likes of Julien Labet and Jean-François Ganevat. As we all know now, Chardonnay and Savagnin do extremely well there and the whites of Geraud and Pauline Fromont do not disappoint: there's a beautiful interplay between weight and tension, pristine fruit and the terroir really does shine through. Definitely one to look at for all the Julien Labet fans. Those of you who have been to Le Nez Dans Le Vert may already be familiar with the wines of Les Dolomies. The domaine is bang in between Touraize and Marnes Blanches, just south of Poligny and here again it's the whites that take the spotlight. They're slightly riper and fleshier than in the Sud Revermont, the fruit is more expressive, sometimes exotic, with plenty of drive and tension behind. Céline has managed to garner an incredible following for such a young domaine – created in 2008 – so allocations are on the minuscule side.

At a time when Burgundy prices are going ever higher, we feel that the wines of the Jura offer a brilliant alternative at a fraction of the price, and we would strongly recommend anyone who is still not convinced to take a good look at these wines. Both reds and whites are every bit as fine and complex as their more illustrious neighbours and, if anything, the winemaking seems to be less obtrusive, there's less sulphur and new oak, allowing the terroir to shine through immediately.
Domaine de la Touraize
With vineyards in some prime sites in Arbois, it was only a matter of time before André-Jean Morin – AJ for his mates – decided to leave Arbois Fruitière, the local co-op, to start his domaine. The Morins have been vine growers from father to son since 1650, bottling their production for the most part till AJ's grandfather joined the co-op when he returned from World War One. Traumatised by the horrors of the war, he came back to vineyards that had been neglected despite the best efforts of his wife and her sister and, like most people in the Jura at the time, he reluctantly hung up his winemaking boots and proceeded to sell most of his vineyards, keeping the Touraize parcel only. AJ's dad, though he stayed with Arbois Fruitière, went on a buying spree to bring the total acreage up to 12ha, the size of the domaine today. AJ too kept bringing his fruit to the coop for the first half of his career, but he couldn't resist the temptation of working with the fruit he so carefully nurtures the rest of the year and created Domaine des Touraize in 2010.
Today about half of the vineyard's output is used for the domaine. AJ's calling has always been the vineyards, that's where he feels most at home and, if anything, the importance of the work done in the vineyards has only been reinforced now that he gets to work with the end product. While he eschewed the use of chemicals on about 3ha a little while back, the entirety of the domaine is now in conversion to organic farming. Since 2011 he has used natural yeast by making a starter culture from the first vinification of crémant. The whites are whole bunch pressed, cold settled for 24h and then moved to stainless steel tanks until the start of fermentation, usually about three days, at which point they're transferred to 600L used barrels of 3 to 4 wines for the rest of the fermentation and the élevage. The reds are handled very carefully, both Poulsard and Trousseau are destemmed by hand but while the grapes are left intact for the Poulsard's fermentation, the Trousseau is foot trodden lightly at the start and macerated on the skins for about 30 days on average to soften the tannins. It then spends a year in 600L used demi-muids. The Poulsard on the other hand is aged in stainless steel and bottled in spring.

Arbois Ploussard 'La Cabane' 2015
This comes from a massale selection on 3309 rootstock, from the marl vineyards of La Touraize and Petit Curoulet (planted in 1980). Destalked 100% by hand, with the grapes put into cuve by gravity, this is a semi-macération whole grape fermentation, unfined and unfiltered with just 20mg/l of sulphur, giving a subtle, red fruited, spicy wine with hint of game and good bite on the finish. 12% alc.
Arbois Trousseau 'Les Corvées' 2015
Les Corvées is one of the finest lieu-dit vineyards for Trousseau, with south-west facing hillside vineyards in loose gravelly soil overlying marls. Destalked 100% and given a 30 day cuvaison during which light remontage is practiced. Trousseau is also planted in Portugal where it is known as Bastardo, and it rarely reaches full phenolic ripeness in the Jura (chaptalisation is common) – but in 2015 it most certainly did. Aged in recent 600 litre foudres for 12 months, it offers ripe mulberries, raspberries, touch of mocha with hint of spice on the finish.
Arbois Savagnin 'Terres Bleues' 2015
15 and 30yo vines planted in blue marls (la Regole and la Rivière) here give 40hh. Vinified using natural yeasts and aged in foudres for a year, savagnin always retains its natural balance and freshness even in warmer vintages like 2015, and this wine offers sappy citrus fruits, with good salinity and attractive bitters on the finish.
DOMAINE DES MARNES BLANCHES
Neglected for a long time, with its number of vineyards dwindling even further than the rest of the Jura, the Sud Revermont has now put its name firmly on the map thanks in no small part to two outstanding producers: Julien Labet and Jean-François Ganevat. Young aspiring vignerons – Géraud and Pauline Fromont among those – were quick to notice the potential of the area and many of them took full advantage of the availability of good vineyards at fairly inexpensive prices to establish their domaines, transforming the Sud Revermont on the way into a hub for terroir-driven, natural wines with great energy. Perhaps even more so than in the rest of the region, there's a great sense of community in the area, as exemplified by the creation of structures by the growers to buy and share vineyard and winery equipment. Chardonnay and Pinot Noir – Poulsard also – seem to do very well in the Sud Revermont, in fact the soils have more similitudes with Burgundy than with the vineyards north of Lons-le-Saulnier. There's less of the typical marl of the Jura and more limestone; the climate is also a touch warmer due to its southern position and the fact that the vineyards are planted at lower altitudes.
Natives of the Jura, both Pauline and Geraud's families owned tiny plots of vines – the fruit of which they used to make wine for home consumption – and the little time they spent there was enough to give them the wine bug. They met while studying winemaking in Dijon and created Domaine des Marnes Blanches when they returned to the Jura in 2006. They farmed organically – now certified by Ecocert – from the word go and have added parcels as they went to reach a total of 10ha today, spread across three towns in the south of the Cotes-du-Jura AC: Cesancey, their first acquisition, is home to the white marl after which the domaine is named, while Vincelles and Sainte-Agnes have more varied soil types, the majority being red marl and gryphées – limestone rich in fossils. They recently built a new winery which gives them plenty of space to make and age the wines. Wild yeast fermentation is the norm, each parcel is vinified separately in stainless steel and then aged either in old 228 to 600l barrels or in tanks. All the wines we buy are topped up. Sulphur is used sparsely for the whites or not at all for the reds.

Côtes-du-Jura Chardonnay 'Les Molates' 2015
An assemblage of different parcels on marl and limestone soils in Gevingey, 35yo vines on average. 45hh, no batonnage, no racking and aged in 5yo barrels, the wine was bottled in July. It's the first of the chardonnays to open out and is already showing really well.
Côtes-du-Jura Chardonnay 'Vieilles Vignes' 2015
A selection of west facing 60yo vines on marl in Cesancey, with the yields here dropping down to 30hh. It was aged in 5yo barrels like the Molates, and is a much denser, more powerful complex wine that will age well.
Côtes-du-Jura Chardonnay 'En Levrette' 2015
Comes from old vines on poor, iron rich, fossilized limestone. The limestone gives extra peps and energy to the wine, though it still has the depth and power typical of the 2015 vintage.
Côtes-du-Jura Savagnin 'En Quatre Vis' 2015
This comes from the same Cesancey vineyard as the Chardonnay Vieilles Vignes, although the vines are a little younger, 50 yo and 20yo for the parcel most recently planted. This wine has exceptional balance, its stewed citrus fruits followed by characteristic gentle bitters on the finish.
Côtes-du-Jura Poulsard 2015
Wholebunch fermentation in fibreglass tanks for a period of 2 weeks, with no punch down or pumping over, then aged in old oak and bottled without fining or filtration.There's a bit of extra structure and depth in this wine (some poulsard are a little too like light rosé) – that reminds me of a Puffeney poulsard.
View Marnes Blanches profile →
Les Dolomies
The road to establishing Les Dolomies may have been a long haul, but judging by the quality of the wines produced by Céline Gormally and the success they have on various export markets – last time we checked Noma listed 13 of her wines – it was all worth it. The aim was always to set up on her own, that's why she'd been renting a small 0.5ha parcel in Passenans while working for various Jura producers, including Domaines Labet, Badoz and St-Pierre, so when the opportunity of buying another ha of vines presented itself in 2008, she snapped it with both hands and created Les Dolomies. There was one minor problem though, she had no cash in the bank and couldn't afford to take a loan so she approached Terres de Liens, an organisation which helps organic farmers set up shop, in this instance by buying the vineyard and leasing it back to Céline – while guaranteeing they would not sell it off for a number of years. Not short on ideas, Céline came up with another ingenious plan to help with cash flow whereby she leases individual vines on a 3 year contract to about 60 families who receive a certain amount of wine each year.
The recent acquisition of some vineyards from Domaine Grand brought the size of the domaine to nearly 6 hectares, which is good news for the many fans of Les Dolomies worldwide as supply has tended to be very scarce up until now. Micro cuvées will still be the norm as they bottle by individual terroir four chardonnays and five topped up savagnins. This also allowed Céline's husband Steve Gormally, who has been involved in every aspect of the project since its infancy, to finally quit his job and join the domaine full time in April 2016. The majority of the vineyards are split between Passenans and Frontenay – they also have one small parcel in the Cote-du-Jura side of Chateau-Châlon – just north of Chateau-Châlon, half way between Lons-le-Saunier and Poligny. Like the Sud Revermont, it's a fantastic terroir for whites with good exposure and beautiful marl-rich soils with outcrops of limestone. The vineyards of the area were largely neglected after World War One, and all the replanting took place in the 1960s and 70s which means that there's an abundance of 50 year old vines able to yield fruits of great depth and intensity if properly looked after.
Céline's intention was to follow the path of the people she worked for and farm biodynamically but it proved to be a tough transition for certain vineyards. She had to work hard and take it step by step but now all her parcels, bar the most recent acquisitions, are tended either organically or biodynamically. As for the winemaking part, Julien Labet was a big influence on Céline. Wild yeast fermentation is the norm, the whites are whole bunch pressed, fermented and aged in 10 year old oak (with a good proportion of demi-muids), unfined and unfiltered, while the reds are destalked, given 3 weeks macération and aged in older barrels. The aim is to eschew the use of sulphur completely, but for the moment Céline adds a little either after the malolactic fermentation or just before bottling so that there is around 20mg/l total in the white wines.
Côtes-du-Jura Chardonnay 'La Chaux' 2015 VLQ
20-25 yo vines on the same steep hillside as Arco below, planted in stony, Lias marls in Nevy-sur-Seille (a village entitled to Château Chalon AOC for many of its vineyards). Aged in 10 yo barrels for 10 months the terroir cuts through the incredibly pure zesty fruit, with low yields giving the wine real depth and intensity.
Côtes-du-Jura Savagnin 'Arco' 2015 VLQ
20-25yo vines on stony marl soils on a steep, south –west facing hillside (from the same parcel as Arco above) in Nevy-sur-Seille. Arco is the name of one of the two donkeys they use to harvest the grapes. This is a sensational wine, a rapier cut of acidity cutting through the vibrant citrus flavours, with an intense mineral, saline impression on the finish.
Côtes-du-Jura Savagnin 'Les Grandvaux' 2015 VLQ
25-30 year old vines here, planted in marl soils. Aged in 10yo barrels for 10 months, this is dry tense wine with incredible energy and delicious bitters on the salivating saline finish.
View Les Dolomies profile →