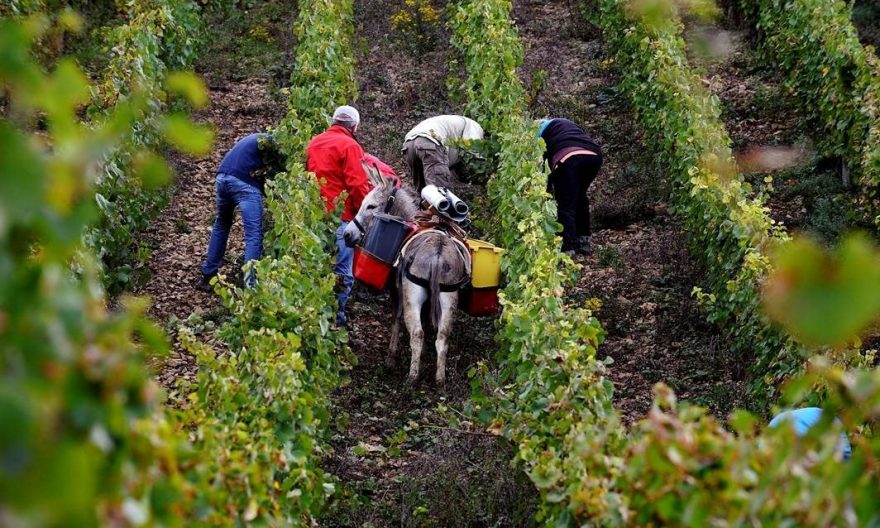 Les Dolomies
| | |
| --- | --- |
| Vigneron | Céline and Steve Gormally |
| Location | Passenans (Jura) |
| Size of Domaine | 5.5 ha |
| Terroir | Continental climate. Stony Triassic marl soils with outcrops of limestone. Gentle to steep south west facing hillsides. 250-350m altitude. |
| Viticulture | Certified organic (Ecocert) practising biodynamic |
| | View Les Dolomies wines ↓ |
The road to establishing Les Dolomies was long, but the quality of Céline and Steve Gormally's wines and their success on various export markets has made it all worthwhile.
Joined full time by husband Steve in 2016, Céline initially rented a small 0.5ha parcel in Passenans while working for other producers in the Jura, including Domaines Labet, Badoz and St-Pierre. With the help of Terre de Liens, an organisation who support agroecological farmers in securing land, she then bought another hectare in 2008 and created Les Dolomies - a reference to Passenans' dolomitic rock, a salty magnesium-rich limestone. Nowadays the couple farm 5.5ha of vines, scattered around 10 plots in five villages, including the prestigious Château-Chalon, with a potential of 6.5ha once the restructuration and ongoing plantations are completed.
Julien Labet was a big influence on Céline's winemaking, it is, therefore, no surprise that the labels of both domaines are the work of a mutual friend and local artist.
Based in Passenans next to the original vineyard, the couple live above their cellar with their three young daughters; extremely busy Céline and Steve grew tired of regularly battling against the INAO and its administration, and from 2017 onwards they renounced the Côtes du Jura appellation for the simple Vin de France designation (on all bottlings).
Wild yeast fermentation is the norm, the whites are whole bunch pressed, fermented and aged in 10yo oak (with a good proportion of demi-muids), and then bottled unfined and unfiltered. Total sulphur is a very low 25mg/l, added in three homeopathic doses (pressing, racking, bottling) and necessary protection since alcoholic fermentations regularly extend over one year. By contrast reds are destalked, given three weeks macération and a short élevage in older barrels, with no SO2 whatsoever deemed necessary.
Les Dolomies Wines
Les Dolomies
LA CHAUX 2018
Vin de France
100% Chardonnay
(13 % alc.)
35yo vines on the same steep hillside as Arco (lieu-dit La Chaux), and also donkey aided during the harvest, it is planted in stony Lias marls in Nevy-sur-Seille, a village entitled to the Château Chalon AC for many of its vineyards. Aged for ten months the terroir cuts through the incredibly pure zesty fruit, with roasted almond notes, and the low yields give the wine resonance and intensity. For drinking now to 2025.
Les Dolomies
LES GRANDVAUX 2018
Vin de France
Located in Passenans, the combe des Grandvaux is adjacent to and as qualitative as the terroir Les Combes. Naturally low yielding 50yo vines grow on brown and red marls, giving a tightly wound, dense wine with lip-smacking spicy flavours, and a chalky almost chewy finish. For drinking now to 2030.
Les Dolomies
LES COMBES 2018
Vin de France
100% Chardonnay
(13% alc.)
The original plot bought through Terre de Liens, the lieu-dit Les Combes is a stunning coteau with heavy and clayey red marlstone, and as most of the vines in Passenans were replanted around the 60s, there's an abundance of 50yo vines that yield fruits of great depth and intensity. A classy chardonnay that combines power and elegance with a depth of flavours that would make some top burgundy producers envious. For drinking now to 2025.
Les Dolomies
ARCO 2018
Vin de France
30yo vines on stony marl soils on a steep, south-west facing hillside in Nevy-sur-Seille (lieu-dit La Chaux), a village entitled to the Château-Chalon appellation. Arco is the name of one of the two donkeys Céline and Steve use to help harvest the grapes. This is a sensational wine expressing a rapier cut of acidity and vibrant citrus flavours, with bitters and an intense mineral, saline impression on the finish. For drinking now to 2025.
Les Dolomies
CROIX SARRANT 2018
Vin de France
A tiny 0.3 ha 20yo vineyard in Château-Chalon on stony limestone-rich marl, this is a special terroir tucked away, up a cool and humid combe surrounded by a lush and biodiverse forest. Taken over in 2012 the vines have never seen any chemicals and the only two neighbours are friends sharing the same sustainable approach. Packed with jolting acids and a dense texture it is reminiscent of a perfectly ripe apricot with salivating bitters, vanilla bean and fresh almond aromas sustaining a lengthy finish. Une grande bouteille. VLQ. For drinking now to 2030.
Les Dolomies
LA CABANE 2018
Vin de France
100% Pinot Noir
(12.5% alc.)
Situated in Fontenay, a village neighbouring Passenans, the vines are planted on argilo-calcaire, a warmer soil compared to marlstone. Known as the lieu-dit Les Boutonniers this is where the Gormallys have recently planted more trousseau and chardonnay. Bright and crunchy this pinot displays noble vegetal flavours with bramble fruit and refreshing rustic tannins.
Les Dolomies
BORDEL C'EST BON 2018
Vin de France
100% Trousseau
(12.5% alc.)
The wine and label are a tribute (hommage) to a close friend Gabi who passed away and was a successful cartoonist for the newspapers Le Monde and Le Canard Enchainé. Gabi's line 'bordel c'est bon' can be translated into 'god that's good' (polite version), and indeed it is! The grapes come from Les Combes, fully destalked and vinified without SO2, this is juicy and joyful with a lovely peppery black fruit.