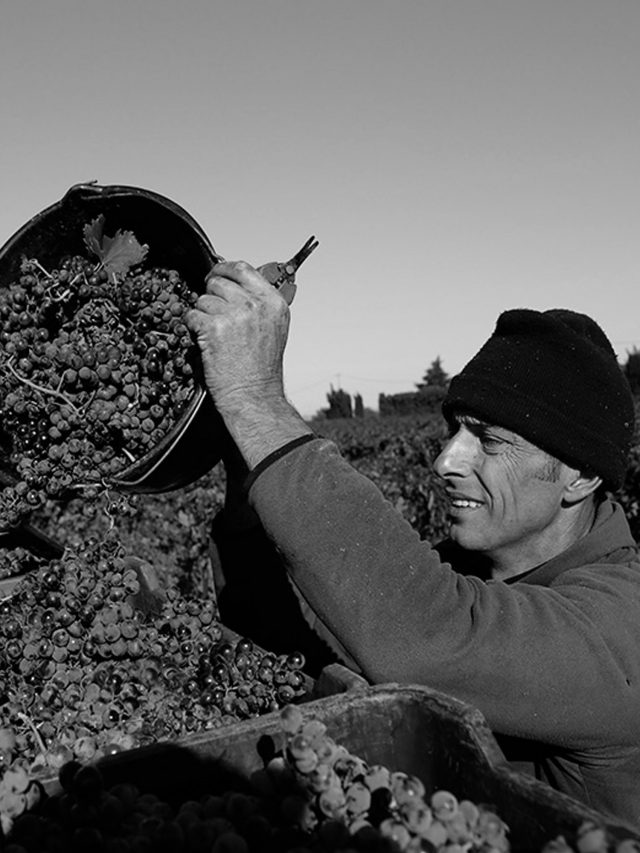 Josh Raynolds on Roucas Toumba | Vinous
| | |
| --- | --- |
| Original Title | 2014 and 2015 Vacqueyras: Quality and Value |
| Publication | vinous.com |
| Author | Josh Raynolds |
| Date | August. 2017 |
Josh Raynolds features a couple of wines of Eric Bouletin—Roucas Toumba—in a recent article in which he reviews the 2014 and 2015 vintages in Vacqueyras, finding plenty of things to like:
Many of the best vineyards in Vacqueyras are situated on the hillsides, where cooler and windier weather can make growing high-quality Grenache a struggle - hence the planting of Syrah, which, as northern Rhône fans know, performs well under such conditions. Grenache here tends to be planted in warmer, lower sites around the village, where it can ripen more consistently. While Grenache does make up the majority of most Vacqueyras blends, Syrah and, to a lesser extent, Mourvèdre components imbue the wines with a darker fruit - and often wild - character. Classic renditions of Vacqueyras are usually deeper, more brooding wines than those from neighboring Gigondas and even Châteauneuf-du-Pape, which typically depend more heavily on Grenache and tend to show more of the red fruit and floral qualities associated with that variety.
Mother Nature Throws Curveballs Again in 2014
After the difficult 2013 vintage, growers had their collective fingers crossed that Mother Nature would give them a fairer shake in 2014. Unfortunately, she had other plans. Cold, damp weather in early 2014 delayed the flowering but the warm, dry spring that followed pushed ripeness forward and created the potential for a healthy crop. Unfortunately, temperatures dropped in June and heavy rains arrived - and stuck around - slowing the vines' growth dramatically. Conditions remained unseasonably cool well into summer, not warming up to normal until the end of August, with occasional rainfall remaining an issue. Fortunately, the late summer was benign and the harvest kicked off in mid-September and continued, calmly, through the middle of October.
While acidity levels can be elevated in some '14s they are rarely excessive. The freshness of most of these wines will make them accessible on the early side but they also possess the requisite structure for aging gracefully over the coming decade. Still, it's the rare example that has the concentration for long-term cellaring. Not to worry, though, because 2015 has that covered.
2015 Delivers the Goods
If anything could go wrong for Vacqueyras in 2015, it didn't, with the possible exception that some wines may be a bit high in alcohol and low in acidity. A picture-perfect growing season began with an early flowering and the weather stayed warm and dry - and sometimes hot - through the growing season. Happily, the warm conditions were mitigated by mostly cool nights during the summer, which allowed grape sugars to rise steadily while preserving acidity levels. While it might be expedient to call 2015 a hot year, those cool nights set the vintage apart from truly torrid growing seasons like 2007 and 2003, when the nights brought little or no relief to the vines. The harvest went off without a hitch, with growers picking a healthy crop of clean, ripe fruit at their leisure, with no disease or weather pressures to speed up or delay picking.
I am impressed by the consistency of 2015 Vacqueyras and think that the wines will provide plenty of drinking pleasure, both for those who enjoy drinking southern Rhône wines on the young side for their fruit and for patient collectors as well. While most of these wines possess the tannic structure to reward cellaring, I don't find those tannins especially forbidding because of the buffering effect of the abundant, sweet fruit that marks the vintage. With a few exceptions, tannins will be a minor issue and nothing that a bit of time in a decanter won't resolve if you plan on popping corks over the next few years.
I tasted most of the wines covered in this article in Vacqueyras in March and followed up with additional tastings in New York this spring and summer.
Roucas Toumba 2014 Vacqueyras Les Restanques de Cabassole
Drinking window: 2020 - 2025
60% Grenache, 27% Syrah, 10% Mourvèdre, 3% Clairette, Grenache Blanc
Raised in large oak casks) Vivid ruby-red. Fragrant, smoke-accented aromas of ripe red fruits, licorice and lavender; a peppery nuance adds spiciness. Fleshy and broad but lively as well, offering bitter cherry and raspberry flavors that become sweeter with air. Finishes long and sappy, delivering strong, spicy thrust and velvety tannins that sneak in slowly. | 91 points
Roucas Toumba 2015 Vacqueyras Blanc Les Prémices
Drinking window: 2018 - 2023
Marsanne, Roussanne, Viognier, Clairette, Bourboulenc, Grenache Blanc
(raised in 500-liter oak casks) Vivid straw-yellow. A highly perfumed nose displays scents of ripe melon, nectarine and honey, and lemon pith and vanilla nuances build in the glass. Plush and seamless on the palate, showing very good depth to the mineral-accented white peach and poached pear flavors. In a generous but lively style, finishing with subtle sweetness and a persistent citrus fruit quality. | 91 points
View Roucas Toumba's profile →