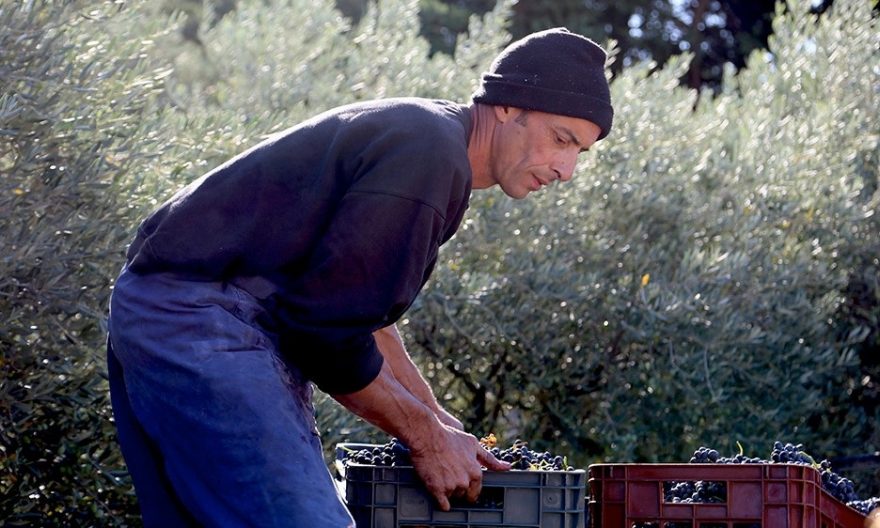 Roucas Toumba
| | |
| --- | --- |
| Vigneron | Eric Bouletin |
| Location | Vacqueyras (Vaucluse) |
| Size of Domaine | 5 ha |
| Terroir | Mediterranean climate, Mistral (northern wind) influence. Clay, sandstone-limestone, clay-limestone, clay-marl, pebbles, clay-limestone, limestone bedrock. Terraced vineyards. 110-130m altitude. |
| Viticulture | Practicing Organic |
| | View Roucas Toumba wines ↓ |
Eric Bouletin's Roucas Toumba (which means the fallen rock in old Provençal dialect) is one of the top domaines in Vacqueyras.
Eric left the local cooperative to start vinifying himself in 2006 and has just 5ha of superbly located old vines. These have been handed down from generation to generation since the Bouletin family first settled here in 1580. Like the appellations of Cairanne and Rasteau the initial settlers bagged the hillside vineyards to plant their vines, and all the Roucas Toumba vineyards are on gentle hillside terraces (restanques in Provençal) as reflected by Eric's top cuvée Les Restanques de Cabassole - in contrast 90% of the appellation is planted on a flat alluvial plain!

"I would like to say how lucky I am to have such an ungrateful and severe land, a land that once transcended allows me to make a wine that speaks to people, to their souls, and that people enjoy. That's all I wish for."
A gentle giant of a man at six feet four inches tall, he was born on the day that man landed on the moon and was nicknamed 'moon boy' from an early age! He spends more time than most in his vineyards, which he works organically ''I've always been interested in and respected nature and wildlife, so it seemed only natural to run my vineyard organically'', he explains, channelling all his energies into producing perfect grapes, and allows himself just one day of rest per week to tend his olive trees and vegetable garden with his son.
He describes his philosophy, "remain free, live off the land – these were my great ideas starting out and remain so. I've had to build my own path, find my own way in a world where image and marketing are everything and truth has so little importance. I would like to say how lucky I am to have such an ungrateful and severe land, a land that once transcended allows me to make a wine that speaks to people, to their souls, and that people enjoy. That's all I wish for."

His vineyard is split into tiny parcels, protected from the mistral by cypress, almond and olive trees. He has parcels of very old vine grenache and carignan and by including a very small proportion of white grapes, his Vacqueyras gains a little freshness. He produces two Vacqueyras reds, one cuve aged, La Grande Terre, and one old vine cuvée aged in demi-muids Les Restanques de Cabassole. In addition, he makes an excellent white Vacqueyras Les Prémices from nine different varieties that he co-planted using sélection massale, and a couple of outstanding value for money VDP including Pichot Roucas (Petit Roucas en Provençal).
All of his wines taste very close to the grapes, have superb freshness and balance and reflect their local terroir with a very natural, honest style.
Roucas Toumba Wines
Roucas Toumba
VACQUEYRAS 2017
Les Prémices
20% Marsanne, 17% Roussanne, 16% Clairette, 15% Grenache Gris, 14% Viognier, 14% Vermentino, 4% Picpoul/Picardan/Carignan blanc
(14% alc.)
Eric has just 0.85 ha of massal selected white grapes, and whilst the vineyard is relatively young, his yields are just 16hh. He also harvests at 7 am in the morning to preserve freshness. Aged for one year in 2-4yo barrels, the wine is complex and dense but has retained an integral freshness and balance, with intriguing aromas of white fruits and flowers.
Roucas Toumba
VDP DE MÉDITERRANÉE
Pichot Roucas
34% Grenache, 33% Syrah, 33% Carignan
(13.5% alc.)
A micro-production here from 50yo grenache/carignan planted on silt from the Ouvèze river, and young vine syrah on iron-rich sand in the lieu-dit Grandes Roques (located at the bottom of the terraced hillside producing the top Vacqueyras). Harvested by hand and vinified in concrete tanks, Eric keeps 50% of whole bunches for the carignan (while the rest is destemmed) and gives it a 6 months élevage. It is a superbly made VDP with a dark cherry, spicy fruit and southern print, it is supple, not too dense and has that most important quality of being easily drinkable. Bottled unfined and unfiltered with low level of SO2.
Roucas Toumba
VACQUEYRAS 2017
La Grande Terre
60% Grenache, 20% Syrah, 20% Mourvèdre
(14.5% alc)
This is a single parcel of 55yo grenache and 30yo syrah and mourvèdre. Whilst the old vine Restanques needs a little more bottle age, this is a cuve aged Vacqueyras with beautiful fruit, accessible in its youth. A mid-cherry colour, it has smoky and maraschino cherry notes on the nose and delectable fruit on the palate with cherry, liquorice, cinnamon, nutmeg and garrigues herbs.
Roucas Toumba
VACQUEYRAS 2015
Les Restanques de Cabassole
60% Grenache, 25% Syrah, 10% Mourvèdre, 5% Viognier/Clairette/Grenache Blanc
(15% alc)
Old vine grenache (60-80yo) two thirds destalked is the heart of this excellent wine. It has a beautiful deep plum colour, and a fresh black cherry nose intermingled with violets, thyme, ink and smoke. On the palate the wine is rich but freshened by a discreet minerality, with liquorice nuances of violet zan (french sweet!), dark chocolate and menthol supported by old vine tannins. For drinking now to 2024.