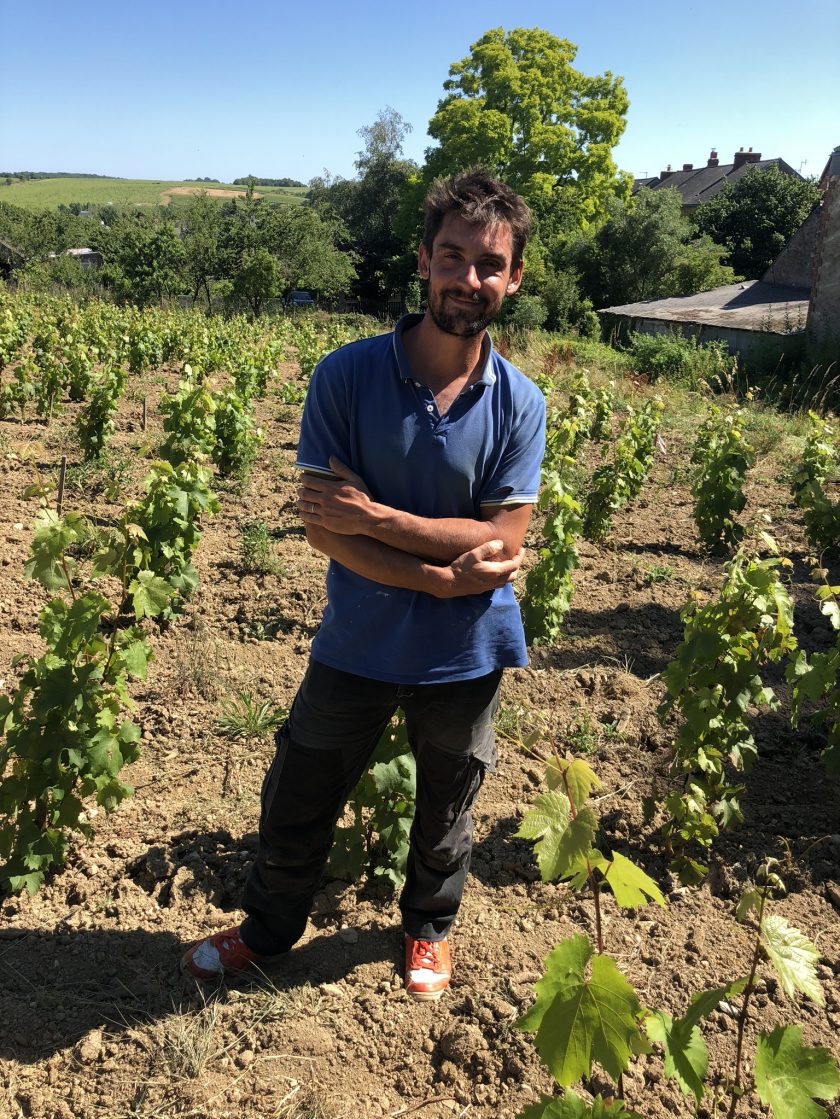 Thomas Batardière
| | |
| --- | --- |
| Vigneron | Thomas Batardière |
| Location | Rablay-sur-Layon (Maine-et-Loire) |
| Size of Domaine | 3.3 ha |
| Terroir | Continental climate with Atlantic influence. Sandy decomposed schist on schist bedrock, altered volcanic rocks. Gentle to steep slopes, 50-100m altitude. |
| Viticulture | Biodynamic (Certified Demeter) |
| | View Thomas Batardière wines ↓ |
Thomas Batardière is a doer and does not stand still – born in 1980 in Angers, he studied anthropology and got bitten by the wine bug in 2008 while working as a cinematographer. Switching career path he worked as a sommelier first but being drawn to winemaking he decided to join Château Yvonne (Saumur, Anjou Blanc). Voluble, passionate and not afraid of a challenge he quickly became Mathieu Vallée's right-hand man whilst studying viticulture in Beaune.

He finally struck out on his own in Rablay-sur-Layon (Anjou Noir) in 2012, buying a couple of hectares of his beloved chenin but without any equipment or cellar. He built the latter as well as his house right next door to Richard Leroy with whom he has become close. The two exchange a lot, so much so that there are talks about buying and operating a brand-new press together.

Applying biodynamic principles from the get-go, Thomas continued to expand to reach 4ha (currently 3.3ha in production), just enough he believes to be independent and express himself. Most of his vines are south of the Layon river, in Rablay, on sandy and stony soils with clay over schist. Chenin and cabernet franc are grown here as well as grolleau, a grape well-suited to the area. His best parcels of chenin, including the Clos des Cocus planted in 1968, are found up the stunning coteau of Faye d'Anjou (north of the Layon) clinging into the schist bedrock.
Thomas has a very individual take on chenin. He loves its finesse, acidity and ability to reflect terroir, picking it early (ideally with 12.5% alcohol potential and yields at 30 to 40hh), and fermenting as well as ageing in small 'cuves inox' to preserve purity. He aims at making zero-sulphur wines, rarely racking and working reductively on the lees – a tricky exercise and a theme often debated with his neighbour Monsieur Leroy.
"I am pragmatic, not dogmatic, so if I have to add sulphur to save my wine I will" says Thomas, a confident and brilliant vigneron for whom we predict a great future.
Thomas Batardière Wines
Thomas Batardière
L'ESPRIT LIBRE 2019
Vin de France
Most of the 30 to 90yo vines are in the lieu-dit L'Éspérance near Rablay-sur-Layon, next to the Domaine des Sablonettes (Jérémy Ménard and Thomas are mates regularly helping each other) on a gravelly plateau of red sand, quartz and clay. Thomas prefers stainless steel to accentuate chenin's natural tension, a judicious choice in the recent hot vintages. This wine ages on fine lees without sulphur until bottling in the summer. It is fruit-forward but still bright and crisp with a strong saline stamp.
Thomas Batardière
LES COCUS 2019
Vin de France
The Clos des Cocus is a climat neighbouring Montbenault on the coteau of Faye d'Anjou – the prestigious Layon's right bank. Thomas' 0.6ha plot (planted in 1968) is at the top of the hill therefore exposed to drying and cooling winds – perfect to prevent diseases and preserve acidity – a gentle south-west facing slope with hardly any topsoil (20-30cm) forcing vine roots to get deep into the schist bedrock. An austere terroir which makes for age-worthy, characterful and complex wines. Fermentation and ageing in 1-6yo barrels for 10 months, transfer to stainless steel for a few more months before bottling in October with low SO2. Cocus tends to naturally reduce therefore decanting does the wine well in its youth. Alive, deep, multi-layered and almost chewy. This is simply a stunning wine – soil to glass transfer showcasing the power of schist. For drinking now to 2029. VLQ.
Thomas Batardière
MONTBENAULT
Vin de France
From top to bottom the emblematic Montbenault covers roughly 40ha. In 2012 Thomas bought 0.25ha of fallow land in the heart of the coteau. He planted the 10% slope in 2015 with tip-top sélections massales from legendary domaines Huet and Clos Naudin (Vouvray). First release in 2018. As per the neighbouring Clos des Cocus there's hardly any topsoil, the main difference here is the high concentration of igneous, volcanic rocks (spilite and rhyolite). A soil yielding concentrated grapes of the finest quality, savoury and packed with minerals – think Richard Leroy. Vinif and élevage in stainless steel for 8 to 10 months, transfer into oak barrels for another four months (the opposite of Les Cocus), and bottled with low SO2. So much drive and character for such young vines, the reduction blows off quickly and reveals umami backbone, class and energy – the potential is huge! For drinking now to 2024. VLQ.
Thomas Batardière
MAMA ROSE 2018
Vin de France
40% Grolleau, 40% Chenin Blanc, 20% Cabernet Franc
(12% alc.)
Thomas wanted to make a light rosé with an interesting mouthfeel and so harvested the cabernet franc early to bring tension, and the grolleau late for the aromatics. Both were pressed after one day of maceration and blended with the chenin after fermentation. It's quite pale and aromatically expressive with notes of red fruit and pepper from the grolleau, while the chenin brings weight and texture to the palate.
Thomas Batardière
CLOS DES NOËLS 2017
Vin de France
100% Cabernet Franc
(13% alc.)
Clos des Noëls is a lieu-dit close to Rablay-sur-Layon. Thomas owns 0.15ha planted in 1932. The soil is mostly metagraywackes – a variety of sandstone rich in clay and feldspar – with water retaining capacity well suited to cabernet franc. Thomas aims to extract fine tannins from the stems as well as skin and pips, thus vinification is whole bunch and without remontage or pigeage over a five to six week cuvaison. Both fermentation and ageing take place in stainless steel, bottling is without SO2. It's a vibrant and free expression of cabernet franc. The fruit is red and crisp, it's light and floral with beautifully fine tannins and food friendly bitters.
Thomas Batardière
OSCAR 2017
Vin de France
100% Chenin Blanc
(11% alc, 270g/l of rs)
This comes from the oldest plot (also used in L'Esprit Libre), a 90yo massal selection developed specifically to produce sweet wines: bush vines with small bunches and tightly-packed berries to promote the onset of botrytis. Oscar is only made in years when botrytis settles early, preserving high levels of acidity, and this 2017 is a perfect example of the balance for which Thomas looks. It is incredibly lifted and digeste despite its 270g/l of residual sugar, and the old vines add complexity and depth. For drinking now to 2025.