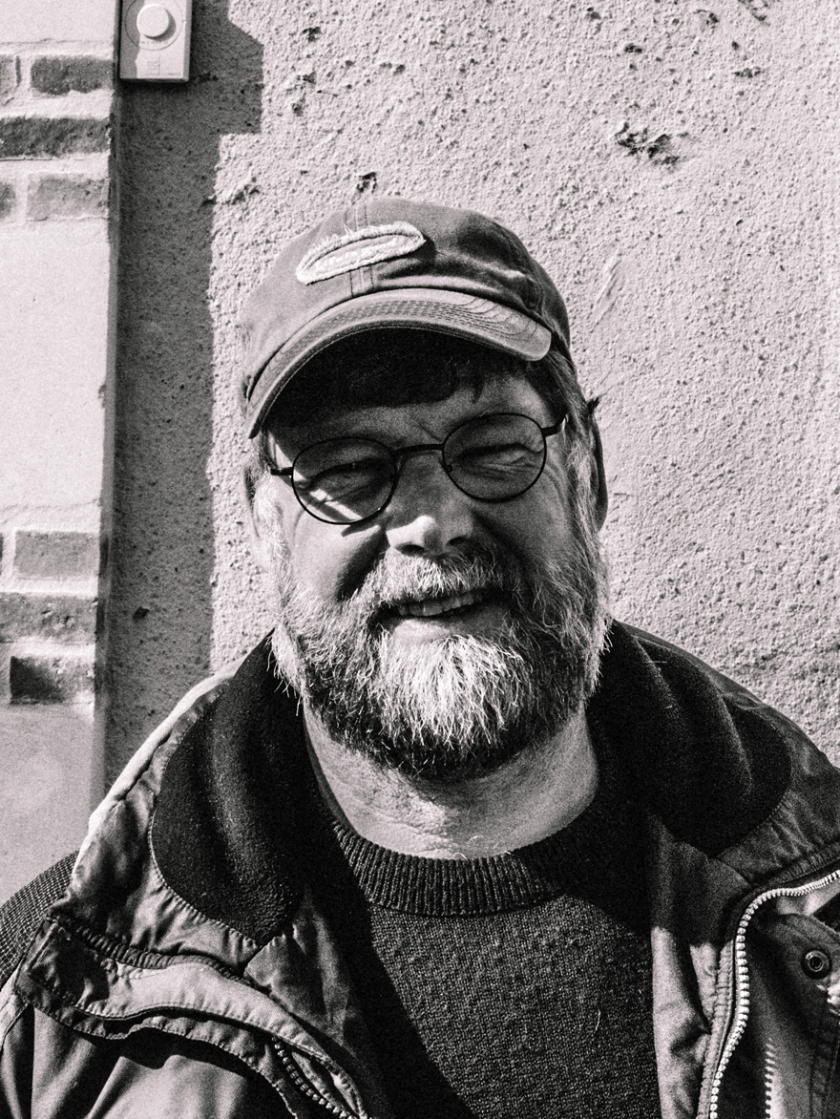 Richard Leroy
| | |
| --- | --- |
| Vigneron | Richard Leroy |
| Location | Rablay-sur-Layon (Maine-et-Loire) |
| Size of Domaine | 2.7 ha |
| Terroir | Continental climate with Atlantic influence. Sandy decomposed schist on schist bedrock, ancient volcanic rhyolites (very dense heavy rock made of iron, magnesium, feldspar and quartz) and spilites (an altered form of volcanic basalts). 50 - 100m altitude. |
| Viticulture | Certified organic (Ecocert) practising biodynamic |
| | View Richard Leroy wines ↓ |
Leaving behind their life in Paris, Richard and Sophie purchased 2ha of vines (Les Noëls de Montbenault) back in 1996, initially with the idea of making botrytized, noble rot wines. 1996 and 1997 were successful but a rainy autumn in 1998 put paid to any chances of noble rot and Richard produced no wine at all. Tasting in the area, he noted that Mark Angéli had produced beautiful dry wines in 1998, and he began to think that making dry wines from this exceptional terroir was the only way to make a living on a regular basis. He made his last sweet wine in 2005 and has since concentrated on making two exceptional dry whites from his tiny 2.7ha.

An evening with Richard is always a moment of pure bliss, punctuated by the sound of corks popping and Richard egging us on to get to work and taste (drink!) more wine: "Allez les gars, on bosse!"
Everything that Richard does is a result of hard-earned experience and starting from scratch, he had no pre-conceptions. He and Sophie are real wine lovers, tasting and drinking widely from all around the world, sharing with other growers, friends and customers alike, and looking to learn from everything they do and everyone they meet in their work. In the 2000s Richard noted that most white burgundies he tried were unstable despite extraordinarily high levels of sulphur (140mg/l still being the rule today). Opening young burgundies and tasting them each day over a week, he noticed they tired rapidly, even after day one - is it any wonder they have a premox problem with old white burgundy?

Richard has always worked with micro levels of sulphur (10mg/l until 2010) but such is the density and structure in his wines that he decided to cut sulphur out altogether from 2011. Comparing his wine in barrels bought from new with the same wine in barrels bought second-hand – and impregnated with sulphur from previous uses – he noticed an extra level of purity and finesse in the wines aged in new barrels that convinced him this was the only viable option. He now ages all his wines in barrels bought new – which he keeps for up to 7-8 years – from tonneliers who can guarantee the neutrality of flavour and aromatics.
Working without sulphur provides many trials and tribulations, and as another example of the depth of his work, recently Richard has done many micro-experiments with vinification and élevage, seeking to get to the bottom of the phenomenon that can cause a 'mousy' character on the palate. Science on the phenomenon has not yet been established, so it's only by setting parameters and then actually trying to create 'mouse' that he can better understand its causes and how to avoid it in the future.
Richard is fully committed about everything he does in life, and after meeting the renowned bande dessinée (strip cartoon) artist Etienne Davodeau, the book Les Ignorants was published in 2011, based around the idea that Richard show and involve Etienne in the life of a vigneron over the course of a year, while Etienne show Richard the life of a bande dessinée artist. The book has been a massive success, with hundreds of thousands of copies sold to date. The only downside, and a backside pain for the rest of the family is that the doorbell still rings constantly, many readers wanting to pay him a visit and hopefully buy some wine (impossible) or get the book signed.

Allied to this, Richard's wines just get better and better to the point where he is recognised as one of the master vignerons of the Loire, creating even more demand for his wines. Richard is only too happy to sidestep this pressure by escaping to work in his beloved Noëls de Montbenault vineyard. But it's not all hard grind, an evening with Richard is always a moment of pure bliss, punctuated by the sound of corks popping and Richard egging us on to get to work and taste (drink!) more wine: "Allez les gars, on bosse!"
Richard Leroy Wines
Richard Leroy
LES ROULIERS 2015
Vin de France
100% Chenin Blanc
(13% alc.)
When ten years of efforts trying to establish a 1er Cru hierarchy came to nothing, rather than continue to use the Anjou appellation that had few quality associations, Richard took the nuclear option of declassifying his sensational wines to Vin de France. Reduced on the aromatics, there is a finesse and restraint to this wine (from only 0.70 ha of low yielding vines) with a mineral flavour possibly emanating from the underlying schist. Fermented completely dry with the malolactics completed and no bâtonnage and no sulphur used in the cave at all, it shows chenin in its most elegant style. VLQ. For drinking now to 2025+.
Richard Leroy
LES NOËLS DE MONTBENAULT 2016
Vin de France
100% Chenin Blanc
(13% alc.)
The vines here are planted in soils developed over the eroded base of an ancient volcano on the plateau of a windy ridge of hills overlooking the river Layon. Harvested from only ripe grapes (any botrytised grapes were individually cut out) and fermented dry, the wine has a sumptuous concentration on the palate, with a hint of quince and a notable mineral (irony) flavour. Just 4,000 bottles produced in 2016 (and no Rouliers due to frost which ravaged lower lying vines). Rich but balanced and very long on the finish, this is an exceptional wine, it will just need some time in bottle to unwind. No sulphur at all from 2011. VLQ. For drinking now to 2026+.