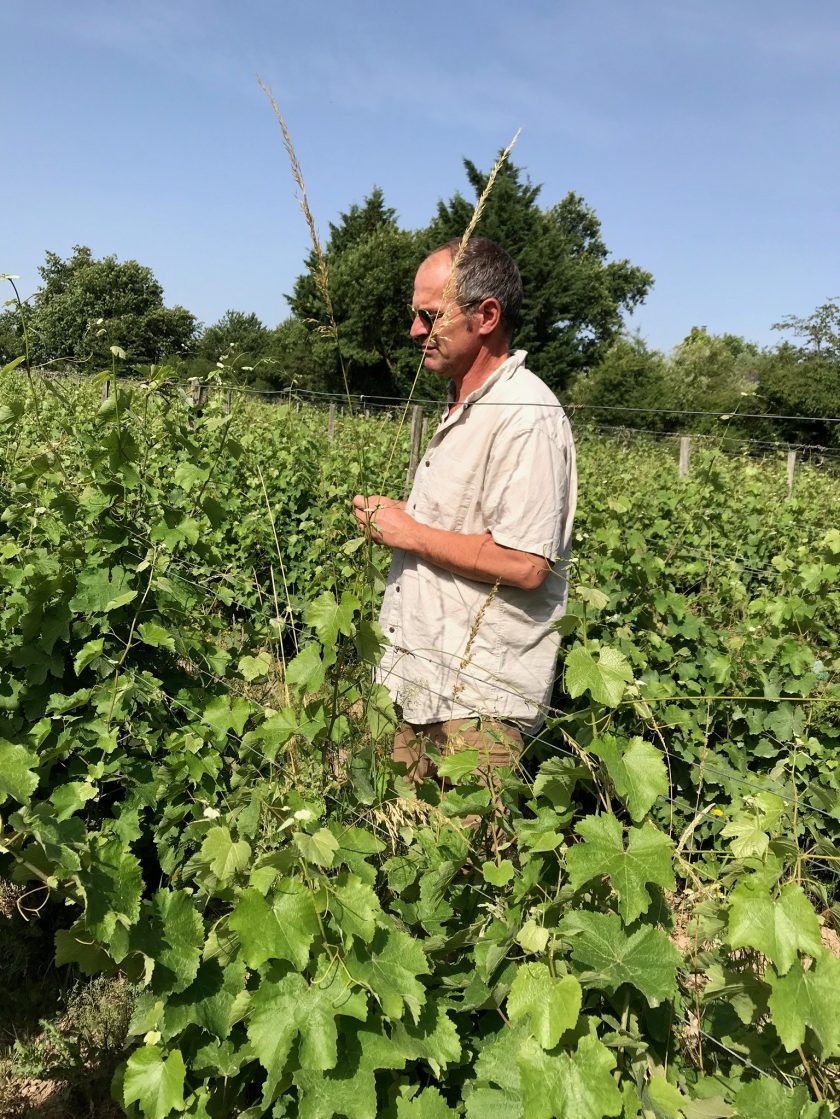 Clément Baraut
| | |
| --- | --- |
| Vigneron | Clément Baraut |
| Location | Thouarcé (Maine-et-Loire) |
| Size of Domaine | 4 ha with 2.4 ha in Savennières |
| Terroir | Continental climate with Atlantic influence. Sandy decomposed schist and sandstone on schist bedrock, igneous and volcanic rocks (spilite and rhyolite). Gentle to steep terraced slopes. 50-100m altitude. |
| Viticulture | Certified organic (Ecocert), practising biodynamics. |
| | View Clément Baraut wines ↓ |
With a history stretching back to the 9th century, Savennières is simply one of the greatest terroirs in France, but for many years the wines have struggled to match the potential of this unique appellation. The first vineyards – including newly classified Grand Cru Coulée de Serrant and Roche aux Moines – were planted by Cistercian monks but it was the Plantagenets, Counts of Anjou and Kings of England, who brought fame to the wines of the region in the 12th and 13th century. The level of residual sugar in the wines could vary wildly from one year to the next, and the emphasis on sweet wine production took hold in the 16th century to satisfy rising demand from Dutch merchants. They were fond of the wines produced on the slopes overlooking the Loire and the Layon, especially in vintages that were very sweet, so growers started to delay harvests to encourage the onset of botrytis. Although there was a progressive shift towards a drier style from the mid-19th century, the remnants of Savennières's past were still very much present when, in 1989, Clément Baraut arrived from Bordeaux as a consultant oenologist. Grapes were harvested late with about 25-30% noble rot, and the wines were regularly off-dry, heavy and clumsy.

"Plants deserve to be treated with empathy and left in peace! I do everything I can to keep them happy."
Luckily things changed drastically in the nineties thanks (in part) to the influence of a bunch of forward-thinking growers from the Layon, the likes of Patrick Baudoin (whose domaine Clément ran from 2008 to 2012), Joël Ménard, Jo Pithon and Mark Angéli. After tasting Mark's wines – in particular the 1993 vintage – Clément came to the realisation that to reveal chenin's true potential, and get a clear lecture of terroir, botrytis had to be avoided. It made the wines prone to oxidation and other deviances which led to excessive use of sulphur (with the exception of Nicolas Joly – Coulée de Serrant – whose dry botrytised zero-sulphur wines divide opinions). Through his work as a consultant oenologist for many domaines, he progressively convinced vignerons in Savennières (and Anjou) to harvest earlier and implement a stringent selection process. He also drew from previous experience in Champagne on how to fine tune the pressing of the grapes, separating the high quality 'coeur de presse' (first 80% of juice) from the 'rebêches' (the last 20%), which can be quite vegetal with chenin. The wines were transformed, they gained in precision and terroir definition, and became infinitely more digeste.

Although his background was in winemaking, Clément soon realised that the quality of a wine essentially depends on the work done in the vineyard and turned his attention to viticulture. Close to Nicolas Joly who was the most prominent advocate of biodynamics at the time (1990s), he rented 2ha of vines to put Goethe and Steiner's ideas to the test, and used his findings to convince clients to adopt more sustainable practices. As a result he joined an association through which he formed countless vignerons on organic and biodynamic viticulture, providing assistance to those who were ready to switch. Clément Baraut has been instrumental in Savennières' progress as an appellation.
A devotee of biodynamics, his approach to viticulture nowadays is mainly inspired by Goethe's sensitive and intuitive apprehension of nature. In his book Metamorphosis of Plants published in 1740, Goethe described plants as sentient living beings that are able to communicate. As such, Clément believes "they deserve to be treated with empathy and left in peace!" He does everything he can "to keep them happy", limiting his actions on the vegetal material to pruning only. Debudding, leaf and shoot thinning, green harvesting, and rognage (trimming of the apex) are all banned as they cause unnecessary stress to the plant. He thinks that the low yields observed in Savennières are partly explained by the lack of calcium carbonate in the soils so he practices liming, a technique that corrects the soil's acidity level by adding lime (chalk). As he explains, "when the soil solution is too acidic (low pH), metals such as manganese, aluminium, and iron become available to the plant but they are toxic."

As he was in touch with the majority of growers in Anjou, Clément was the first to be "au courant" when a parcel came up for sale. He often acted as an intermediary between buyer and seller but some of these opportunities were too good to be missed! He bought his first vines in Bonnezeaux in 2007, and when Nicolas Joly approached him to sell 2ha in the lieu-dit of Le Pitrouillet, a parcel that had been farmed biodynamically for over 30 years, he jumped at the chance. Located 3km away from the Loire, on a gentle north-facing slope with soils that are a mix of schist and sandstone, Le Pitrouillet offers an interesting contrast to the oven-like situation of La Roche aux Moines. Clément owns 0.4ha on centuries-old steep south-facing terraces at the bottom of this emblematic cru. The vines are planted on a soil of hard schist and volcanic rocks (rhyolite, spilite) that act as a sun trap and impart the wines with incredible power and ageing potential.
Uncommonly for a trained oenologist, Clément's approach in the cellar is low-key; he wants his winemaking to be as transparent as possible. The grapes are harvested in two 'tries' to guarantee optimum ripeness, and botrytis affected grapes are meticulously removed. All the Savennières in the range are made exclusively from the 'coeur de presse', while the 'rebêches' go into one of his declassified entry level cuvées. Ageing takes place in old oak and is limited to a year to keep the wines fresh and tight, with a vibrant, crunchy quality. Vinifications are 'sans soufre' to allow for a complex fermentation with a wide variety of yeast strains. Bottling without SO2 (following a light filtration) is the aim although a pinch can be added after the malos if ever deemed necessary.
Even though Savennières has moved towards a lighter, fresher style over the past 30 years, the chiselled wines of Clément Baraut still stand out for their digeste quality and freedom. These are fine and nuanced wines, moody at times, that express their terroir with precision and limpidity, the result of more than 30 years of thoughtful, carefully considered tweaks.
Clément Baraut Wines
Clément Baraut
SAVENNIÈRES 2020
Le Pitrouillet
Bought from Nicolas Joly of La Coulée de Serrant fame, the 2ha of 45yo vines are in the lieu-dit Le Puit Rouillé (which translates as 'the rusty well'). This natural clos is surrounded by trees and tilts slightly to the north. Le Pitrouillet wine comes from the bottom of the parcel where the soils are 80cm deep over a schist and sandstone bedrock. Clément prefers direct and slow pressing to accentuate chenin's natural depth, and this is made entirely from high quality 'coeur de presse' (see profile). It ferments in neutral oak and ages on fine lees without sulphur until bottling in the summer. It is fruit-forward but still bright and crisp with a strong saline stamp and an intriguing play on texture.
Clément Baraut
SAVENNIÈRES 2020
Le Coteau de L'Ayre
The lieu dit Le Puit Rouillé is part of the Coteau de L'Ayre. This wine comes from the same parcel as Le Pitrouillet but, in this case, the grapes are from the top part of the plot where the shallow soil shows more rocks and stones – the vine roots are closer to the schist bedrock. Vinified the same way as Le Pitrouillet, the cuvée Coteau de L'Ayre shows more intensity, depth and sapid minerality – a case in point of the impact of geology and topography on wine. For drinking now to 2026.
Clément Baraut
SAVENNIÈRES ROCHE AUX MOINES 2019
Les Petites Combes
Clément Baraut is one of only 8 vignerons to own a parcel (0.4ha) in the prestigious Roche Aux Moines (33ha) that was recently awarded Grand Cru status. Planted on steep south-facing terraces built and planted by the Cistercian monks, the roots go deep into the schist bedrock while the topsoil is littered with igneous, volcanic rocks (rhyolite, spilite). Harvested from perfectly ripe, botrytis-free grapes and fermented dry, the wine has a sumptuous texture on the palate and notable umami. Rich but balanced and very long, this is a sensational wine that will need some time in a glass or carafe to unwind. Pinch of sulphur added at bottling only. VLQ. For drinking now to 2030.
Clément Baraut
VIN DE FRANCE 2020
Les Herbes Folles
40% Chenin, 40% Sauvignon Blanc, 20% Grolleau Gris
(12.5% alc.)
The chenin comes from the rebêches of Savennières (see profile) as well as some young vines. Sauvignon and the rare grolleau gris are organic-certified grapes bought from Domaine du Verger in Anjou. Fermentation in stainless steel and 6 months ageing in old barriques, the wine was bottled off with a tiny addition of SO2 (0.8g/hl). An interesting and smart blend, this is the perfect apéritif wine, sapid and digeste with moreish citrus flavours – top value for money.