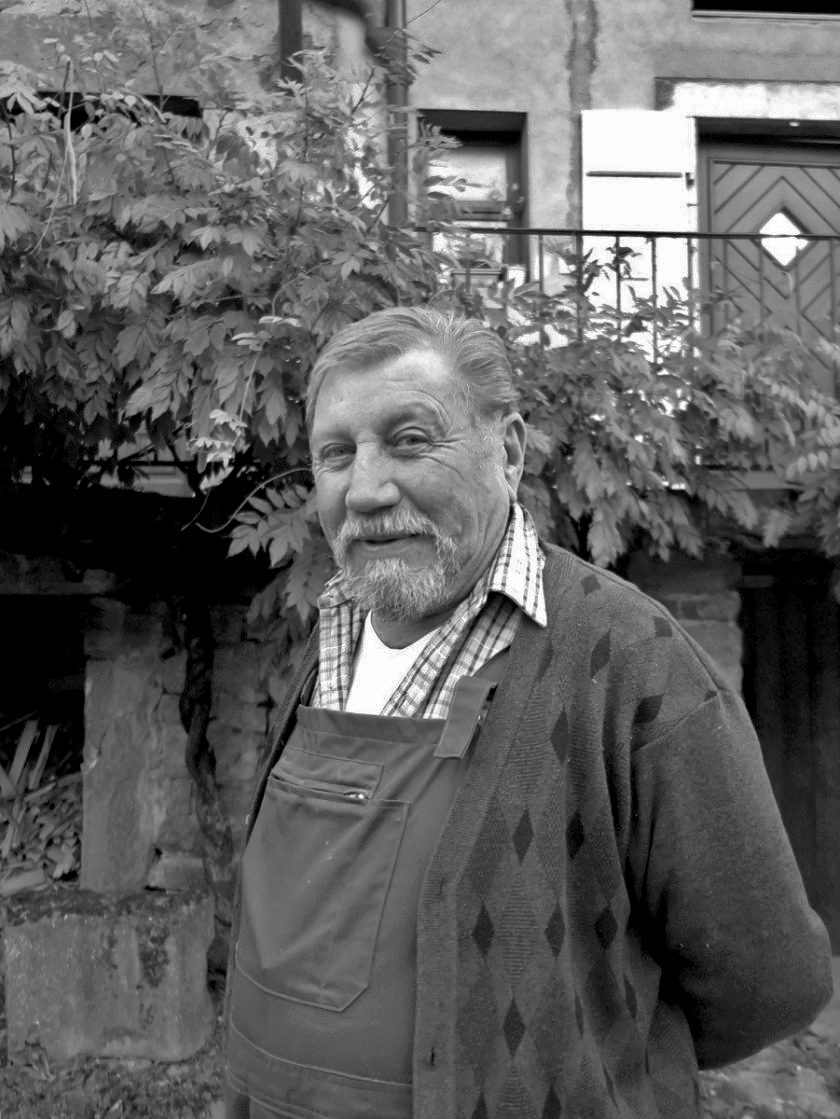 Lucien Aviet & Fils
| | |
| --- | --- |
| Vigneron | Vincent and Lucien Aviet |
| Location | Montigny-les-Arsures (Jura) |
| Size of Domaine | 6 ha |
| Terroir | Continental climate. Marl, clay, gravels. Mostly west and south facing slopes. 300-350m altitude. |
| Viticulture | Sustainable - fungicide might be used against oidium and mildew in difficult vintages. |
| | View Lucien Aviet & Fils wines ↓ |
Taking over from father Lucien Aviet who retired five years ago was always going to be a tough act for his son Vincent to follow. Lucien, nicknamed Bacchus, is a local legend, blessed with foresight and with a wicked sense of humour, who loved to huddle around his wood-burning stove entertaining customers in his old characterful cellars filled with old foudres, cartoons and bons mots.
Returning from the Algerian war in 1960, when many growers in the region opted to plant chardonnay, Lucien went against the trend by planting mainly trousseau à la dame (an old low-yielding strain) and savagnin by sélection massale on excellent rootstock. He became one of the first growers to bottle his own wine in Montigny-les-Arsures, the hamlet located just north of Arbois and considered the capital of trousseau – La Vigne de Pasteur (lieu-dit Les Rosières) is around the corner.
Indeed, the Aviets are one of the few trousseau specialists in the Jura, making no less than five cuvées from specific terroirs that they release as and when Vincent thinks they are starting to open out. Lucien learnt about good viticulture and its influence on wines alongside Pierre Overnoy under the tutelage of Jules Chauvet, and Vincent was inspired by working a stage with Laurent Macle.
Planted in Montigny' finest terroirs, all the domaine's vines are old, soils are ploughed and yields are low – Vincent is a human dynamo in the vineyards and his work is painstaking. Grapes are traditionally destemmed and ageing in old foudres is very patient leading to stable wines which have little need for much support from sulphur.
Assisted by wife Alice on the admin front, and now by elder son Maxence, Vincent's wines have found a real following amongst our restaurant customers, although the family continue to sell 97% of their wines to private customers (cash is king!).
Laurent Macle, who introduced us, believes that Aviet makes Jura's finest reds, but it doesn't stop there and their 100% savagnin oxidative wines are exceptional too (try their Réserve de Caveau to see what we mean). Both ploussard (consumed mainly by Lucien and available for about one week every year) and the rare melon à queue rouge are labelled under Cuvée des Docteurs, in homage to the doctors who lent a hand with harvest in the early days. The different cuvées of trousseau are named Cuvée des Géologues after the geologists who helped Lucien select the best terroirs. And still not a bottle of chardonnay in sight!
Lucien Aviet & Fils Wines
Lucien Aviet & Fils
ARBOIS 2018
Cuvée des Docteurs
100% Melon à Queue Rouge
(14% alc.)
Melon à queue rouge is an ancient strain of chardonnay (here from 50yo vines) grown by only three top producers in Arbois and Montigny. Aged in old foudres for 18 months and topped up, this has a pale gold colour, the mouthfeel of a fine white burgundy, restrained citrus fruits, a good cut of acidity, and is very saline on the finish.
Lucien Aviet & Fils
ARBOIS 2014
Réserve du Caveau
100% Savagnin
(15.5% alc.)
This was a stand-out at a recent tasting with Vincent. Given just as long barrel ageing (over six years) under voile as a Vin Jaune, Vincent deemed that this wine should not go into his Vin Jaune which had even more power and depth (does a wine really need any more?!) and will prove indestructible to time. Without quite the same power but with just as much class, this has a silkier mouthfeel and is easier to drink and perhaps more versatile with food. Notably truffley and walnuty, with a saline cut, it marries very well with white meats, sauces with a cream base, mushrooms and Comté cheese. An incredible bargain when compared to Vin Jaune pricing. For drinking now to 2060.
Lucien Aviet & Fils
ARBOIS VIN JAUNE 2011
Cuvée de la Confrérie
The golden coloured 2011 Arbois Vin Jaune is a selection of the domaine's finest barrels of savagnin matured sous voile for seven years or more. Picked at 14% alcohol, the long élevage concentrates the alcohol. This is a textbook example of the style with aromas of curry, chicken broth, green walnuts and mushrooms. This has more volume, length and complexity than the domaine's Réserve du Caveau, but at the same time, it's delicate and nuanced. Only 1,000 bottles were filled with this great Vin Jaune, which is guaranteed to develop beautifully in bottle. For drinking now to 2100.
Lucien Aviet & Fils
ARBOIS 2020
Ruzard – Rosière
100% Trousseau
(14.5% alc.)
A blend of the two parcels Rosière and Ruzard which also get bottled separately. Both are south-facing vineyards in Montigny-les-Arsures with similar terroir: light, gravelly soil with 'argile à chailles' (flinty clay) – Trousseau's most suited type of soil. Ruzard is higher up on the hill from Rosière and makes leaner wines compared to the deep and age-worthy Rosière bottlings. Altogether the vines range from 10 to 60yo. The latest bottlings are much richer and less angular than in the past (global warming), this has a delicate, mid-red colour, refreshing red cherry and cranberry fruit with real purity of expression and mineral stamp. For drinking now to 2030+.
Lucien Aviet & Fils
ARBOIS 2019
Marne Rouge
100% Trousseau
(13.5% alc.)
35yo vines on grey marls exposed 'plein sud'. Always a lovely texture and good balance, depth of fruit with a nice little lift on the finish. Vinified and aged (12 months) in foudres this is usually the second wine in the trousseau line-up, in a different league to Ruzard and often shown right before the top gun Rosière. During one of our visit Lucien noted that this particular cuvée (terroir) goes 'viande' after 5-6 years in bottle, referring to the developed and enticing meaty flavours. For drinking now to 2030.