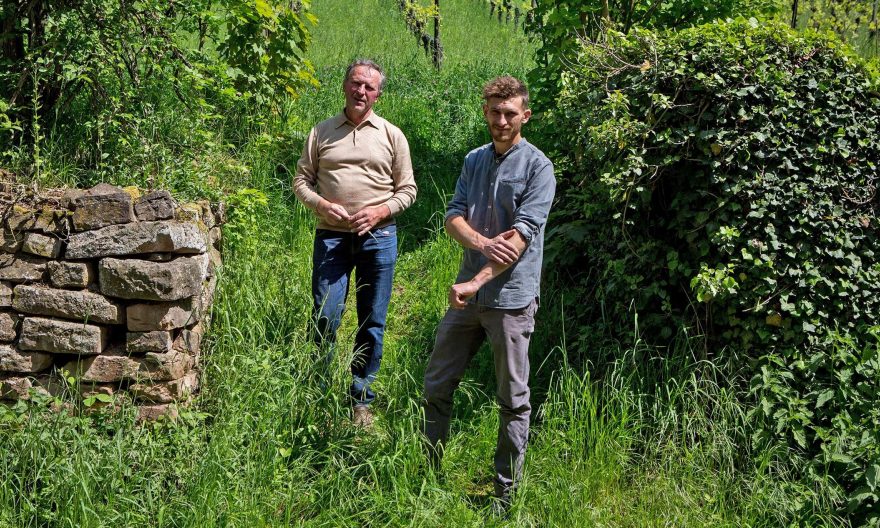 Domaine Lissner
| | |
| --- | --- |
| Vigneron | Bruno and Théo Schloegel |
| Location | Wolxheim (Bas-Rhin) |
| Size of Domaine | 10 ha |
| Terroir | Continental climate, sheltered from rain by the Vosges foothills. Red sandstone, Triassic marl and Jurassic oolitic limestone. From gentle to steep slopes on hillsides. 150 to 250m altitude. |
| Viticulture | Certified organic (Ecocert), practising permaculture and Fukuoka farming. |
| | View Domaine Lissner wines ↓ |
The domaine dates back to 1848 and is located in the historical village of Wolxheim, 20km due west of Strasbourg. The vineyards are situated on a fault zone where cropping out sandstone and limestone were once extracted from the royal quarries to construct Strasbourg's fortification.
Bruno Schloegel, an agronomist and scientist, took over his uncle Clément Lissner in 2001 and was joined by his son Théo early on. The pair have carefully established an amazingly diverse fauna and flora in their vineyards, they do not plough, mow or trim the vines but just arrange and weave the shoots during summer to let mother nature express itself. Bruno and Théo do not hesitate to plant directly into the 'indigenous environment', and let the new vine compete against the native flora for five to seven years before producing grapes. Co-planted fruit trees are also used as trellis systems to create beneficial symbiotic interactions – a technique used for centuries before the chemical onslaught.
Their wild vineyards have created a bit of stir in the region, Bruno and Théo are vocal (and extremely knowledgeable) advocates of this Fukuoka inspired approach. They stress its advantages at each of our visits, "biodiversity, better nutrition of the soil, deeper roots, adaptability to drought and rains, self-regulating growth, aerated and healthy bunches, small grapes with thick skins, juice packed with vitamins and antioxidants..." Yields are around 30 to 40hh even though the 'bouillis bordelaise' treatments are limited (two in 2018) with the aim of stopping them in the near future, and they comment, "it takes time and care for nature to find its balance."

Winemaking at Lissner respects the great grape material – work by gravity as opposed to pumping, slow pressing (6 to 10 hours), long fermentation and élevage on fine lees in traditional Alsatian foudres. Wines are bottled without fining or filtration keeping some carbonic gas as a natural protection, SO2 is rarely used at all. The end result is a stunning reflection of the vineyard's stamina and vitality, wines with great energy and 'digestibilité'.
Domaine Lissner Wines
Domaine Lissner
CLASSIQUE 2019
Pinot Blanc
50% Pinot Blanc, 50% Auxerrois
(12.5% alc, 3g/l of rs)
The vines grow on loess down the slopes of Wolxheim. Fermentation and ageing in stainless steel for a year. Ripe and fruit-forward with peach and pear aromas, lovely freshness balancing a round texture, simple and easy-going, this is 'trés gourmand'.
Domaine Lissner
HORN 2019
100% Pinot Blanc
(13.5% alc.)
Located to the east of Wolxheim, the hill of Horn has gentle to steep slopes with loess over Jurassic limestone – a fitting terroir for pinots. Slow press, fermentation and ageing in wooden foudres, no additives. This is surprisingly aromatic for pinot blanc with fresh herbs and citrus, the texture is smooth and multi-layered with intensity and drive, and a long salivating finish makes it extremely moreish. This is pinot blanc at its best, translating a unique terroir. For drinking now to 2026.
Domaine Lissner
DIONYSIUSKAPELLE 2020
Dionysiuskapelle is a lieu-dit where a Roman chapel was once built. Located at the bottom of Wolxheim's amphitheatre shaped hillsides, the vines sit on a fault line with clay and gravels eroded from the surrounding hills of sandstone and limestone. Aged in traditional foudres on its lees, this wine is extremely digeste with gin & tonic flavours, food-friendly bitters and a saline finish.
Domaine Lissner
WOLXHEIM 2019
100% Riesling
(13.5% alc, 4.2g/l of rs)
Planted on the Soultzberg hill characterised by its Triassic soil of muschelkalk (mussel chalk) and clay – typical of the communal appellation Wolxheim, a terroir that produces powerful wines. The grapes come from different lieux-dits, mostly SE facing. Vinified in stainless steel and aged on its 'lies entières' for a year. Verticality and minerality define this wine, despite its full-bodied texture, with lip-smacking quince marmalade flavours and a saline finish.
Domaine Lissner
ALTENBERG DE WOLXHEIM GRAND CRU 2017
100% Riesling
(13.3% alc.)
The south-facing, amphitheatre-shaped Altenberg sits at the heart of the Horn hillside, overlooking the village of Wolxheim. This exceptional and historical terroir is a sun trap made of Jurassic oolite limestone, a mineral-rich, porous and friable rock cut through by underground caves and sources; roots dig deep to fetch water and minerals allowing the vines to thrive among a luxuriant flora. This almost Mediterranean micro-climate produces perfectly ripe grapes, yielding extremely dense juice, almost oily as Bruno would say, which in turn ferments and ages in stainless steel on its lees for over a year. Bottling occurs without the use of any sulphur. This wine is an energy ball, intense and powerful, its lime induced acidity tames down after a few years in bottle and beautifully combines with glycerol and salt, displaying an astonishing array of aromas: spices, all citrus (Corsican mandarin, cédrat, yuzu, bergamot…), Mediterranean herbs – many of which are found in the vineyard (e.g. oregano, wild thyme)! The use of a carafe is recommended. For drinking from 2020 to 2030.
Domaine Lissner
MACÉRATION 2017
100% Pinot Gris
(13% alc)
Pinot gris from the Dionysiuskapelle lieu-dit where a Roman chapel was once built. The whole grapes macerated for four weeks before being pressed into demi-muids and 500ltr barrels for ageing. Similar to a light red, this wine has rustic and fresh tannins with a crunchy and spiced fruit.