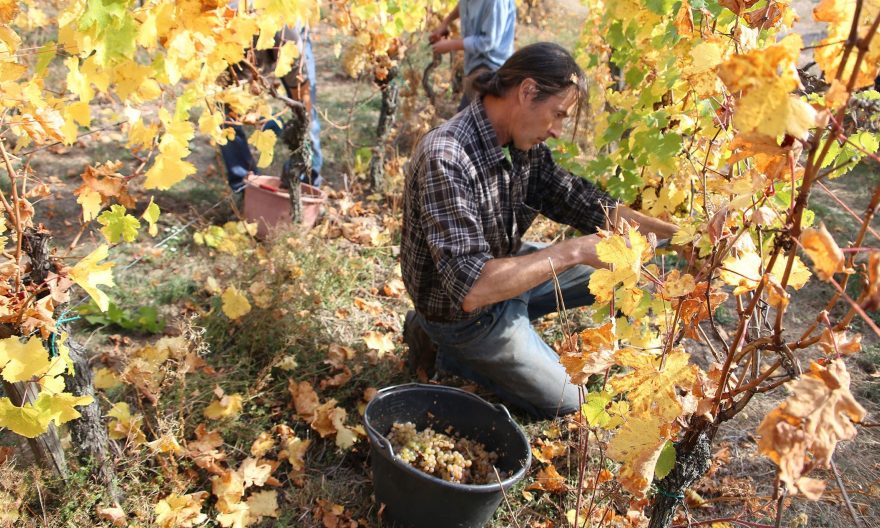 Domaine Bohn
| | |
| --- | --- |
| Vigneron | Bernard and Arthur Bohn |
| Location | Reichsfeld (Bas-Rhin) |
| Size of Domaine | 9 ha |
| Terroir | Continental climate, sheltered from rain by the Vosges foothills. Schist and slate in Reichsfeld (dating from the Precambrian), sandstone and volcanic soil in Nothalten. From gentle to steep slopes on hillsides. 330 to 400m altitude. |
| Viticulture | Practising organic, biodynamic and Fukuoka farming. Organic certification from 2020. |
| | View Domaine Bohn wines ↓ |
Despite being only a few kilometres away from the touristic Andlau, the village of Reichsfeld is off the beaten path, idyllic and preserved, almost stuck in a time warp. Tucked away, up a valley and protected by the Ungersberg mountain (culminating at 901m); Reichsfeld and its schist soils have been considered prime location for winemaking and produced some of the most sought-after wines as early as the 12th century.
The Comtes of Andlau showed interest first and during the 14th century the Cistercian monks planted the steep côteau of Schieferberg (hill of slate) before extending the plantings to the neighbouring village of Nothalten, now famous for its Muenchberg Grand Cru on pink sandstone and volcanic soil.
The Bohns have been vignerons in Reichsfeld for over three centuries, passing down savoir-faire and knowledge from generation to generation.
Nowadays Bernard and Arthur, father and son, look after their heritage with biodiversity and wildlife conservation as core values. Wild cover crop is not mowed but instead crushed and rolled with a rolo faca (knife-roller) to preserve humidity and increase life (e.g. humus, insects) in the vineyard.

Bernard has always had an experimental mindset trialling with vintage blending, perpetual reserve, fermentation in receptacles of any shape or form, straw wines etc.
With the arrival of the young (now in his mid-20s) and talented Arthur at the domaine around 2010, this pioneering spirit has reached another level with the making of sulphur free and skin contact wines. Those are the wines which stroke us the most with their vitality, strength and authenticity; unique wines we are hugely excited about.
Domaine Bohn Wines
Domaine Bohn
L'INDIGÈNE 2019
L'Indigène is the first Bohn wine we came across – drunk en terrasse in Strasbourg, it stopped us in our tracks and triggered our first visit to the domaine. Old vines of sylvaner (70yo) growing for two thirds on schist and one third on sandstone. The grapes go through a five weeks maceration following a similar process to Schieferberg Zero. A gently glowing orange colour, it is refined and nuanced with enticing aromas of ripe apricot, pomelo and peppercorn. Schist and sandstone have imparted verticality and a lovely rusticity with fresh and salivating tannins.
Domaine Bohn
SCHIEFERBERG ZERO 2019
50% Riesling, 50% Pinot Gris
(13% alc)
The S/SE exposed vineyards of Schieferberg are planted at high altitude (330 to 400m) and sheltered by the majestic Ungersberg mountain. The schist rock accumulates heat on sunny days and returns it to the vines during cool nights, an ideal scenario for the grapes which benefit from a prolonged and slow maturing process. Pinot gris and riesling are destemmed for one third and macerated in open vats for four weeks with gentle remontages to keep the cap wet. The top layer of the cap is discarded before pressing to remove any unwanted bacteria, and the juice finishes fermentation in traditional foudres before ageing. Schieferberg Zero is bottled without filtration or any SO2 added. Terroir driven and age-worthy, this wine has a deep and bright orange colour, fresh and polished tannins coated with a lush texture. Its complex aromas of morello cherries, quince and cocoa are lifted by an electric minerality.
Domaine Bohn
OBERHAGEL 2016
The Oberhagel is a 70yo vineyard located in the heart of the Schieferberg, a unique terroir in Alsace comprising blue schist of Villé, a 'mille-feuille' of shale dating back to the Precambrian age. It is between the shale layers that the vines draw minerals and impart character to the wines. This riesling was aged in traditional foudres on its fine lees for almost a year and bottled unfined with the addition of sulphur reaching 40mg/l total. This is a 'vin de garde' which combines incisive minerality and rich texture, the end of the mouth is long and saline with ripe peach and liquorice flavours lingering. For drinking now to 2030.
Domaine Bohn
MUENCHBERG GRAND CRU 2017
The Muenchberg Grand Cru, in Nothalten, takes its name from the 12th century Cistercian monks who used to meticulously work the southern exposed slope. The croissant-shaped vineyard is a suntrap over sandstone and volcanic deposits, a unique terroir with poor and acidic ground. The soil's pH is so low that vignerons, including local hero Patrick Meyer, practise liming to improve plant growth. The Bohns own 27 ares of vines averaging 70yo and yielding tiny grapes with thick skins. Slowly and directly pressed, the wine stays on its lees for a year in traditional foudres, and is racked once during élevage, bottling is made without any filtration or added sulphur. This is a 'grand vin de terroir', a multilayered umami bomb which graciously combines depth of flavours and intense salinity. A textural wine in its youth that will develop complex aromas over the years. For drinking now to 2030.
Domaine Bohn
PAR NATHUR 2017
100% Pinot Noir
(12.5% alc)
Arthur likes the texture and balance obtained when blending pinot noir grown on schist (70% in this case) and sandstone: the austerity coming from schist soils is tempered with the generosity and flesh given by sandstone. This pinot noir is the opposite of the regional cliché that is too often flabby and alcoholic; it is digeste and extremely drinkable thanks to its smooth texture, refreshing acidity and bramble fruit flavours. Ageing is carried out principally in stainless steel and the wine is bottled unfined, unfiltered and without any additives.