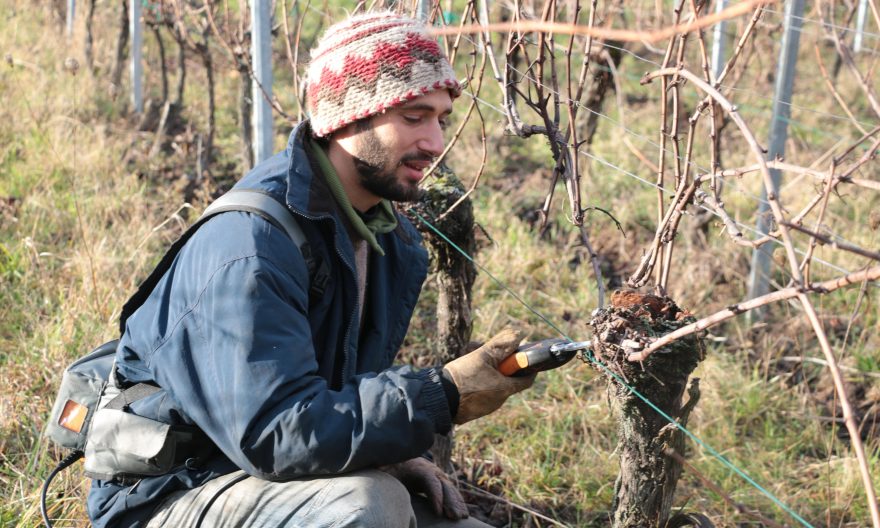 Beck-Hartweg
| | |
| --- | --- |
| Vigneron | Florian and Mathilde Beck-Hartweg |
| Location | Dambach-la-Ville (Bas-Rhin) |
| Size of Domaine | 7.5 ha |
| Terroir | Continental climate, sheltered from rain by the Vosges foothills. Mainly granitic sand on pink granite bedrock but also sandstone and volcanic soil. From gentle to steep slopes on hillsides. 220 to 330m altitude. |
| Viticulture | Certified organic (Ecocert) practising biodynamic and Fukuoka farming |
| | View Beck-Hartweg wines ↓ |
Beck-Hartweg is one of the historic domaines of Alsace which can be traced back to the early 16th century. They're located in the medieval town of Dambach-La-Ville, a quintessentially Alsatian village, built upon a unique and homogenous pink granite bedrock.
Florian and Mathilde are the 16th generation at the domaine and despite their young age (early 30s) they've already gained a solid reputation as a skilled and progressive representative of the future of Alsace.
Respect and increase of life through their soils and vines have been the main focus for the past two generations, with the return of grass in the vineyards from 1982 and organic certification in 2011.
Nowadays, inspired among others by the writings of Japanese farmer and philosopher Masanobu Fukuoka (cf. The One Straw Revolution), Florian and Mathilde allow wild plants to grow around their vines, roll them over, and create a mulch which in return increases organic matter and humidity - especially precious on these poor, dry and acidic soils.
Their forward-thinking farming produces dense and ripe grapes, with such health and balance that residual sugar is scarce following fermentation.
Meticulous vinification and ageing are carried out without the use of any additives (including SO2); resulting in profound and vibrant wines carried by the typical saltiness and mineral print of Dambach-La-Ville's emblematic two-mica granite.
Beck-Hartweg Wines
Beck-Hartweg
DAMBACH-LA-VILLE 2017
The designation Dambach-la-Ville distinguishes a unique terroir characterised by a homogenous pink granite bedrock on which the medieval village and its vineyards sit. This cuvée is made from three different lieux-dits (Lanzenberg, Frankstein, Breitstein) on sandy and rocky slopes exposed to the east. The grapes are slowly and gently pressed followed by an eight to ten months long fermentation in old traditional wooden foudres. Like all their wines bottled unfined and unfiltered after a year, this is a stunning terroir-driven riesling, crystalline and lifted, with flavours of pink grapefruit and roses.
Beck-Hartweg
FRANKSTEIN GRAND CRU 2016
The soil on the hillsides surrounding Dambach-la-Ville is all granitic, but only the four best southern exposed slopes have been classified as Grand Cru. The Beck-Hartweg family proudly possess 25% of their holdings on Frankstein GC and their riesling comes from the Frauenberg and the Pflanzer lieu-dits, with two thirds of the vines averaging 70yo. The grapes are slowly pressed and ferment in old traditional wooden foudres for up to ten months. Frankstein's early ripening and warm terroir forces the roots to go deep to find water, nutrients and minerals, which results in a bone-dry, deep and powerful wine straightened up by an extreme salinity. Rock salt, Mediterranean herbs, mint, yuzu and bergamot are all part of its complex, refined and aromatic bouquet!
Beck-Hartweg
FRANKSTEIN GRAND CRU 2016
100% Pinot Gris
(13.5% alc)
In comparison to the riesling, the pinot gris is solely planted on the Frauenberg slope (north of the village) and despite its similar terroir and vinification it unsurprisingly produces a different interpretation of the Frankstein GC. Although totally dry, it is fruit-forward, lush and round with liquorice and Chartreuselike flavours. Saltiness and stony minerality cut through the wine's richness to balance it perfectly.
Beck-Hartweg
GRANIT 2017
34% Riesling, 33% Pinot Noir, 33% Pinot Gris
(13% alc)
Grown on the typical granitic slopes of Dambach-la-Ville, the three grapes are harvested together and then slowly pressed with their stems. Fermentation takes place in old wooden foudres for eight to ten months and the wine remains on its fine lees for an extra few months before bottling. This atypical blend has a deep and golden colour, distinctive aromas of sweet toasted almonds and a fleshy texture. The common thread of tension, minerality and salinity is once again found in this wine. A consistent proof of the Beck-Hartweg's dedication to showcase their unique terroir through thoughtful and meticulous viticulture.
Beck-Hartweg
DAMBACH-LA-VILLE 2017
100% Pinot Noir
(12.5% alc)
This cuvée comes from two different vineyards, Pfirdel and Rebbronn, both at the bottom of slopes with deeper soils of granitic sand and silt over pink granite bedrock. The grapes are carefully destemmed but not crushed, then macerated for a week before being pressed and aged in stainless steel for less than a year. The result is ripe pinot with a rustic and refreshing structure, lovely flavours of red stone fruits, spices and a gentle smokiness reminiscent of Lapsang Souchong tea.