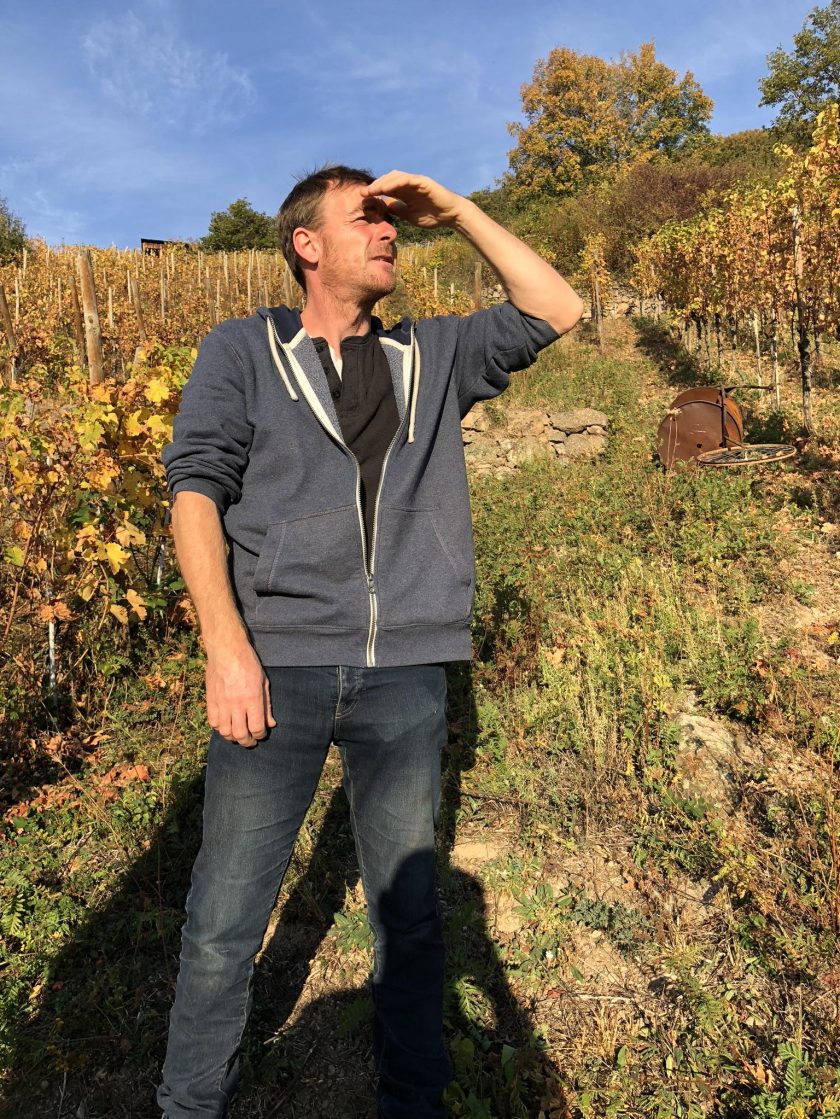 Laurent Barth
| | |
| --- | --- |
| Vigneron | Laurent Barth |
| Location | Bennwihr (Haut-Rhin) |
| Size of Domaine | 4 ha |
| Terroir | Continental climate, sheltered from rain by Vosges mountains. Heavy clay and marl, alluvial soil, marl and limestone (Marckrain), sandstone, quartz, granite (Schlossberg). Mostly hillside vineyards. 250-300m altitude. |
| Viticulture | Certified organic (Ecocert) practising biodynamic. |
| | View Laurent Barth wines ↓ |
Laurent Barth is based in Bennwihr, a few kilometres north of Colmar, and has around 4ha planted with the seven traditional varietals, on 25 different plots out of which he makes 10 to 14 different cuvées.
Taking over his father's vines in 1999 Laurent had to wait for 2004 and the end of the coop's contract to make the first wine under his name. This was a transition period that allowed him to plan the organic conversion of the domaine as well as its reorganization, and he sold some vineyards on flat lands to focus on his best sites including the Grand Cru Marckrain.
He is passionately interested in the pinot noir grape and makes no less than three cuvées, in and around Marckrain GC, on well-suited soils of heavy marl and limestone; they are the finest examples of Alsatian PN we tried, scarce and sought-after they've reached iconic status, with Japanese being the biggest fans!
Laurent is a perfectionist, and a worrier too, always on the search for some improvement he now follows biodynamic principles, and also acquired a splendid parcel in the prestigious Schlossberg GC (in the nearby village of Kaysersberg), where he devotes a lot of his time working the steep and granitic slope.
The domaine's label is an example of Laurent's love for detail: it reads 'L'Esprit du Vin' in Persian, Hindu, Georgian and Arabic, a wink to the travel bug he caught (pre-1999) when winemaking in Lebanon, India, South Africa, Australia and California…
In the cellar grapes are cooled down before being processed, fermentation and ageing occur in a mix of stainless steel, barrels and stunning traditional foudres (made in 1935 with oak from the Vosges forest), malolactics happen naturally, low sulphur is added at bottling following a test à l'air and depending on the presence of residual sugar. The result is bright, pure and precise wines which always feel poised and unforced.
Laurent Barth Wines
Laurent Barth
RACINES MÉTISSES 2018
55% Pinot Auxerrois, 15% Muscat, 15% Riesling, 10% Pinot Gris, 5% Gewürztraminer
(13.5% alc, 12g/l of rs)
A blend of all the major Alsatian varietals (usually called Edelzwicker), 'racines' means roots and 'métisses' mixed breeds. From 12yo vines planted on light alluvial soils, it is vinified in cuve to retain maximum freshness; fragrant on the nose with notes of citrus and honey, it is off-dry on the palate but still with racy acidity and persistent length.
Laurent Barth
MUSCAT D'ALSACE 2016
95% Muscat d'Alsace, 5% Muscat Ottonel
(13% alc)
Laurent crafts this excellent dry wine from three tiny parcels (averaging 40yo) including from the Grand Cru Marckrain (limestone-clay) and lower slope Grand Cru Schlossberg (granite). Foudre aged, it has excellent balance, feels very close to fresh grapes with a hint of jasmine, good texture and freshness, with a mineral stamp on the finish.
Laurent Barth
PINOT D'ALSACE 2017
95% Pinot Auxerrois, 5% Pinot Gris
(13.5% alc.)
Mostly auxerrois with a touch of pinot gris for good measure this is fruit-forward even though bone-dry, the mouthfeel is dynamic and underpinned by refreshing ripe lime flavours. A lovely wine for everyday drinking.
Laurent Barth
S05 P164 2017
100% Pinot Noir
(13% alc)
The cadastral number S05 P164 refers to two blocks of 40 to 50yo vines located above the Marckrain GC, planted in clayey marls and facing north-east. Laurent destalks all of his pinots according to the density of the initial juice, on this occasion he destemmed 50% of the grapes, by hand using a 'tamis' or mesh to avoid any crushing, and laid them down at the bottom of the cuve under the whole bunches. Following fermentation and well-judged pigeages the wine is aged just under a year, in three to four years old barriques, before being bottled with 25 to 30mg/l total of sulphur. This is an extremely elegant pinot with a soft texture balanced by fresh tannins, crushed wild strawberries, black pepper and menthol make for an enticing and complex bouquet. For drinking now to 2025.
Laurent Barth
M. S08 P93 2017
100% Pinot Noir
(13% alc)
The Marckrain GC extends from the Mambourg GC, and curves east on sedimentary marno-calcaire soils where Laurent's 40yo vines benefit from the morning sun and afternoon shade. This wine is vinified in the same way as the S05 P164, and the élevage occurs in younger barrels (2-3yo). The Marckrain with its active limestone makes for structured and age-worthy wines, and this pinot is multi-layered, almost southern in style with spicy flavours and distinctive aromas of blackberry and liquorice. For drinking now to 2030.