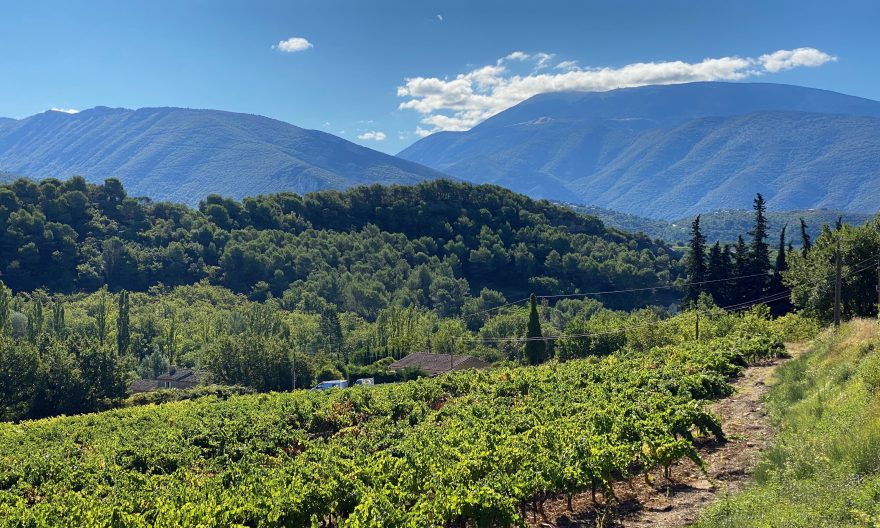 Aurélien & Charlotte Houillon
| | |
| --- | --- |
| Vigneron | Aurélien & Charlotte Houillon |
| Location | Faucon (Vaucluse) |
| Size of Domaine | 4.5 ha |
| Terroir | Mediterranean climate, Mistral (northern wind) influence. Deep sandy soils with clay and marl. Gentle slopes on terraces. 300m altitude. |
| Viticulture | Certified organic (Ecocert), practising biodynamic. |
| | View Aurélien & Charlotte Houillon wines ↓ |
The name Houillon might ring a bell. Aurélien is none other than the brother of Emmanuel and Adeline Houillon. The trio learnt and worked alongside Pierre Overnoy in Arbois (from 2007 to 2013 concerning Aurélien) while progressively buying him out. The siblings eventually parted ways. Aurélien as well as Adeline (now of Bruyère-Houillon fame) sold their share to Emmanuel and went on different journeys.

Aurélien moved to Switzerland where he had the opportunity to convert an estate to biodynamics, and develop his savoir-faire with different grape varieties. In 2017, Aurélien and his wife Charlotte decided to come back to France and create their own domaine. They naturally looked for properties in Jura at first, Loire and Bordeaux were also strong options, but they finally set eyes on a farm on the border between Vaucluse and Drôme Provençale.
Tucked in a small valley (300m altitude) at the foot of the majestuous Mont Ventoux, the domaine and its vines benefit from a microclimate. A north to south stream passes by the farm which cools temperature down, while woodland to the east blocks morning sun, preserves dew and increases humidity; a perfect combination of factors in this otherwise hot and dry area. The soils are characterised by the local 'safre', a thin and friable sand from the Miocene epoch, mixed with clay and blue/grey marl. This type of marl is similar to the precious water-retaining one found in the best terroirs of the not-so-distant Rasteau and Cairanne ACs.
Charlotte and Aurélien took over 9ha of land including fruit and olive trees, woods and 4.5ha of semi-abandoned vines (3ha grenache, 1.3ha syrah and cinsault) averaging 40-50yo. Applying biodynamic principles from the get-go, they have been focused on restoring the vines and terraces. Next they plan on co-planting (grenache blanc, gris, carignan and more cinsault) as well as experimenting with agroforestry. Yields at the domaine are currently around 17-20hh and Aurélien wishes to reach 20-25hh. They have two employees Victoire and Castor – a working horse and donkey. Aurélien comments, "This is Charlotte's skill really, these two won't listen to me, full of attitude! Whereas Charlotte has that special affinity with them, they work in symbiosis."

Aurélien makes wine in keeping with the principles of Jules Chauvet (1907-1989) – the revered winemaker, chemist and taster who first spoke out for natural wine post-WWII.
Cool grapes are harvested at sunrise in small crates. They are destemmed by hand and go through semi-carbonic maceration in stainless steel vats. The tanks are sealed with a 'chapeau flottant' (floating lid) which retains CO2, keeps the cap immersed and prevents the growth of bacteria. The fermenting juice goes through one pigeage, one remontage (only) and cuvaison lasts 10 to 14 weeks. Élevage follows in a mix of stainless steel and old barriques 7-10yo.
The cellar is buried under the north-facing corner of the farmhouse which provides perfect conditions for long ageing on lees and bottling 'sans souffre'.
The first vintage at the domaine was 2017, only a few months after the family settled down, and Aurélien decided to vinify and blend the different grapes together. From 2018 he bottled wines from single varietals to allow for deeper understanding of his terroir, the start of a learning curve. It is important to note though, that right from the start Domaine Houillon bottlings combined a sense of freedom with precision. They display a forward aromatic range, well-balanced concentration and intensely sapid flavours. Quite an achievement for a newcomer discovering the southern Rhône environment. There are no questions about it, Aurélien went to the right school!
N.B. Docteur en Lettres, Charlotte is an ancient manuscripts specialist. Her research has led her to countries like China and Ethiopia, where she learned the traditional methods of making papyrus from plants, as well as the art of natural pigments. The domaine's bottles are labelled by hand, some of them with paper produced on site using vine cuttings and local herbs.
Aurélien & Charlotte Houillon Wines
Domaine Houillon
CÔTES-DU-RHÔNE 2021
Vieilles Vignes
100% Grenache
(13.5% alc.)
2021 was a beautiful vintage chez Houillon – a relatively cool season with significant rainfall yielded lifted and elegant wines at 20hh average. This cuvée is made from the oldest grenache at the domaine – 70yo+ vines. The grapes were destemmed for a 10-week maceration (see profile), ageing occurred in stainless steel on fine lees before bottling in March 2022. Aurélien racks once and bottles when the wines are "happy, relaxed and completely clear". This is fruit-forward and peppery, it beautifully combines density and freshness – well balanced with rustic and savoury tannins triggering a lengthy salivation.
Domaine Houillon
CÔTES-DU-RHÔNE 2021
Canne
70% Grenache, 30% Syrah
(13.5% alc.)
The word 'canne' refers to the wooden tap on traditional foudres which allow for free-run juice to be sampled. This is indeed pure 'jus de goutte' (the 'vin de presse' goes into a different cuvée) made from 50-60yo vines following a 10-week cuvaison. Ageing and bottling as per the Vieilles Vignes wine. Expansive mouthfeel and texture, smooth tannins, lifted and fresh aromatics sustained by fine bitters, this is simply excellent.
Domaine Houillon
CÔTES-DU-RHÔNE 2020
Indigo
60% Syrah, 40% Grenache
(13.5% alc.)
This is one of the top wines at the domaine – old vines yielding concentrated grapes, vinification 'en cuve fermée' (see profile) for 10 weeks, ageing in stainless steel vat and bottling in June 2021. This is where Aurélien's fine touch comes into play, the wine is deep and structured but he manages to retain so much freshness and nuances within it. Indigo also expresses complex and enticing aromas of bramble fruits, viola flowers and blood orange – a stunning bottling from the Houillons.