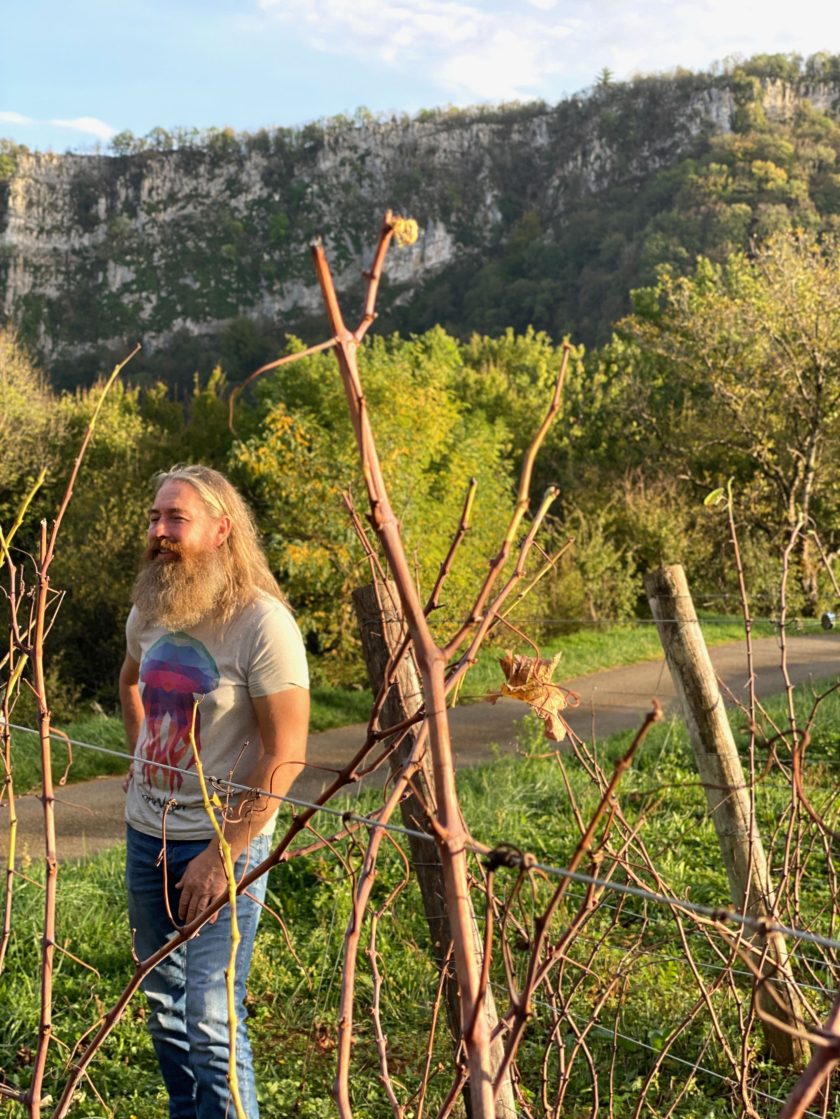 Allante & Boulanger
| | |
| --- | --- |
| Vigneron | Mathieu Allante & Christian Boulanger |
| Location | Gizia, Rotalier (Jura) |
| Size of Domaine | 3.2 ha |
| Terroir | Continental climate. Triassic and Jurassic marls on Bajocian limestone. Gentle to steep slopes mostly south and west facing. 250-450m altitude. |
| Viticulture | Permaculture, practising biodynamic. |
| | View Allante & Boulanger wines ↓ |
Christian Boulanger worked full-time at Domaine Labet for over 15 years, he's part of the family – a third sibling for Charline, Romain and Julien Labet.
Despite having imported the Labet wines for two decades, we discovered and drank our first bottle of A&B in Copenhagen: a splendid Phenomaynal 2014 at the must-visit Barabbas restaurant. A phone call to Charline followed, and we were swiftly introduced.

You know, us the Jurassiens we're a bit 'sauvage'!
Christian and his friend Mathieu Allante (who also did a stint with the Labets) have been gathering small parcels over the years: patiently waiting for opportunities, they've been leasing and buying plots alongside recovering historical vineyards.
They are two men for two cellars: one is in Rotalier where Christian lives and the other at Mathieu's, near Gizia 15km south – a set up somehow practical since their vines grow around and between these two villages.
Allante & Boulanger's holdings comprise two plots in Rotalier, La Chèvre – 90yo vines perched atop a ridge, and the lieu-dit Patarate – 70yo vines with different strains of trousseau including the cherished 'à la dame' cultivar; there's also one plot in the village of Maynal (on the way from Rotalier to Gizia) taken over from JF 'Fanfan' Ganevat; and finally two plots in Gizia, at 400-450m altitude, where the duo has accomplished an impressive feat: clearing abandoned vineyards from the invading forest, and planting all Jura varieties as well as pineau d'aunis and mondeuse. The wilderness around Gizia is stunning with majestic cliffs surrounding the vineyards, no wonder they fell in love with this unique terroir.

Vinification occurs in the basement of an ancient parish – Mathieu lives above – and the approach is minimalistic: whole bunches for the whites while the reds are hand-destemmed, the pressing is slow with the help of a basket press, slow fermentation and long ageing follow in older wooden vessels of different sizes and shapes; there's no fining or filtration and bottling is done 'à la chèvre' (manual gravity bottling using a spouted device).

For many years Christian and Mathieu's day jobs were their main source of income, they made a point of being financially independent, without pressure from the banks or anyone else for that matter. They've taken risks and avoided compromising to fully express their sensitivity and creativity – making additive-free wines from Fukuoka-inspired farming.

There's no social media here, no desire for the spotlight; emails and (non-smart) phones are sporadically (and reluctantly) picked up – Mathieu explains, "we want to live in the moment, connected to the people around us, our community, and the astonishing nature we're surrounded with", and Christian to add with a cheeky smile, "you know, us the Jurassiens we're a bit 'sauvage'!"
This is one of the most exciting project we've seen, with clear potential for progress – we are proud of supporting Mathieu and Christian on their path to excellence.
Allante & Boulanger Wines
Allante & Boulanger
SAVAGNIN 2018
Vin de France
Mathieu and Christian recovered a historical terroir in Gizia at 400-450m altitude, turning a once-prestigious south-facing amphitheatre from fallow land to cultivated field – this is located right next to Vigne Au Daim where Almagamé also comes from. From 2011 to 2013, they planted savagnin vert et jaune on grey marlstone and schist 'carton' (laminated shale). Aged for two years in old 228ltr barrels, this is vibrant, deep and rich, with a perfectly pitched oxidation and schist-induced salt which makes for a versatile wine – perfect for food matching.
Allante & Boulanger
VIGNE AU DAIM 2019
Vin de France
100% Chardonnay
(13% alc.)
45yo chardonnay on grey marl and schist 'carton' (laminated shale) in the village of Gizia. Directly and slowly pressed, the wine fermented and aged for 24 months in old barrels of different sizes. The name 'Vigne au Daim' is a reference to the many deer visiting the parcel, an area teeming with wildlife. The 450m altitude and cool nights bring lovely acids and length to the wine, a dynamism amplified by the salty minerals of the local schist.
Allante & Boulanger
AMALGAMÉ 2020
Vin de France
35% Petit Béclan, 25% Gamay, 20% Poulsard, 10% Trousseau, 10% Pinot Noir
(12% alc.)
The cuvée Almagamé comes from the plot Vigne Au Daim in Gizia – Christian and Mathieu took over the parcel from a local elder in 2011 and co-planted many different varieties. "Virtually extinct Jura vine" is how Jancis, Julia and José describe the petit béclan in their book of reference Wine Grapes. Planted with some gamay, pinot, trousseau, and poulsard on a steep slope, its small bunches and thick skin bring rusticity to this unique Jura blend. Totally destemmed and co-fermented, aged in 300ltr barriques for 12 months, it has a dense and grippy structure with ripe black fruit and moreish acids.
Allante & Boulanger
PHENOMAYNAL 2019
Vin de France
100% Chardonnay
(12% alc.)
90yo chardonnay on red marl over 'éboulis calcaires' in the village of Maynal (south of Rotalier on the way to Gizia). Christian and Mathieu took the plot over in 2005 at the start of their project – it was previously worked by their mate Fanfan (JF Ganevat). Fermentation and 24 months ageing on fine lees in 10yo demi-muids. This wine has a moreish and voluptuous texture perfectly balanced by zingy bitters. The emblematic and catchy label was drawn by a close friend, the depicted hand combines the sensual and feminine side of wine with the rough manual work of a vigneron(ne).
Allante & Boulanger
LA CHÈVRE 2019
Vin de France
100% Chardonnay
(12% alc.)
Lieu-dit La Chèvre – 0.2ha of 90yo vines on white/grey marls perched atop a ridge above Rotalier. The low-yielding vines are not producing much grapes but the resulting wine has exceptional concentration and depth, the well-judged 24-month élevage in demi-muids helped bring focus and drive to this stunning wine.
Allante & Boulanger
SOUS POIDS 2019
Vin de France
100% Chardonnay
(13% alc.)
From the lieu-dit Patarate in Rotalier, 80yo vines on shallow grey marl over a limestone bedrock. Vinified and aged in wooden foudres for 20 months before being bottled "naked" i.e. without sulphites added – the label depict a certain vision of naturism or nudism in wine, beware mature audience only! Sapidity characterises this bottling with well-integrated VA that make a convincing case for umami in wine.
Allante & Boulanger
LA BARDE 2018
Vin de France
70% Chardonnay, 30% Savagnin
(13% alc.)
La Barde aka La Bardette is a prestigious lieu-dit and fine terroir in Sud-Revermont (think Domaine Labet). The 90yo vines are planted on shallow red clay topsoil over hard limestone in which many fossilized seashells can be found. Vinified and aged in 228ltr barrels for 24 months, the savagnin spices up the chiselled and beautifully balanced chardonnay, adding impact and depth to the blend – a powerful wine perfectly framed by savoury minerals.