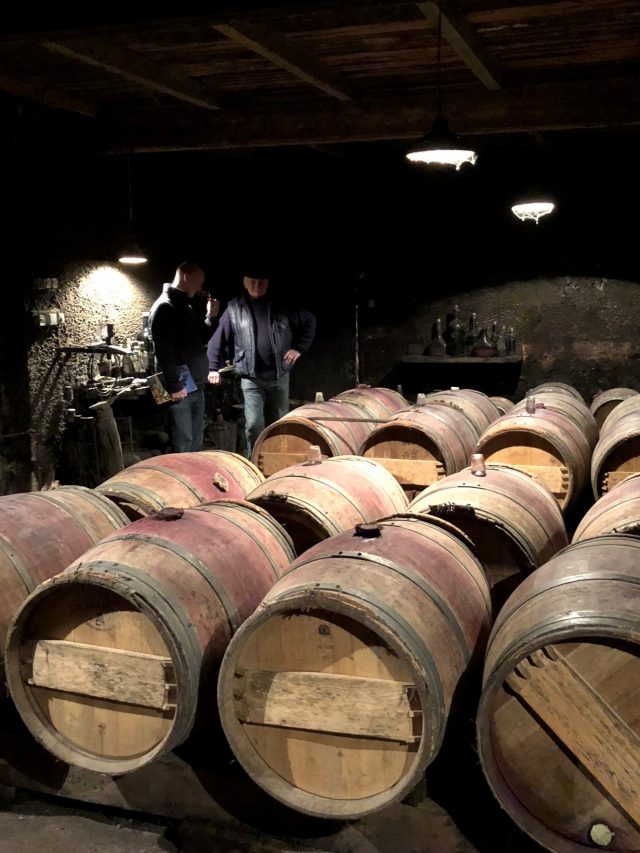 Eric Asimov on Mr Fillastre | NY Times
| | |
| --- | --- |
| Original Title | Profile of the Winemaker Jean-François Fillastre |
| Publication | The New York Times |
| Author | Eric Asimov |
| Published | 25 August, 2010 |
I've met many exceptional people in the wine business over the years, but Jean-François Fillastre is one of the most extraordinary. Mr. Fillastre is the proprietor of Domaine du Jaugaret, a tiny producer of St. Julien, and the centerpiece of my column on the vigneron side of Bordeaux.

Like any great winemaker — or chef or artist, for that matter — Mr. Fillastre is a stubborn idealist. He makes wines according to his own vision, to please himself. If that adherence to his own views means that his wines are regarded as quirky, eccentric or unusual, so be it.
Like Bartolo Mascarello in Barolo, Italy, or R. López de Heredia in Rioja, Mr. Fillastre clings to the ways of his forebears. This alone would be enough to make him stand out in Bordeaux, which has evolved at a breakneck pace in the last three decades. He thinks of himself as a true conservative.
"There's too much change,'' he said. "People are always following styles. I don't disagree with evolution in winemaking, but I don't know anybody who's trying to preserve the old ways.''
His methods surely are not for mass production: no chemicals, minimal technology, no manipulation. That's just the beginning. While much of the Medoc has planted more merlot in an effort to make softer, fruitier, more accessible wines, Mr. Fillastre resolutely sticks to his blend of 80 percent cabernet sauvignon with some petit verdot and malbec. He ages his wines for 30 months in old barrels, at least a year longer than the norm, and he makes no concessions for modern or critical preferences.
The wines are extraordinary, too. Over lunch with Mr. Fillastre, I had an opportunity to taste some older vintages. A 1990 was pure, round and full, absolutely delicious, but a 1982, the last vintage produced by his father, Jean-Emmanuel, was something else entirely, rich and concentrated yet light and precise with grace and finesse.
He shrugged, as if to say in classic fashion, "Pas mal.''

"I make wine to hold up the family tradition, not to make money,'' he said on a recent trip to Jaugaret.
Mr. Fillastre is modest in manner with a sly, almost impish sense of humor. At one point, struck by the balance and precision of the '82, I said something inane, referring to the wine's "invisible structure.'' With that, he held his glass up and said: "No, it's not. I can see it!'' Zing!
While the Jaugaret wines can be enjoyed at younger ages — the '02 is absolutely delicious now, though the '04 is still too young — it seems a shame not to allow them to evolve into a gorgeous prime, like the '90 and the '82. And if I had any question about how long the wines could last, it was answered later on, when Mr. Fillastre opened an unmarked, but clearly older bottle. Through the glass, the wine looked to be a pale ruby color. After managing to pry out the crumbling cork, he poured out a few glasses of this wine, which was luminous and pure, delicate but not fragile. It turned out to be a 1943, his birth year, in fact, and no doubt made under trying conditions during the German occupation of France.
While Jaugaret is produced only in minute quantities, at least it is still produced. Jaugaret has been in the family for more than 350 years, but Mr. Fillastre, who is 67, has no heirs. What will become of Jaugaret after he is gone?
"That's a problem," he said.
Luckily, his father made wine until he was 90, so perhaps Mr. Fillastre has more than a few years remaining. Still, it's sad to imagine a world without a Domaine du Jaugaret, and without the collected wisdom, tradition and experience that Mr. Fillastre embodies. It's even sadder to imagine the Jaugarets and Fillastres that we've unknowingly already lost.
View Domaine du Jaugaret's profile →