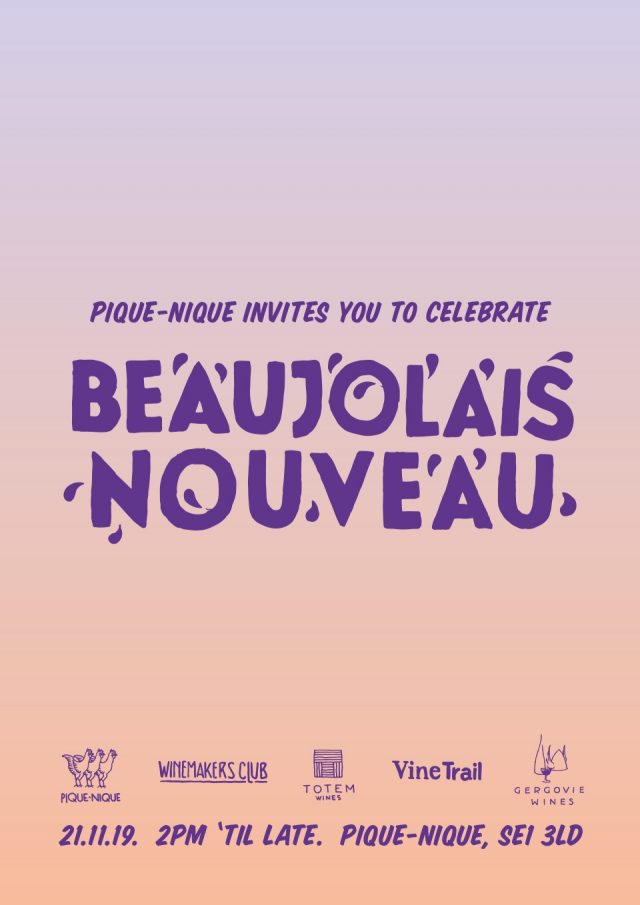 Celebrate Beaujolais Nouveau at Pique-Nique
We've teamed up with Pique-Nique restaurant as well as wine importers Totem, Gergovie and Winemakers Club to celebrate the wines of Beaujolais on Thursday 21st November.

The festivities will start with a tasting from 2 - 7pm, followed by an evening featuring live accordion, hearty French food and arguably the most extensive Beaujolais selection in the country.

We will show the wines of Sebastien Congretel of L'Epicurieux for the very first time, the 2018s from Domaine Marcel Lapierre – including the confidential cuvées Camille and Marcel Lapierre – as well as old and new releases from Domaine Chamonard, Jean-Claude Chanudet and Mathilde & Stephen Durieu (Lou y es-tu?), while our friends will pour the wines of Séléné, Karim Vionnet, Philippe Jambon, Santini Collective & Vin Noé, Clotaire Michal and Michel Guignier.

In the evening Pique-Nique will morph into the most authentic French bistrot in town, serving a concise menu of French classics around communal tables. All wines, from all listed producers will be available to drink on the night.

No need to book, simply walk-in and celebrate Beaujolais Nouveau Day with us.

WEAR YOUR FAV BERET AND CLAIM A FREE GLASS OF WINE!!