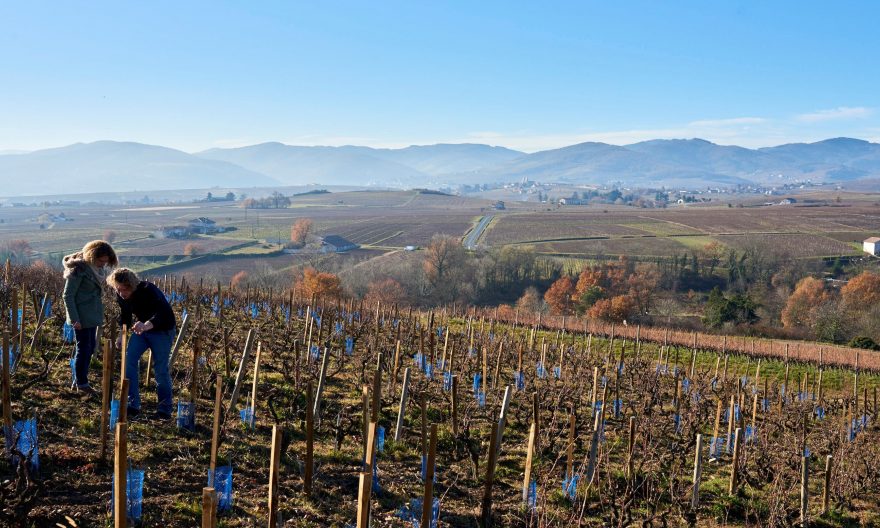 Marcel Lapierre
| | |
| --- | --- |
| Vigneron | Matthieu and Camille Lapierre |
| Location | Villié Morgon (Rhône) |
| Size of Domaine | 15 ha |
| Terroir | Continental climate. Schist and decomposed granite on granite bedrock. Steep slopes. 350m altitude. |
| Viticulture | Certified organic (Ecocert), practising biodynamic. |
| | View Marcel Lapierre wines ↓ |
The name Marcel Lapierre has become legendary and is held sacrosanct in natural wine circles. Marcel's father founded the domaine and was one of the first to bottle his own wine in the area, already showing a pioneering spirit.
Marcel took over in 1973 and in 1981 under the influence of researcher and chemist Jules Chauvet, he and the infamous gang (including Jean-Claude 'Le Chat' Chanudet) eschewed the ubiquitous chemicals, went back to traditional and artisanal methods and first spoke out for natural wine triggering a revolution still underway.
Following Marcel's passing in 2010, Mathieu and Camille have carried forward their father's outsized legacy with determination, dedication and passion. The wines from this iconic domaine keep getting better reaching an extra level of finesse unseen before.
"Nobody's wines taste like Marcel Lapierre's. He is the source of a whole new school of winemaking, turning the hands of time back to wine the way Mother Nature envisioned it. Tasting it can change the way you taste wine" Kermit Lynch (circa 1990)
Marcel Lapierre Wines
Marcel Lapierre
MORGON 2020
A finely sculpted wine here, with a midraspberry colour, delicately extracted, and beautifully pure old viney fruit, enhanced by ten months ageing in casks from Prieuré-Roch in Burgundy. No sulphur was used during the élevage, just a little added at bottling.
Marcel Lapierre
MORGON 2018
Camille
Named after Camille and Mathieu's grandfather, Cuvée Camille comes from a 1 ha plot in La Roche du Py, a lieu-dit within the famous Côte du Py climat where the soil is very thin, and the roots plunge straight into the granitic rock. Here the 80-100yo vines yield a wine which is deep and concentrated in 2018, with ripe fruit, wild herbs and spices, it's rich and complex with an almost sudiste quality and beautiful bitters which lend freshness and peps to the finish. Drink now to 2025.
Marcel Lapierre
MORGON 2018
Cuvée Marcel Lapierre MMXVIII
The cuvée Marcel Lapierre is a selection of the oldest vines of the domaine, all of them on schist, with about 80% sourced from Côte du Py while the other 20% come from Douby, another climat in Morgon. The schist seems to have tempered some of the heat of the vintage here, with floral notes on the nose, while the palate is quite structured, with fine tannins and good acidity at its core, it is rich and layered, with spices, herbs, cherry and earthy tones mingling on the mineral-flecked irony finish. Drink now to 2028.