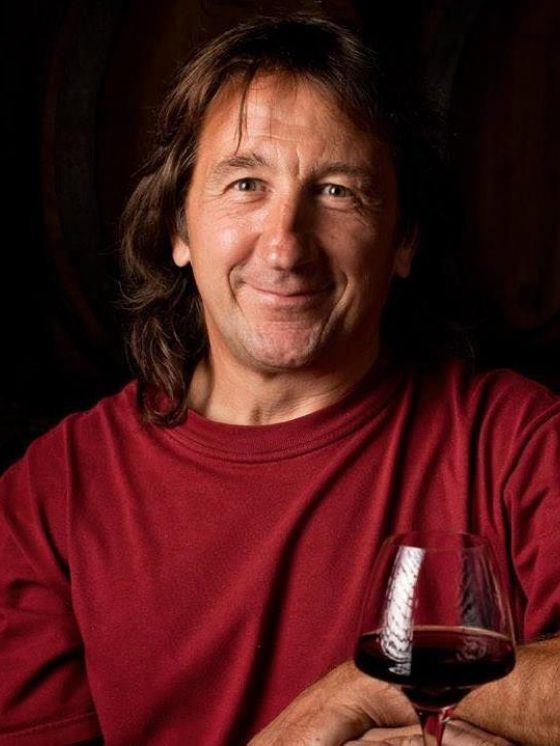 Thierry Richoux
| | |
| --- | --- |
| Vigneron | Corinne, Thierry, Gabin and Félix Richoux |
| Location | Irancy (Yonne) |
| Size of Domaine | 19 ha |
| Terroir | Continental climate. Clay-limestone soil on Kimmeridgian limestone bedrock. Up to 25° slope. 170-250m altitude. |
| Viticulture | Certified organic (Ecocert) |
| | View Thierry Richoux wines ↓ |
Irancy is an interesting appellation, which only received its AC status as recently as 1999. Situated 18km southwest of Chablis, in colder times the pinot noir here struggled to ripen properly. However, the timing of the granting of AC status reflected the warmer vintages of the nineties, which are now more regular, and a quick visit confirms that the vineyards sit on a superb terroir – a very steep, well-protected, south, south-west facing hillside based on Kimmeridgian limestone. The entire appellation comprises only 160ha and there are 40 vignerons, 80% of whom plough their vines – an unusually high proportion – primarily to prevent erosion.
The Richoux have been working the slopes of Irancy since 1620, but it wasn't until the seventies that they decided to dedicate themselves exclusively to winemaking, the first family to do so in the village. Regarded as one of the most accomplished vignerons of the appellation, Thierry was joined in 2013 by his two sons, Felix, and Gabin who are due to take over in the coming years. They have 19ha planted on the best mid-slopes above the village which they work organically, Félix and Gabin have recently introduced the use of plant-based biodynamic preparations. After 20 years (during the 80s and 90s) of using clones, the family has now gone back to massal selection, picking cuttings from their oldest vines when replanting.
Back in the cave, a vibrating sorting table was introduced in 2015 to great effect, cutting out any imperfect grapes and allowing them to forgo the use of sulphur during fermentation and ageing, together with reducing the amount added at bottling. In such a marginal climate, they prefer destemming to avoid extracting any greenness from the stalks. Native yeasts trigger fermentation in stainless steel and ageing is carried out in large oak barrels and foudres. They prefer remontage for a gentle extraction that respects the delicate structure of Irancy's pinot noir and gives their wines a minimum of 18 months élevage.
The arrival of Gabin and Félix has triggered a few changes which seem to be bearing fruit already – their 2017 Irancy is the best we've tasted at the domaine – and with the construction of a brand new cellar in time for the 2019 harvest, it'll be interesting to see how much more they can improve.
In these days of astronomical pricing for wines from the Côte-d'Or, Irancy is not only individual and different but also terrific value for money.
Thierry Richoux Wines
Thierry Richoux
IRANCY 2017
100% Pinot Noir
(13% alc.)
Up to 70yo vines here, planted on high quality 41B rootstock, with a yield of 38hh in 2017. Hand harvested and destalked 100% with gentle remontages during fermentation, it was given an 26-month élevage (14 in cement cuve and 6 in foudres). Restrained on the nose, offering a delicious, zesty red cherry fruit, it's well balanced and light on its feet with fine refreshing tannins. 50mg/l SO2 total.