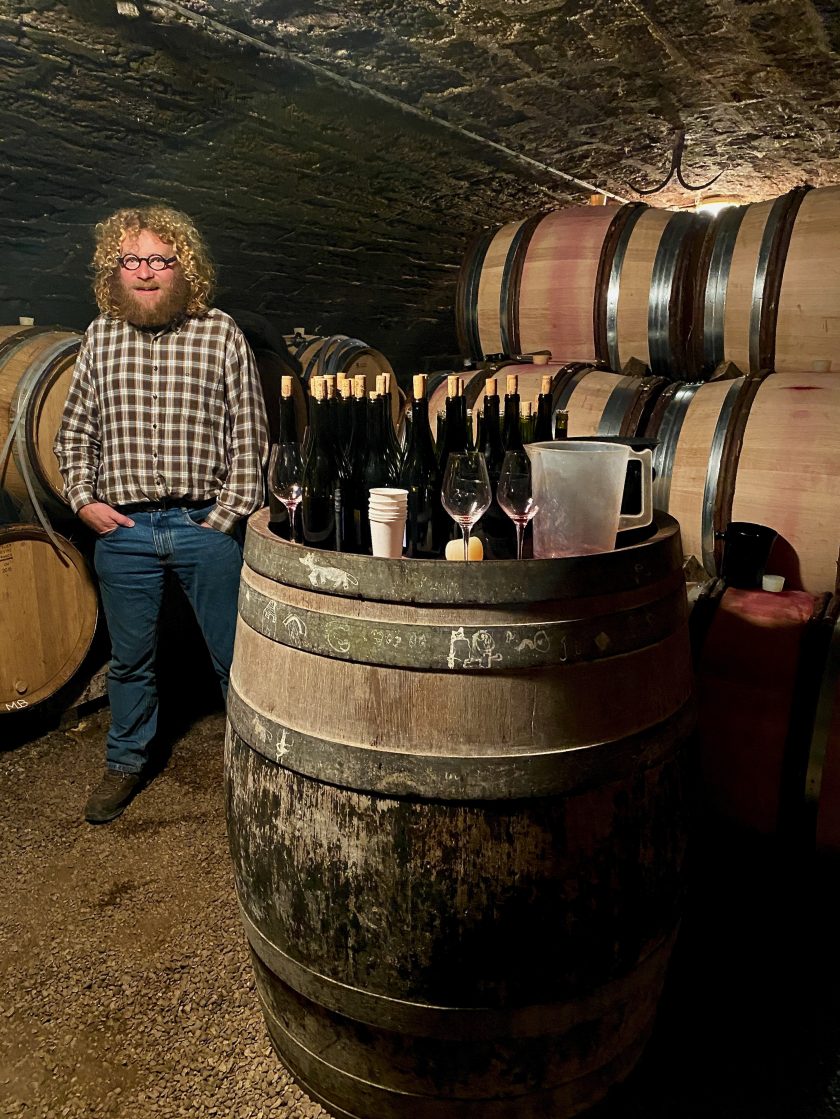 Sylvain Pataille
| | |
| --- | --- |
| Vigneron | Sylvain Pataille |
| Location | Marsannay-la-Côte (Côte-d'Or) |
| Size of Domaine | 17 ha |
| Terroir | Continental climate. Clay-limestone marls, alluvial sediments on mid-Jurassic (Bajocian and Bathonian) limestone bedrock. Gentle slopes. 250-320m altitude. |
| Viticulture | Certified organic (Ecocert), practising biodynamic. |
| | View Sylvain Pataille wines ↓ |
A tasting with Sylvain Pataille is not one you'll forget in a hurry. A mass of ginger curls and beard, small round spectacles and the air of an eccentric professor, he brims over with energy, running through the fine details of more than 20 different wines in rapid-fire French, whilst dealing with a never ending stream of phone calls. He has to be the busiest grower we work with – not only do he and his wife Maryse have 17ha in and around Marsannay (plus some grape purchases for a generic aligoté cuvée), but he is also an independent consultant oenologist for around 20 growers in the Côte-d'Or and Côte Chalonnaise.
Born and bred in Marsannay, but not from a winemaking family, Sylvain had to start from scratch when he wanted a domaine of his own. He went to wine school in Beaune at the age of just 14 and then to wine university in Bordeaux in order to become an oenologist. And Sylvain explains, "Since my parents didn't have any vines my plan was to travel and make several harvests a year. Instead I got a job at a lab in Beaune (with Kyriakos Kynigopoulos), where I stayed from 1997 to 2001. I learnt a lot. But at the same time, it was quite superficial. You try the wines during vinification and ageing. After that you don't exist anymore. The wines are not yours. And the guy who made them has forgotten about you. I really needed to create something that I could call my own".

So, he started off in 1999 with just 1ha of vines, which leaped to 9ha in 2002 including Clos du Roy and La Charme Aux Prêtres. Sylvain acquired a cave in nearby Chenôve in 2004, although still keeping an old and jam-packed vaulted cellar in the centre of Marsannay for barrel ageing his wines. As the years have passed, he has gathered an enviable number of some of the finest terroirs of Marsannay, where a layer of limestone is never far from the surface. They have been tended biodynamically since 2015. He loves to keep tiny parcels of very old vines and has become the leading proponent of the re-appraisal of aligoté. A grape which has many similarities to chardonnay, both were first grown in Burgundy in the 17th century and are natural crosses of pinot and gouais blanc – two of Western Europe's most ancient and prolific progenitors. Sylvain produces a clutch of age-worthy single-vineyard aligotés that explore the grape's nuances. He is one of five founder members of the Aligoteurs association, a group that now numbers 50 growers (mainly Burgundy) dedicated to showcasing the finest expression of the grape, and hosting a fascinating tasting every April.
Sylvain carries out new plantings of all the vineyards by massal selection with clippings from growers like Jean-Marc Roulot, and he uses a good number of low yielding rootstocks (strictly no SO4) to add complexity, planting at very high densities of 12-14,000 vines per hectare. Yields average a low 35hh, he uses an old vertical press, presses very slowly over 6-8 hours for both whites and reds, varies the percentage of stalks used for the reds, and carries out élevages of up to two years, in a mix of cuves, fûts, 350ltr and 600ltr barrels. The percentage of new oak rarely goes above a modest 20%, and many of the whites are only aged in older 7-8yo 350ltr barrels. Only the bottom 15% of vats are filtered for the whites, and sulphur use is minimal with total levels of around 30mg/l for whites (added after racking and before bottling) and 20-25mg/l total for reds. He decides on the bottling dates by taste, whenever the wines are ready.
Whilst some of the top lieux-dits like Clos du Roy give bottlings that will age very well, most of the wines are united by a digeste quality that makes them approachable and so enjoyable in their youth – you just want to drink them. Sylvain is equally adept at making whites and reds (quite rare in Burgundy) and his Marsannay Rosé is outstanding too – delicious from the outset it becomes even better given a few years bottle age.

N.B. When the Marsannay appellation was created in 1987, it comprised the entire villages of Couchey and Marsannay, but only the southern part of Chenôve. A small scale wine-growing village till the 1950s, Chenôve was absorbed into the urban conglomeration of Dijon. Le Chapitre, one of the last vineyards standing is indisputably one of the greatest in the whole Marsannay area. Continuing along the same line of hillside as Clos du Roy, it was left out of the appellation for political reasons, and bottled under the generic Bourgogne AC. This injustice has been righted from the 2019 vintage, when it became a recognised climat of the Marsannay AC. Sylvain owns 1.3ha of Le Chapitre and produces both colours.
Sylvain Pataille Wines
Sylvain Pataille
BOURGOGNE BLANC 2017
Les Méchalots
100% Chardonnay
(12.5% alc.)
This comes from a tiny 0.30ha parcel of 7yo vines planted in deep clay soils with many small stones and was transferred into 7-8yo oak barrels halfway through fermentation. Quite Chablisesque on the nose, it has a beautiful lime flower aroma that opens nicely with aeration. The palate is well balanced with crisp acidity, confit lemon and a saline twang on the finish.
Sylvain Pataille
MARSANNAY 2019
100% Chardonnay
(12.5% alc.)
The white Marsannay comes from five parcels of very limestone influenced soil including fruit from newly planted vines in Couchée and shows some reduction on the nose. The palate is more indicative of the wine, displaying a fine thread of acidity, plenty of citrus lemon, lime and minerals, and a precise, lively finish. Once the reduction blows off the nose awakens and displays the qualities of a very fine wine.
Sylvain Pataille
BOURGOGNE BLANC 2017
Le Chapitre
100% Chardonnay
(13% alc.)
Bottled as Marsannay from 2019 vintage, Le Chapitre was originally excluded from the AC despite its high-quality site (see profile). The vines (0.3ha) were planted in 1955 in a mix of marl and limestone scree soils, facing east on a very steep slope. The wine has a crisp, pure bouquet of white peach, pear and apple, gaining intensity with aeration. The fresh, focused palate is well balanced with a fine bead of acidity, quite tangy with sour lemon and quince on a lengthy finish. Excellent.
Sylvain Pataille
MARSANNAY ROSÉ 2018
Fleur de Pinot
80% Pinot Noir, 20% Pinot Beurot
(13.5% alc.)
The tradition of rosé wine in Marsannay dates back 1919, following the war, the idea was to create 'un vin de fête' to revive business. Sylvain's outstanding rosé is made from 50-90yo PN and pinot beurot (the Burgundian strain of pinot gris). The vines are planted in rocky white marls, from limestone-heavy terroirs usually dedicated to white grapes (Charmes aux Prêtres, Champ Forey), helping to confer a texture that is more typical of a white wine. Half comes from a direct press of the grapes and half from a 2-3 days maceration on the skins. Very unusually for a rosé, this benefits from a two years élevage (in older 600 ltr barrels). Savoury nose and then on the palate full of vivid raspberry fruit encased in lovely acidity and minerals with light tannins in evidence. Extremely persistent, suggesting that bottle age will benefit – Sylvain recommends at least two years. For drinking now to 2024.
Sylvain Pataille
MARSANNAY 2019
100% Pinot Noir
(12.5% alc.)
Sylvain has 3ha of 50yo vines for his red Marsannay. Aged in a mix of 2 to 10yo barrels plus several old demi-muids. This includes around 25% whole bunches, underpinned by a dark berry and briar bouquet with fine definition. The medium-bodied palate offers mulberry and red plum notes, moderate acidity and meat juices infusing the red fruit on the ample finish.
Sylvain Pataille
BOURGOGNE 2017
Le Chapitre
100% Pinot Noir
(13% alc.)
Bottled as Marsannay from 2019 vintage, Le Chapitre was originally excluded from the AC despite its high-quality site (see profile). This is made from 1ha of 25, 40 and 70yo vines. Exhibiting aromas of orange rind, wild berries, plums and dark chocolate, it's medium to full-bodied, with a muscular chassis of powdery tannin, savouriness and fine concentration. More structured than many of the domaine's Marsannay cuvées, this will really blossom with four or five years in the cellar. For drinking now to 2028.
Sylvain Pataille
MARSANNAY 2018
En Clémengeots
100% Pinot Noir
(13% alc.)
Located at the northern border of Couchey, this east-facing site is characterized by shallow 30-40cm clay soils over a plaque of very hard limestone. En Clémengeots comes from 1ha of 40yo vines and Sylvain kept 50% whole bunches. There are lovely ripe raspberries and griotte cherries on the nose, with floral hints of peonies too. The medium-bodied palate, layered and succulent, offers fine weight as well as grip and a tang of spice toward the lively finish. For drinking now to 2030.
Sylvain Pataille
MARSANNAY 2018
Clos du Roy
100% Pinot Noir
(13% alc.)
Arguably the best terroir of the appellation, the east-facing Clos du Roy is one of the contenders for the 1er Cru classification to come. 2ha of mostly 60yo vines (2/3) on stony marls, it contains 90% whole bunches and was given a 18 months élevage. You cannot detect a single stem on the fulsome, generous bouquet of red cherries mixed with strawberry and raspberry. The fresh, vibrant palate is medium bodied with supple tannins, a fine bead of acidity and one of the most precise finishes among Pataille's reds. Classy, and always the wine at this address that will benefit from the most bottle age. For drinking now to 2032.