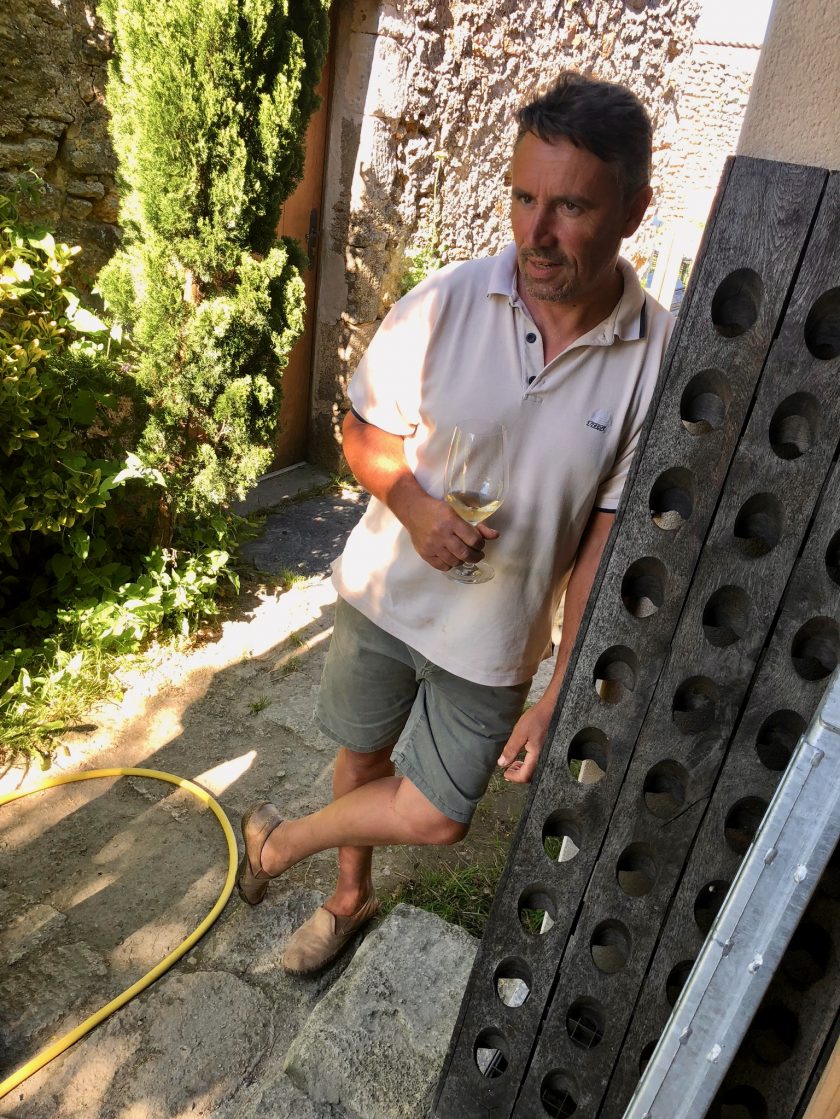 Stéphane Bernaudeau
| | |
| --- | --- |
| Vigneron | Stéphane Bernaudeau |
| Location | Martigné-Briand (Maine-et-Loire) |
| Size of Domaine | 3 ha |
| Terroir | Continental climate with Atlantic influence. Sandy decomposed schist topsoil on schist bedrock, gravel and clay in some parcels. Gentle slopes, 50-100m altitude. |
| Viticulture | Practising biodynamic |
| | View Stéphane Bernaudeau wines ↓ |
Stéphane Bernaudeau grew up in the Anjou Noir, right next to the Layon, as a child he loved wandering around the river banks contemplating the fauna and flora for hours. After finishing his studies in forestry in the late 80s, he took a cash in hand job at the neighbouring Ferme de la Sansonnière, working for the newly arrived Mark Angéli.
Tastings were regularly organised at the farm with pioneers like Jo Pithon, Richard Leroy, Eric Calcutt and René Mosse attending. Stéphane quickly embraced the group's countercultural approach to wine, and what was meant to be temporary became a full-time job, he worked as Mark's right-hand man for over 10 years.
It comes as no surprise that Stéphane has become a sucker for blind tastings, "so that one can say des conneries freely" he explains with a cheeky smile - one should expect to be tested when visiting and therefore should bring some bottles to return the favour!

The Bernaudeau wines enjoy an incredible reputation, generating a cult-like following among wine fanatics, fame he seems to be immune to.
Creating his domaine in 2000, though still helping at La Sansonnière for years, Stéphane followed the same path, producing wines from low-yielding (average 25hh), painstakingly tended bush vines, he insists that there is nothing he loves more than being on his own among his vines, listening, observing and feeling mother nature.
Not convinced by cabernet in the area and being a white wine lover, he simply stopped producing any reds, he currently makes three exceptional dry chenins from 3 ha and has recently bought a couple of plots in Bonnezeaux. Unfortunately, a late spring frost cut his production by three-quarters in 2016 and 2017, for that reason he resorted to buying a mobile wind turbine and strategically used it in 2019 against another severe episode, resulting in 40% loss when sadly other vignerons lost everything.
Fermentation and ageing take place in old oak, having made wines with no sulphur for a while, he now uses low levels of around 30mg/l, preferring the extra stability and tension that it provides in a wine's youth.
The Bernaudeau wines enjoy an incredible reputation, generating a cult-like following among wine fanatics, fame he seems to be immune to. Stéphane has no desire to travel the world, extremely happy in his hamlet of Cornu, near Martigné-Briand, caring for his family, beautiful Gordon Setter and, obviously, his vines.
Stéphane Bernaudeau Wines
Stéphane Bernaudeau
LES ONGLÉS 2017
Vin de France
100% Chenin Blanc
(12.5% alc.)
On average Les Onglés suffers frost one year in two, it's a cold spot here and the wine's name refers to the frozen fingers you often get when working in this vineyard. This dry white comes from less than 2 ha of 40 to 60yo vines planted in a superb terroir of schist on a gentle south-west facing slope. Aged in 4-10yo barrels with malos completed, it was bottled after a year with a low total sulphur level of 40mg/l. It is tense and racy and benefits from carafeing, crunchy bitters balance a deep texture, orchard fruits, thyme and white pepper make for an outstanding bottle. VLQ with Stéphane losing 90% of this wine in 2016 and 60% in 2017. For drinking now to 2023.
Stéphane Bernaudeau
LES NOURRISSONS 2015
Vin de France
97% Chenin, 3% Verdelho
(12.5% alc.)
This hectare of chenin planted in 1910 was bought in 2000 from Eric Calcutt, an exceptional but ephemeral vigneron-artiste who made unicorn wines, oxidative in style, under the name The Picrate from 1996 to 1999. The vines sit on a plateau of schist that descends gently to the Lys river, a tiny off-shoot of the Layon, and intriguingly, this vineyard also includes 3% of the Portuguese grape variety verdelho (which he prizes for adding extra iodine/saline notes) though Stéphane has no idea how this came to be planted here! Aged in older oak barrels, it is a dense wine offering a rare vigour and energy, with deeply set fruit and with an incredible texture and persistence. It is a privilege to work with a wine as good as this, which like Richard Leroy's Noëls de Montbenault is one of France's greatest dry whites. Best carafed. VLQ. For drinking now to 2025.