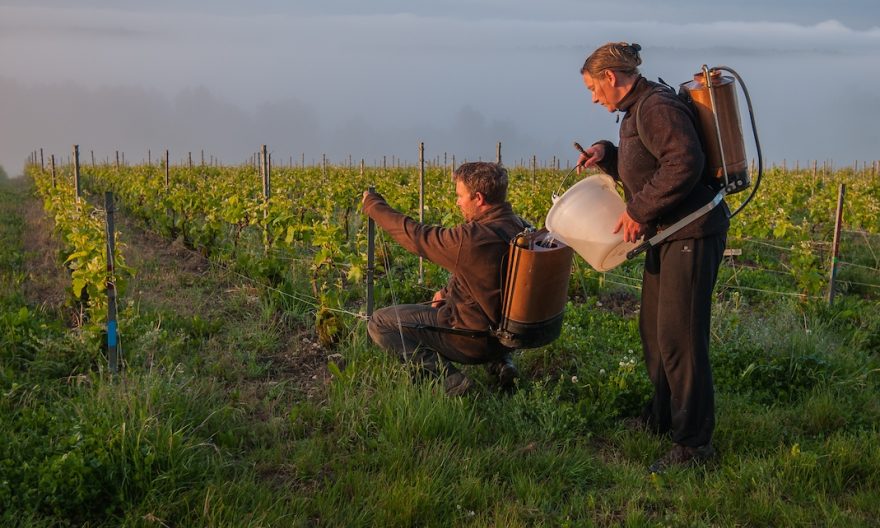 Ruppert-Leroy
| | |
| --- | --- |
| Vigneron | Emmanuel and Bénédicte Leroy |
| Location | Essoyes (Aube) |
| Size of Domaine | 4 ha |
| Terroir | Continental climate. Kimmeridgian clay-limestone soil over hard limestone bedrock. Up to 20% slope. 280-320m altitude. |
| Viticulture | Certified biodynamic (Demeter) |
| | View Ruppert-Leroy wines ↓ |
Emmanuel and Bénédicte Leroy's 4ha domaine Ruppert-Leroy was one that we followed closely for several years when they started in 2010. Since then their progress has been exponential, and the quality of their champagnes is now off the scale. Manu and Béné (ex-high-level kayakers and PE teachers) shared a passion for wine well before making their own – they regularly visited the Jura at a time when it only took a knock at the door to meet and taste with Pierre Overnoy.
When Béné's father Gérard Ruppert, a visionary farmer and organic vine-grower in the south-eastern corner of the Côte des Bar, offered his daughter the opportunity to take over, she did not take much convincing and jumped at the chance. Grapes were no longer sold to the négoce and the first bottling of Ruppert-Leroy came to life.
Nowadays husband and wife practise biodynamic viticulture in a selection of superb high-altitude terroirs near Essoyes, arguably the most bio-diverse and remote area in the Aube region where stunning coteaux, dense forest and pastures are intertwined. The domaine, an exemplary biodynamic farm, is a peaceful place where humans, livestock, fauna and flora live in harmony. Manu, a highly skilled carpenter (i.e. Compagnons du Tour de France), built a splendid wooden house covered with an energy-efficient green roof that perfectly integrates the landscape and respects its thriving ecosystem, an environmentally friendly approach which is a core value at Ruppert-Leroy.
Béné and Manu's champagnes reflect specific terroirs and are made from low yields of meticulously sorted grapes, they are vinified with natural yeasts, without fining or filtration, aged in older oak, bottled off with a low 22g/l for the secondary fermentation and disgorged with no dosage. No sulphur is added at any stage. They are intensely pure, harmonious, well-sculpted champagnes and their incredible energy reflect on the duo's dedication and sheer passion.

Ruppert-Leroy Wines
Ruppert-Leroy
LES COGNAUX (2019)
100% Pinot Noir
(12% alc.)
0.70ha vineyard high up in the hills, a two metres deep grey marl soil (overlying limestone) with tiny stones as well as cockles and oyster shells weathering out. The vines are between 15-30yo, S/SE facing, de-budded and ploughed to give low yields of ripe grapes. Aged in 2-8yo demi-muids (plus a few 228ltr), the fruit shows wild strawberry and plums, is silky yet chiselled and precise with a long mineral-driven finish. Béné and Manu comment that this champagne always needs the longest bottle ageing to reveal its qualities to the full. No sulphur. Disgorged 10/21 - Non dosé.
Ruppert-Leroy
MARTIN FONTAINE (2018)
100% Chardonnay
(12% alc.)
This blanc de blancs comes from high altitude (380m), the essentially south facing 0.55ha plot has limestone outcropping and fossils weathering out on the surface. The soil here is deeper (around 1m) than Fosse Grely and the yields are usually 20% higher. The 2018 still wine was aged in older barrels for eight months before being bottled off. Malos were completed as per usual, no sulphur was added at any stage, no dosage either. This champagne is exquisitely balanced, neither too light nor too rich, with the oak very well integrated, and its intense salinity clearly reflects the limestone terroir. Disgorged 05/21.
Ruppert-Leroy
FOSSE GRELY (2019)
50% Pinot Noir, 50% Chardonnay
(12% alc.)
The lieu-dit of La Fosse Grely (altitude 260m) was where Bénédicte's father first planted vines back in the 1980s. Surrounded by forest where fauna and flora thrive, the vines here are on a S/SW facing slope in a thin layer (40cm) of red clay with lots of little stones and thick compacted limestone beneath. Aged for nine months in fûts and demi-muids, and then for 20 months 'sur lattes', like all of the Ruppert-Leroy champagnes there is a beautiful tension and feeling of controlled energy. Hints of black pepper on the nose, with citrus fruits, peach, biscuits and nuts, subtle bitters on the palate, so long and so complex. No sulphur. Disgorged 10/21 - Non dosé.
Ruppert-Leroy
PAPILLON (2019)
100% Pinot Noir
(12% alc.)
This also comes from the lieu-dit La Fosse Grely – Gérard Ruppert's (Béné's father) original plantation. This cuvée is made from 35 to 40yo vines of pinot noir, they were planted with an old massal selection and yield an extremely qualitative juice. The south to southwest facing rocky slope is surrounded by forest in a place where 30 species of butterflies (papillon) have been recorded. Vinified the same way as Fosse Grely, there is a similar tension and energy but with extra richness. It is fruit-forward with a creamy texture, ripe peach and zesty blood orange flavours, long and complex with food-friendly bitters. No sulphur. Disgorged 10/21 - Non dosé.
Ruppert-Leroy
11,12,13…
50% Pinot Noir, 50% Chardonnay
(12% alc.)
11, 12, 13... is a 'réserve perpétuelle' started in 2011 using grapes from the domaine's different plots. The current bottling, disgorged in October 2021, is made of all vintages from 2011 to 2019. After an initial élevage in oak, the still wine of the year (2019) is added to the reserve wines, the blend is kept in cuve to harmonise before being bottled off – the wine spends 18 to 20 months in bottle on lees before disgorgement. Oxidative Jura-like notes on the nose, rhubarb, pepper and sweet spices on the palate, this is a perfect mix of old and young wines with enough lift for a lengthy mineral infused finish. No sulphur and non dosé.
Ruppert-Leroy
ROSÉ (2015)
100% Pinot Noir
(12% alc.)
Emmanuel and Bénédicte carried out a four days maceration of whole bunches to make this vinous and food-friendly rosé. Aged in cuve for nine months it is deep and structured, reminiscent of a light red Coteaux Champenois, and it offers flavours of stewed cherries, blood orange, with cinnamon and pepper hints. No sulphur. Zero dosage. VLQ.