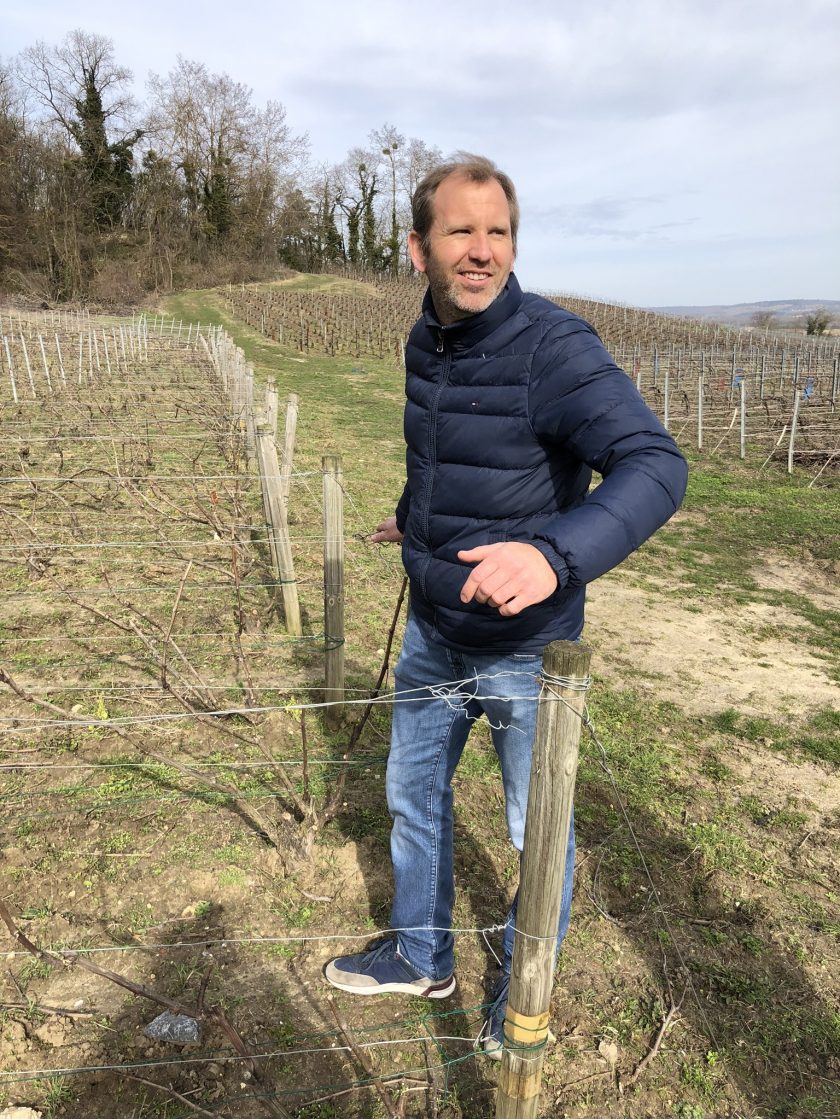 Guillaume Sergent
| | |
| --- | --- |
| Vigneron | Guillaume Sergent |
| Location | Vrigny (Marne) |
| Size of Domaine | 1.5 ha |
| Terroir | Continental climate with Oceanic influence. Sand and clay-limestone over chalk bedrock. Gentle slope. 80-120m altitude. |
| Viticulture | Practising organic, in official conversion since 2019. |
| | View Guillaume Sergent wines ↓ |
Few people have heard of Guillaume Sergent today, but this is a name that is likely to be much better known in the near future.
Sergent's family has been growing vines in the area around Vrigny since at least the mid-nineteenth century, and Guillaume, a trained oenologist, took over the family estate in 2008, dividing it with his brother (who sells his grapes to Moët & Chandon). He farms a total of just 1.5ha, spread over eight parcels in the villages of Vrigny and Coulommes. In this area, the soils are notably sandy: the lower slopes of Vrigny, where Egly-Ouriet's meunier vines are planted, lie mostly on limestone and chalk, but the higher slopes near the forest (facing east/north-east) are built on deep sand, and this is where most of Guillaume's vineyards are located.

I just try to work the vines as best as I can, with respect for the plant and respect for the soil.
Guillaume's views on viticulture are decidedly contemporary, without being dogmatic. He used to say, "I'm not organic, I'm not biodynamic, I'm not raisonnée", but finally applied for organic certification in 2019. He follows the lunar calendar for many vineyard operations, most of his parcels are planted with natural cover crops for maximum biodiversity, plant-based tisanes as well as bouillie bordelaise are used against mildew, and he explains, "I just try to work the vines as best as I can, with respect for the plant and respect for the soil."
As he has no facilities or cellars of his own, Guillaume continues to press his wines at the Vrigny co-operative, using one of the co-op's pneumatic presses. The wine is fermented (not aged) in 400ltr barrels that are four to six years of age which after some experiments he prefers to 228ltr barriques. "In the 400ltr barrels, the wine is fresher and more upright, with more pronounced minerality", he says. Guillaume is very sensitive to the imprint of oak on the juice – he just waits for the malos to be finished before bottling off. He considers that a prolonged oak ageing is not necessary for wines made on sandy soil, "élevage in barrel is for Burgundians, not Champenois", he says jokingly, "I think that in this terroir, my wine is a little swallowed up if there's too much wood. It's easily overwhelmed."
Following the primary fermentation, which is always with indigenous yeasts, the wines go through malolactic before being bottled in January, without any filtering, fining or cold stabilization. Sulphur, too, tends to be relatively low, as he typically sulphurs only once, at pressing. He looks for around 5 bar of pressure using 21/22g/l for the secondary fermentation. The champagnes spend 17 months ageing in bottle and he doses at 1g/l using MCR.
Guillaume Sergent Wines
Guillaume Sergent
LES PRÉS DIEU (2019)
1er Cru
100% Chardonnay
(12.5% alc.)
Les Prés Dieu is sourced from two parcels that are harvested and pressed together: Les Prés in Vrigny, an east-facing vineyard on sandy soils, and Les Vignes Dieu, a south-facing parcel in Coulommes that's a little chalkier in composition. The wine was vinified entirely in 3-7yo 228ltr barrels to 500ltr demi-muids although it only spent four months in wood before bottling. Malos were completed, and only 18g/l was used for the secondary, low pressure. The fragrant floral fruitiness typical of sandy soils is gracefully balanced and intensely site-expressive, and even in its youth, it demonstrated a fine complexity and detail. This is an exciting wine that has benefited from further bottle ageing. Disgorged 07/21 - Dosage 1g/l.
Guillaume Sergent
CHEMIN DES CHAPPES (2018)
Vrigny 1er Cru
50% Pinot Noir, 50% Pinot Meunier
(12% alc.)
Chemin des Chappes comes from vines planted by selection massale in 1972 and 1982 in limestone and sandy soils in Vrigny and exudes tension, energy and class. The white orchard fruit, crushed rock and floral notes are beautifully focused. Aged as Les Prés Dieu this is an especially vibrant, salivating style for a pinot-based champagne, with more breadth and power than the chardonnay and yet all the elements are impeccably balanced. Disgorged 07/20 - Dosage 1g/l.