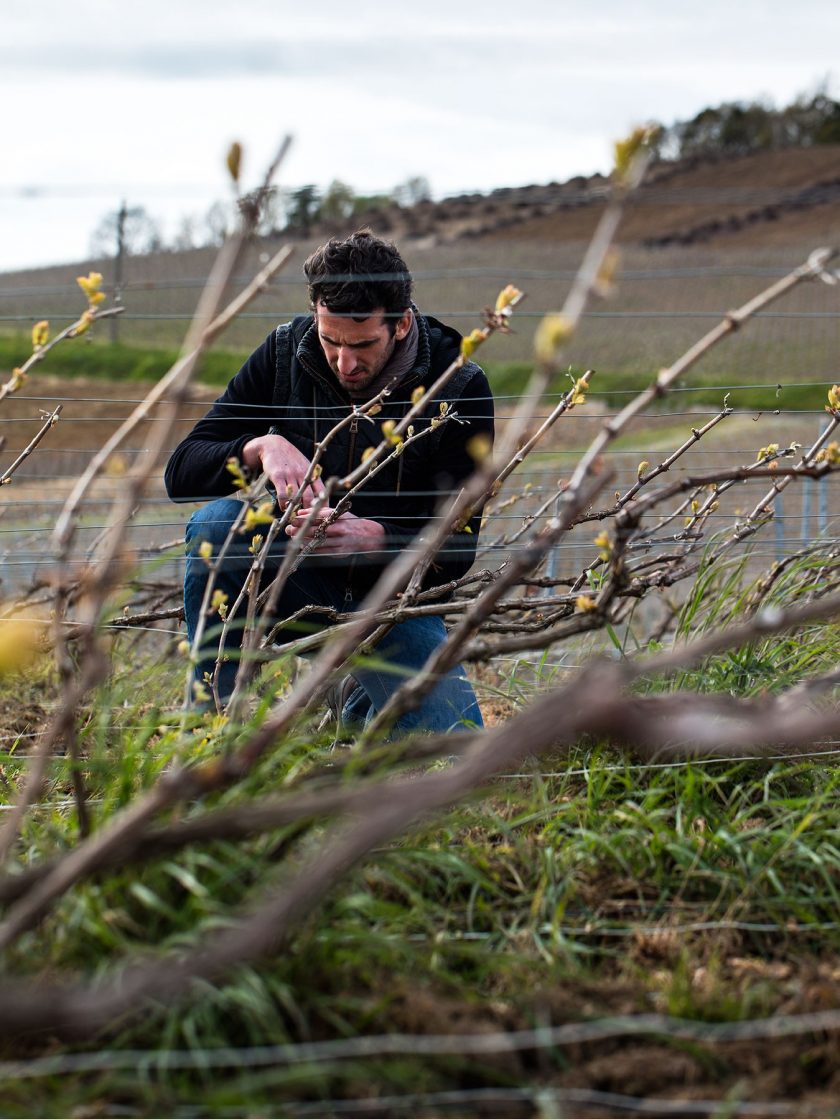 Aurélien Suenen
| | |
| --- | --- |
| Vigneron | Aurélien Suenen |
| Location | Cramant (Marne) |
| Size of Domaine | 3.2 ha |
| Terroir | Continental climate with Oceanic influence. Clay-limestone soil on chalk bedrock. Various aspects, gentles slopes. 100-200m altitude. |
| Viticulture | Certified organic (Ecocert) |
| | View Aurélien Suenen wines ↓ |
Although Aurélien Suenen is seen as one of the most promising young talents in Champagne, his first love was basketball. He used to be player as well as coach at semi-pro level and returned to the family's domaine when his father fell ill in 2008. Dynamic and committed, he progressively learnt the ropes inspired by his illustrious neighbours Pascal Agrapart (who introduced us) and Anselme Selosse, regularly exchanging with them and embracing a similar philosophy.
The previous generations of Suenen acquired vines through the whole Marne region but, based in Cramant, Aurélien decided to focus on the Côte des Blancs and his clutch of parcels (3ha) scattered across the grand cru villages of Chouilly, Oiry and Cramant. The travel distances prevented him from working the northern plots (Vallée de la Marne, Montagne de Reims) as diligently as he wanted so he sold them, with the exception of 0.2ha of ungrafted 60yo pinot meunier, a stunning terroir in the Vesle valley (Massif de Saint-Thierry).
Aurélien made his first wines in 2009 blending the different grapes and parcels, mostly in non-vintage bottlings, as per the family tradition. Moving towards a terroir-specific approach he produced the cuvées Oiry and C+C (Cramant + Chouilly), based at first on the 2013 harvest, and 2018/19 saw the official release of four single-vineyard millésimés: Cramant Les Robarts 2012, Chouilly Mont-Aigu 2013, Oiry La Cocluette 2013 and Montigny-sur-Vesle La Grande Vigne 2013. He works his vines tirelessly, assisted by one employee who's been with the family for over 20 years. Willing to learn as much as possible about his different vineyards, he hired the services of Claude and Lydia Bourguignon (microbiologists and soil experts) to study and understand the specificities of his soils, so that he could work them accordingly, increase organic matter and help the rhizomes grow deep.
His thirst of knowledge extends to the cellar where he regularly experiments and takes risks. Sulphur is used at press only and malolactic may naturally occur, wild yeast fermentation and long ageing are done in a mixed of vessels (old pièces bourguignonnes, Stockinger barrels, oak foudres, cement eggs and enamel tanks), and extended ageing is allowed after bottling. He reduced the liqueur d'expédition from brut to extra-brut to allow the specificity of each parcel to shine through. And since dosage increases a champagne's ageing potential, he adapts its level depending on release dates to market, with the second batch of the same cuvée slightly more 'dosé'. The wines are textural and intensely mineral, they feel unforced with a real sense of purity and class. Their progress has been exponential and there is more to come, this is a very exciting time for Aurélien Suenen.
Aurélien Suenen Wines
Aurélien Suenen
OIRY
Grand Cru
100% Chardonnay
(13% alc.)
Vines averaging 45yo planted in the chalky soil of Oiry (Grand Cru village). Vinified and aged in 65% cuve and 35% 3-5yo barrels (with malos completed) this is based on 2018 with 50% reserve wines from the previous three vintages. Given more than two years 'sur lattes' under cap, it has the purity and delicacy you would expect of fine blanc de blancs, a delicious expression of stone fruits and stewed Sicilian lemons with the limestone-dominant terroir impacting notable length and structure. Disgorged 09/21 - Dosage 3g/l.
Aurélien Suenen
C+C
Grand Cru
100% Chardonnay
(12% alc.)
The second of Aurélien's specific terroir NV champagnes comes from 40yo vines on north-west, west, and south-east facing hillsides in Cramant and Chouilly where the soils are deeper (compared to Oiry) – silty clay overlying chalk – adding flesh to the wines. Based on the 2018 vintage with 40% of reserve wines from the previous three vintages; it was bottled in summer 2019 for second fermentation and ageing 'sur lattes' until the autumn 2021. This is a tightly wound champagne, with more pronounced structure and texture as well as a razor-like cut of acidity. Very attractive umami flavours on the finish. Disgorged 11/21 - Dosage 4g/l.
Aurélien Suenen
LA COCLUETTE 2014
Oiry Grand Cru
100% Chardonnay
(12% alc.)
Suenen's vines, in the lieu-dit La Cocluette, were planted in 1925 on thin silty-clay soils over a Campanian limestone bedrock. Located towards the top of a gentle hill with 80% of the vines facing north and the other 20% facing south. Vinification and élevage take place in concrete eggs (55%) and recent demi-muids (45%), bottling occurred in summer 2015 before years of ageing 'sur lattes'. There's a cool, intensely citric and 'aérien' feel running through the wine, a vertical backbone with pinpoint precision on the palate, and beautiful 'amers' driving the finish. Disgorged 01/21 - Dosage 2g/l.
Aurélien Suenen
LES ROBARTS 2014
Cramant Grand Cru
100% Chardonnay
(12% alc.)
Perched on a 'haut de coteau' at 220m, right on the border between Cramant and Avize – where the clay is richer and more compact than in Oiry – the vineyard sits on the ubiquitous chalky Campanian limestone. The vines are 40yo on average and most of them face due south. Vinified in one 20hl foudre, the wine was then bottled in summer 2015 and spent over 5 years resting on its lees before disgorgement. This is slightly larger and richer than the vertical Cocluette, with more breadth, a touch of 'gras', and a strong terroir imprint. Notable bitters and mineral salts are prominent on the finish, with an umami-rich salivation, the sign of an outstanding terroir (and a top vigneron!). Disgorged 01/21 - Dosage 2g/l.
Aurélien Suenen
LE MONT-AIGU 2014
Chouilly Grand Cru
100% Chardonnay
(12% alc.)
Le Mont-Aigu is a steep south-facing vineyard in Chouilly on poor chalky-white soils reflecting sunlight, a unique situation in this predominantly north-facing village that benefits from a warm micro-climate due to the proximity of the Marne river. Aurélien's 0.25ha of vines are affected by cournoué (fan leaf disease), which doesn't harm the vines but considerably reduces yields and emphasizes further this site's singular 'solaire' situation. Vinified and aged in 600ltr demi muids, it went through extensive ageing 'sur lattes' (over five years) as per the other single vineyard bottlings. Exuberant and exotic, it's rich on the attack with a touch of 'beurre noisette' and a nice pillowy mouthfeel, it has concentration and vibrancy at its core, balanced by racy acids and noble chalky bitters. Completely unique and a must-have for all champagne geeks out there. Disgorged 01/21 - Dosage 2g/l.
Aurélien Suenen
LA GRANDE VIGNE 2014
Montigny-sur-Vesle
100% Pinot Meunier
(12% alc.)
La Grande Vigne in the Vallée de La Vesle is a NW-facing 0.2ha plot of 60yo vines, a qualitative terroir in the Massif de Saint-Thierry where ungrafted pinot meunier grow on deep Thanetian sand – a type of soil often found in both the Marne and Vesle valleys and particularly well-suited to pinot meunier. Fermentation and 9 months ageing in one 500ltr pièce before bottling (neither fined nor filtered) for an extensive 'élevage sur lattes'. A round, subtle and vibrant mouthfeel with nuanced and complex aromatics, this is built around umami and salivating bitters with notable length of flavours on the finish – another stunning wine from Aurélien. Disgorged 01/21 - Dosage 1g/l.