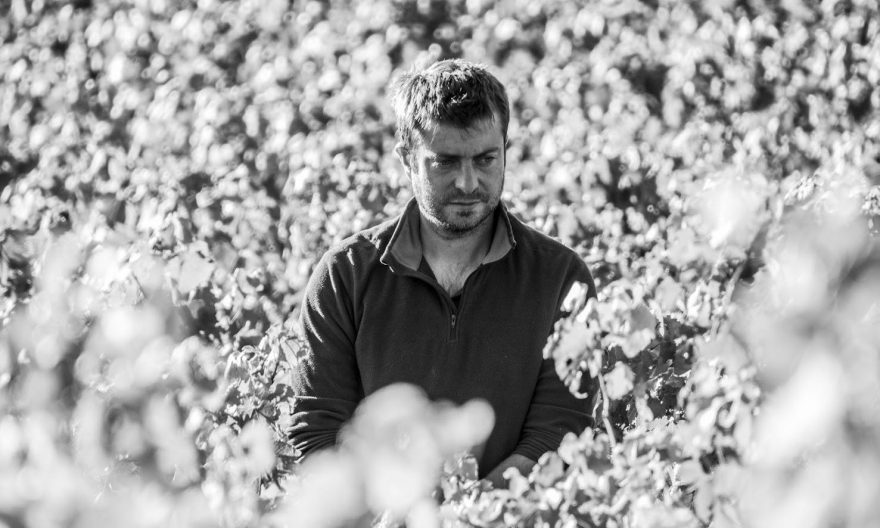 Pattes Loup,

Thomas Pico
| | |
| --- | --- |
| Vigneron | Thomas Pico |
| Location | Courgis (Yonne) |
| Size of Domaine | 24 ha |
| Terroir | Continental climate. Clay-limestone on Kimmeridgian and Portlandian (late Jurassic) limestone bedrock. 200-300m altitude. |
| Viticulture | Certified organic (Ecocert) |
| | View Pattes Loup, Thomas Pico wines ↓ |
Thomas Pico started Pattes Loup in 2004 working on 2.5ha under the wing of his friends Alice and Olivier de Moor, with whom he runs the renowned wine fair Chai l'Un Chai l'Autre. The domaine takes its name after a vineyard planted by Thomas in the lieu-dit of Pattes-Loup (meaning wolf's paw) which he inherited from his dear grandfather whom he was very close to.

Thomas initially worked as an employee at his family's Domaine de Bois d'Yver in Courgis and, following his grandfather's death, managed to convince his father to stop using chemicals and convert their vineyards to organic, finally reaching certification in 2009. In an appellation where an overuse of herbicides and pesticides is unfortunately still the norm, Pattes Loup and its fastidiously tended low-yielding vines, happily living among a wide array of wildflowers and plants, feels like a world apart.

Various acquisitions over the years, mostly from family members and Dad retiring, have brought the size of the domaine to 24ha, all on Chablis' left bank around the hills of Courgis and Préhy. Nowadays Thomas and Evi, his right-hand woman, vinify at Bois d'Yver in a recently built, spacious and functional winery with a state-of-the-art underground ageing cellar. They look for full ripeness harvesting later than most, they ferment and age in a variety of vessels and sizes (egg-shaped concrete, oak, stainless steel) allowing long élevage on lees to retain tension, texture and perfect balance. Low doses of SO2 are only added at racking and pre-bottling, and from 2018 the exact levels are specified on the labels.
The yields from 2015 to 2017 were extremely low due to hail and frost (with a catastrophic 9hh in 2016 and just 17hh in 2017). The financial pressure was consequent but Thomas held firm and refused to give up his organic convictions. In these circumstances he decided to trial and extend the ageing of some of his 2015s, 2016s and 2017s; for example the 1er Cru Butteaux 2016 was given three years élevage! It helped the wines reach another level of complexity and precision therefore long ageing has become the norm chez Pattes Loup (from 2018 onwards). There is a sense of vitality and density to the wines which can only come from Thomas' dedicated work in the vineyards and transparent winemaking.
Pattes Loup, Thomas Pico Wines
Pattes Loup,

Thomas Pico
CHABLIS 2018
Vent d'Ange
100% Chardonnay
(13.5% alc.)
This comes from three parcels (2ha) around Courgis: la Ménarde, les Malantes and Pattes Loup, hence the name of the domaine. The vines are 40yo, issued from a massale selection, and in a full harvest yields average just 43hh (60 permitted). This wine was aged for a minimum of 18 months, two thirds in stainless steel, one third in 7hl cement eggs. Yields were a plentiful 50hh in 2018 with the vines enjoying a warm and dry season and making up for the loss of previous vintages. There's much more depth of fruit in the 2018 which offers ripe grapefruit, hint of apricot and saline minerality on the finish. Total SO2 of 36mg/l.
Pattes Loup,

Thomas Pico
CHABLIS 1ER CRU 2017
Beauregard
100% Chardonnay
(12.5% alc.)
Thomas made this 1er Cru from 30yo vines tended organically in Courgis (from one of the highest vineyards in Chablis). Aged in 4-6yo barrels for two years, then cuve for three months, it is more forward in its youth than his Butteaux, offering very attractive redcurrant fruits on the nose, good weight and vinosity and a lingering finish with a mineral vibration. VLQ. For drinking now to 2023+
Pattes Loup,

Thomas Pico
CHABLIS 1ER CRU 2017
Butteaux
100% Chardonnay
(13.5% alc.)
Butteaux is a superb left bank 1er Cru at the south-western tip of the 1er Cru Montmains. Thomas does a 'mise tardive' i.e. he matures the wine for an extended period on fine lees – both in tank and neutral barrels (228ltr as well as demi-muids). It was bottled unfined and unfiltered with 19mg/l of total sulphur. Bursting with confit lemon, apricot and honey flavours, on the palate, it's satiny, multidimensional and deep, with stunning energy and cut despite its long élevage, concluding with a long, sapid finish. VLQ. For drinking now to 2025+.
Pattes Loup,

Thomas Pico
CHABLIS 1ER CRU 2018
Les Vaillons
100% Chardonnay
(13% alc.)
Pico's Vaillons hails from a tiny quantity of organically farmed old vines, lieu-dit of Séchet, purchased from Gérard Duplessis but picked and vinified by the team at Pattes Loup. Aged for two years, the first in 80% older barrels and 20% cement eggs, before spending a second year in cuve after being assembled. The wine offers up lovely aromas of lemon oil, mandarin and bread dough, followed by a medium to full-bodied palate with notable purity and tension on the finish. Bottled in June 2020 with a total SO2 of 28mg/l. VLQ.