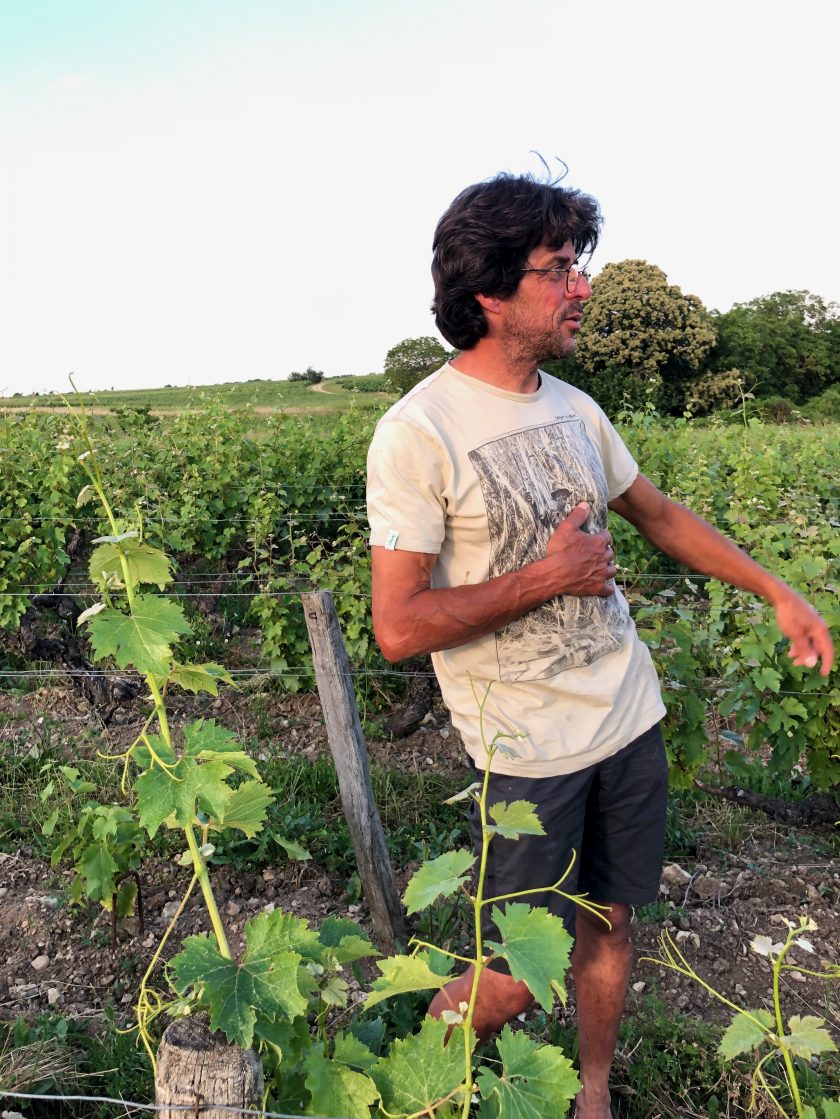 Michel Autran
| | |
| --- | --- |
| Vigneron | Michel Autran |
| Location | Noizay (Indre-et-Loire) |
| Size of Domaine | 3.5 ha |
| Terroir | Continental climate with Atlantic influence. Clay-limestone soil and flinty clay on chalky limestone bedrock (tuffeau). South-facing vineyards overlooking the Cisse river. 80-100m altitude. |
| Viticulture | Practising biodynamic |
| | View Michel Autran wines ↓ |
Although Michel Autran's first official vintage was only 2013, he is already making headlines as one of the most gifted and exciting vignerons in Vouvray. Visiting him was not easy. With demand for his wines constantly rising, and stock desperately low following a succession of disastrously small harvests, he refused to see us at first. It took 18 months of regular phone calls and gentle prodding to eventually change his mind. We finally made our way to Noizay in summer 2019 and had our socks blown off.

"I have dreamt of becoming a paysan since I was a kid, simply because farming creates life, and that's an amazing feeling."
Ex-GP, Michel joins the ranks of 'néo-vignerons' such as Richard Leroy and Pierre Fenals who changed careers to follow their passion. And he explains, "I have dreamt of becoming a paysan since I was a kid, simply because farming creates life, and that's an amazing feeling." Particularly interested in the process of food transformation, he could have equally become a cheesemaker. "Animals are much more demanding than vines though, and I like my freedom." And he adds, "But who knows I might adopt a few 'biquettes' (goats) one day!" Michel finally chose wine to express himself, a discipline which draws so many parallels with another passion of his, music.
Leaving his job in 2006, armed with little more than a keen amateur's knowledge, Michel made a point of learning from the best producers in Vouvray and Montlouis. He studied under Vincent Carême and Damien Delecheneau, staged with the Joussets, Mathieu Cosme, Frantz Saumon, and worked for François Pinon until setting up shop in 2011.

Calm and focused, Michel took the time to select his vineyards with care and now owns 3.5ha of old vines – the youngest being 50 years old – on prime sites in Noizay. Facing due south and overlooking the Cisse river, his two parcels are planted on Vouvray's most hallowed terroirs: 'aubuis' also known as 'tuffeau jaune' (clay-limestone soils, often quite shallow and close to the limestone bedrock), and 'perruches' (flinty clay-limestone soils of varying depth and flint content).
Michel recently started to work more intuitively in the vineyard, closely observing how his vines respond to his methods and trusting his instincts instead of reaching for ready-made solutions. He is assisted by a geobiologist who comes once a year to help him better understand the energy and natural balance of the plants as well as the microbial life of his soils. Although he doesn't want to be tagged as a biodynamic grower, he follows the lunar calendar and uses preparations such as the 500 and 501, supplemented by tisanes (decoctions) of nettle and horsetail. Ploughing is done by horse on the steepest slopes, and missing vines are replaced with tip-top massal selections from François Pinon.

Quite unusually for the appellation – which he decided to leave from the 2017 vintage – Michel intends on producing exclusively dry wines. As such he picks in successive 'tries' to harvest perfectly ripe grapes, which are then rigorously sorted to discard berries affected by botrytis. Like his friend Richard Leroy, with whom he regularly bounces ideas, he was quick to realise that chenin is particularly well suited to long élevage. He now ages his wines for a minimum of two years under ideal conditions in troglodyte underground caves dug out of tuffeau (chalk). Sulphur is added at débourbage and rectified just before bottling if deemed necessary, reaching a maximum of 40mg/l total.
Like some of the very best growers on our list, Michel is willing to keep his domaine to a modest size so he can do everything himself. This is a set-up that helps him gain a profound and intimate understanding of the terroir, and allows for detailed fine-tuning over the years. An efficient pathway to excellence we believe.
Michel Autran Wines
Michel Autran
VOUVRAY 2018
Les Enfers Tranquilles
This comes from the lieu-dit Les Enfers translating as 'hell', a particularly hot south-facing site in Noizay, where Michel owns 1.5ha of 50yo vines on 'perruches' (flinty clay-limestone soils). As per both cuvées, fermentation starts in stainless steel, it is then racked off by gravity into barrels (4-12yo) bought from Vincent Carême. The wine is transferred into stainless vats after a year, and stays there for another 12 months. Sulphur was added at débourbage and before bottling for a total of 40mg/l. An avid Jazz fan, Michel likens Les Enfers Tranquilles to a soprano saxophone for its tension, crystalline quality, incredible length, and perfect balance. Loaded with baked peach, confit quince and balanced by crushed stone minerality, it delivers a mouth-watering finish that just won't quit. This is Vouvray for white Burgundy-lovers and therefore represents astonishing value.
Michel Autran
VOUVRAY 2018
Ciel Rouge
Named after the French saying "ciel rouge du matin, patouille en chemin" which relates to "red sky in morning, sailor's warning". It is a reference to the red clay-limestone soils (aubuis) which tend to 'patouille' (become heavy and sticky) when clogged up with rain. This superb Vouvray terroir is planted with 80yo vines that yield 25hh on average. The wine has a pale bright gold color, with subtle aromas of stone fruits and honeycomb toffee. The palate has a smooth texture with chalky, almost electric acidity and complex herbal notes. Although vinified the same way as Les Enfers Tranquilles it shows more weight and depth, this is nevertheless equally crystalline – a classy bottling indeed.