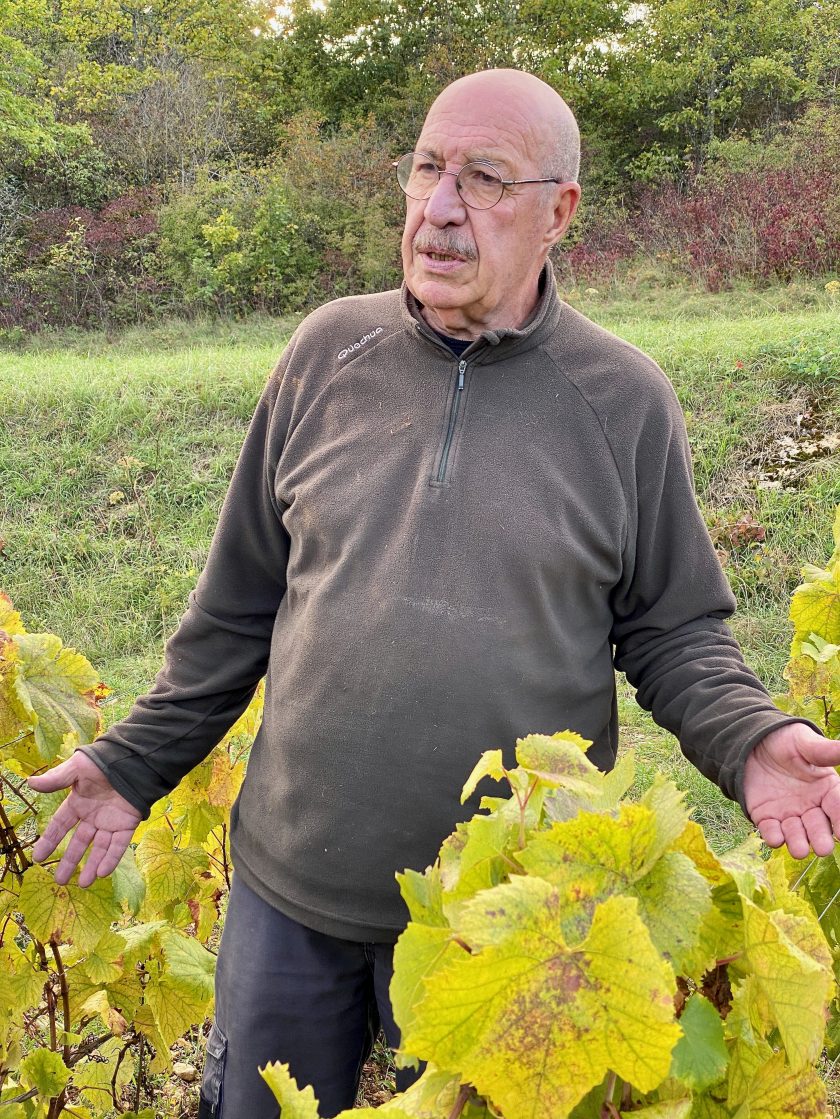 Maison En Belles Lies
| | |
| --- | --- |
| Vigneron | Pierre Fenals |
| Location | Saint Aubin (Côte d'Or) |
| Size of Domaine | 7 ha |
| Terroir | Continental climate. Clay-limestone marls, alluvial sediments on mid-Jurassic (Callovian and Oxfordian) limestone bedrock. 230-280m altitude. |
| Viticulture | Practising biodynamic and permaculture. |
| | View Maison En Belles Lies wines ↓ |
Changing careers is quite common nowadays, doing it for the second time aged 51, like Pierre Fenals, a bit less so! After a degree in molecular biology and years as a highly-skilled biochemist and physiologist, Pierre embraced a successful career heading marketing departments of Parisian fashion houses. But as time went by, he became tired of the industry and felt the need for yet another change. He sold his company in 2001, and since wine had been a lifelong passion of his, settled down in Burgundy to become a vigneron.
While studying viticulture and oenology in Beaune and Dijon, Pierre staged and worked for some of his favourite growers: Anne-Claude Leflaive and Jean-Louis Trapet in Côte-d'Or, and Marcel Lapierre in Morgon – Marcel's son Matthieu was his classmate in Dijon, he befriended him while helping during chemistry studies. Pierre even worked at a cooperative to understand all facets of the industry and keep on networking through the region. But it was the four years he spent with Emmanuel Giboulot that taught him the most. He quickly gained Emmanuel's trust, becoming the domaine's régisseur, and was given the freedom to express himself both in the vineyard and cellar, an invaluable experience in Pierre's eyes. In 2009 he set up shop in a chilly warehouse just outside St Aubin and created Maison En Belles Lies. The name is a tribute to the 17th-century monks who first understood the importance of lees through vinification as well as ageing, and developed the essential practise of 'élevage sur lies'.

Having spent many years living in the polluted air of big cities, going back to nature and connecting with it was a big draw for Pierre, and working biodynamically was imperative. He became fascinated by the subject (many years before his career as a vigneron) after picking up Rudolf Steiner's book The Agricultural Course at a Parisian flea market. From then on he attended courses on biodynamics while applying its principles to the family farm (in the Cantal region) as a hobby!
Nowadays he tends 7ha, half of which he owns while the other half is rented, spread over ten appellations across the Côte de Beaune. Many of the herbs and plants used in the preparations are harvested in the vicinity of the vineyards, while some others such as arnica, wormwood and yarrow are picked and dried in the Alps where Pierre has a cabin. The 50yo plus vines originate mostly from qualitative massal selections; naturally low-yielding they are weaved (no trimming) to preserve the shoot apex and avoid plant stress, producing small and tasty grapes with great density and balance. Weather permitting, the vineyard and cellar work is paced by lunar cycles – the reds, for instance, are harvested when the moon is rising and the cuvaison lasts a full lunar cycle of 29-30 days.

"My wish is that my wines, white and red, still smell of grapes, impregnated with their fresh scent after 14, 18, 20 months élevage"
Lees and their reductive power is the one essential tool during vinification 'sans souffre'; Pierre the biochemist perfectly understood that principle and took it to the next level: following racking he coats the inside of the barrels with fine lees before filling them up again, "it informs and protects the young wine", Pierre explains. He also uses frozen lees from the previous vintage to fine and clarify the wines towards the end of the élevage – the old lees from a particular parcel are warmed up and added to the wine from the same plot. Maison En Belles Lies is therefore a particularly appropriate name.
The wines are given a one-year élevage, with an additional six months if deemed necessary, and 500ltr 7-10yo barrels are favoured. In the cellar he tries to be as gentle as possible with slow fermentation, there is no lees stirring for the whites and only 1.5g/hl sulphur added if need be. The reds carry out whole bunch fermentation, there is no active extraction, no racking and therefore no sulphur added (play on reduction). The wines are under excellent quality fire-branded corks, as Pierre believes that ink stamped corks influence the flavours.

He is one of the few Burgundian growers we know that is equally good at vinifying both colours. "My wish is that my wines, white and red, still smell of grapes, impregnated with their fresh scent after 14, 18, 20 months élevage" Pierre explains, and that's a quality that can be found across the whole range. Maison En Belle Lies' wines are imbued with the character of the terroirs they are from, they are incredibly digeste with a crystalline quality that makes you reach for another sip, time and time again.
Pierre Fenals is simply one of the most fascinating vignerons we met. Not only his bonhomie and joie de vivre are a pleasure to be around, but he also happily and pedagogically shares the wealth of knowledge accumulated during his 'many lives'. A scientist at heart he has been open-minded enough to embrace an alternative way of farming whilst steering away from dogma. Rubbing shoulders for so many years with the luminaries of biodynamics and natural winemaking has allowed him to break down and understand these principles at a level rarely seen before. Chapeau bas, Monsieur Fenals!

Maison En Belles Lies Wines
Maison En Belles Lies
BOURGOGNE ALIGOTÉ 2020
100% Aligoté
(11.5% alc.)
This is the first vineyard ever owned by Maison En Belles Lies, surrounded by fallow land and forest, Pierre planted fruit trees and settled beehives among the 50yo vines. This is a remote area along the road from La Rochepot down to Saint-Aubin, lieu-dit Les Genouvrées Au Sud. Located in the Hautes-Côtes on the plateau at 320m altitude the soil is white, 'terre blanche' of medium depth, it has a lot of stones and fossils perfectly suited to aligoté doré. Aged for 14 months in 30% stainless steel and 70% old 350ltr barrels. It is racked for clarification in the spring, not filtered as per all cuvées but bottled with a light 'sulfitage de protection' (15 mg/l). The wine feels very close to the grape on the aromatics, silky and ripe on the palate it is perfectly balanced by savoury and lip-smacking acidity.
Maison En Belles Lies
BOURGOGNE ALIGOTÉ 2021
Jarre à Bia
100% Aligoté
(12.5% alc.)
This comes from the same plot as the straight aligoté, a selection of the best bunches were gently destemmed and layered down a 'jarre en terre cuite' (terracotta) for maceration and fermentation. Pressed after six months the fermenting juice went back into the jarre for ageing. No fining, filtration or SO2 added. Still pale coloured considering the length of skin-contact, this is textural and denser than the original version – the terracotta brings 'verticality' to the wine, a umami-loaded texture and savoury finish. A meditative bottling.
Maison En Belles Lies
BOURGOGNE 2020
100% Chardonnay
(12% alc.)
50-60yo vines planted on an alluvial fan in Meursault, deep soils of sand and clayey silt. 15 months élevage in 350ltr fûts, no fining or filtration and bottled with 15mg/l SO2. Round and creamy with a tonic finish, a well-handled reduction bringing lovely toasty notes, this an extremely pleasurable wine for everyday drinking.
Maison En Belles Lies
MONTHÉLIE 2018
100% Chardonnay
(12.5% alc.)
Pierre made this wine from a 0.40ha parcel of 50yo vines high up a south-east facing slope of 'terre blanche' – a very stony limestone-clay soil which is difficult to plough and weathers out many fossils. Only 1% of Monthélie vineyards are planted with chardonnay, invariably at the top of hillsides. Aged for 15 months in 4yo 350ltr barrels, this wine coats the palate, it's elegant with limestone-induced salivation, incisive freshness and a floral touch. The finish is lenghty, clear and precise. 15 mg/l of sulphur added at bottling.
Maison En Belles Lies
SANTENAY 2019
100% Chardonnay
(12.5% alc.)
Located at the bottom of a coteau, lieu-dit Les Saunières, the soils are very red and made up of marls. The vineyard is 0.37ha and was planted 40 years ago. The terroir here lends a pronounced irony quality to the wine, dense in its youth it expresses lovely floral and herbal notes sustained by minerality on the palate. Aged in old 350ltr barrels for 15 months with 15 mg/l of sulphur added at bottling.
Maison En Belles Lies
CORTON CHARLEMAGNE GRAND CRU 2016
100% Chardonnay
(12.5% alc.)
Pierre produces just two barrels from gnarled 85yo vines giving a tiny yield, from the fine lieu-dit of Le Charlemagne, the true heartland of this legendary appellation, on a south-west facing slope in white coloured marl with small chalky stones overlying a hard limestone base. The fermentation ticks along slowly in two fûts from 2010 and 2014 and a 18-months élevage follows – Pierre has always found that this 'climat' benefits from longer ageing. One of the finest white burgundies that we've tasted, it's a wine of style and race, with density and yet finesse with a limpid quality, a marked salinity and just so much class. No SO2 added.
Maison En Belles Lies
L'ÉTRANGE 2020
Vin de France
60% Gamay, 25% Pinot Noir, 15% Chardonnay
(10.5% alc.)
70yo vines planted 'en foule' – old school field blend – in the cold terroir of the Hautes Côtes at 400m altitude on a clay-limestone slope. Carbonic maceration of 30 days followed by 15 months ageing in old fûts and bottled without SO2. A unique glimpse in Burgundy's past, this is lightly coloured, perfumed and high-pitched with complex citrus flavours and acidulated red fruits on the palate. A refined and terroir-driven 'vin de soif'.
Maison En Belles Lies
HAUTES CÔTES DE BEAUNE 2020
100% Pinot Noir
(11.5% alc.)
This wine comes from a 0.55ha holding of 50yo vines planted in a lieu-dit called Les Chataigniers at 310m altitude above the village of Saint Aubin – the soil here is of a medium depth and easy to plough. Low yield averaging 40hh, whole-bunch fermentation and free run juice only (press juice discarded). Aged in old 228ltr barrels for 15 months, pinch of sulphur added at bottling. Pale-coloured, it is juicy, fresh and elegant with sustained red fruits aromas typical of pinot noir. As Pierre likes to point out this is the perfect accompaniment for BBQs with good friends!
Maison En Belles Lies
ALOXE-CORTON 2019
100% Pinot Noir
(13.5% alc.)
The 60-65yo vines are planted in a deep soil of red clay at the bottom of a hill, lieu-dit Les Caillettes. Vinified from 100% whole bunches and very delicately extracted, aged in 7-10yo pièces bourguignonnes and neither fined nor filtered. Delicate colour, smooth and feminine texture, it's a wine with an excellent core of vibrant red fruits, a display of elegance and harmony. No SO2 added.
Maison En Belles Lies
MARANGES 1ER CRU 2016
Les Clos Roussots
100% Pinot Noir
(13% alc.)
The 0.49ha of vines here are over 60yo planted in a mix of clay and chalky marls. Made from whole bunches and aged in 3-7yo fûts, this wine has a lot of class, perfumed and racy on the nose, it is structured and perfectly pitched, with delectable black fruits and a saline freshness. A judicious match to game meat and creamy sauces. No SO2 added.