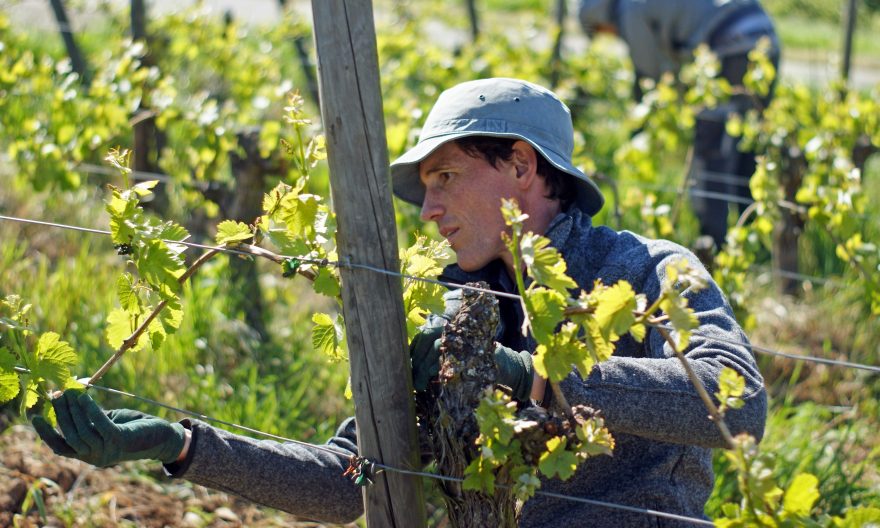 Léon Boesch
| | |
| --- | --- |
| Vigneron | Matthieu and Marie Boesch |
| Location | Soultzmatt (Haut-Rhin) |
| Size of Domaine | 14.5 ha |
| Terroir | Continental climate, sheltered from rain by Vosges mountains. Clay, limestone and sandstone soils. Up to 40% slope. 280-450m altitude. |
| Viticulture | Certified organic (Ecocert) and biodynamic (Demeter) |
| | View Léon Boesch wines ↓ |
Matthieu and Marie Boesch are the 11th generation to take charge of the domaine, which has been in the hands of the family since 1640.
Nestled in the Vallée Noble in the heart of the Ballons des Vosges natural park, their vineyards are protected from dominant winds and rain-bearing weather from the west by the Petit Ballon and Grand Ballon, 1,267m and 1,427m respectively. Marked by a Mediterranean-type climate (cicadas, praying mantis and green lizards roam among almond trees, ash oaks, and orchids) the valley is ventilated by fresh air currents throughout the growing season and into the Autumn. From a geological standpoint, it sits on the Rouffach-Guebwiller fault mosaic where layers of the Lower Triassic (Buntsandstein – sandstone), Middle Triassic (Muschelkalk, shale, slate), and Upper Triassic (Keuper – mostly marl) sit alongside each other, creating an incredibly diverse patchwork of soil types. The Grand Cru Zinnkoepflé sits proudly in the centre, overlooking the state-of-the-art eco-friendly winery built in 2010 using only (local) natural materials.

Matthieu returned to the domaine in 1999 and worked hand in hand with his father Gérard (a charismatic vigneron who used to run the INAO alongside the late René Renou) experimenting in the cellar and switching to biodynamic viticulture. Their vineyards have since become a haven for the local wildlife, from birds nesting to bees building hives, and fawns taking naps in the shadow of their vines. Although the domaine has grown to 14.5ha, they look after their holdings as if they were their garden, fine-tuning their approach each year to keep progressing.
They have worked tirelessly to produce grapes with better balance, giving wines that throughout the range are mostly bone dry, a style which they feel works much better with food and allows for better terroir definition. It's been an uphill battle at times, especially when they started producing dry gewürztraminer from the hallowed Grand Cru Zinnkoepflé, but the Boeschs are a clear-sighted and stubborn lot and they managed to change people's perceptions over time.
In the cellar, pressing is long and slow (8 to 12 hours), yeasts are indigenous, and malolactic fermentations are allowed to occur spontaneously rather than being blocked by the addition of sulphur – Matthieu believes there is a better exchange between fine lees and wine without the interaction of sulphur, which is only added in small doses before bottling.
They set such high standards for themselves that they consistently downgrade perfectly good riesling, pinot gris and muscat grown on Zinnkoepflé (which they could bottle as Grand Cru and sell at much higher prices), simply because they believe that gewürztraminer is the only variety that reaches GC level quality in Zinnkoepflé.
The 12th generation is not quite knocking on the door yet, but they're slowly getting involved and are ready to experiment. In 2018, Matthieu and Marie gave their three daughters a few rows of pinot gris to look after from beginning to end, which they decided to vinify with the skins – a first at this address – but the girls didn't like the result! Future will tell if they eventually take over but in the meantime, considering the level of precision in their work and the incredibly high quality of their production, we can confidently say that these are some of the finest and best value wines in our portfolio and we urge everyone to try them.
Léon Boesch Wines
Léon Boesch
LES PIERRES ROUGES 2019
Matthieu produces this wine from vines averaging 30yo on gentle south facing hillsides with a sandstone/limestone base. Fermented dry it's a really attractive 'vin de plaisir', perfect to drink as an aperitif. On the nose you find hints of mandarin, mint and white flowers, and the palate is zesty and racy, with pears showing on the finish.
Léon Boesch
LA CABANE 2020
70% Pinot Auxerrois, 30% Pinot Blanc
(12% alc.)
Biodynamic viticulture here for east-facing vines on sandstone and clay. It has clear cut, zesty, lemon fruit with a hint of ginger. Matthieu has gradually reduced sulphur levels and this is now a low 35mg/l total. Pure pleasure for everyday-drinking.
Léon Boesch
LE COQ 2019
100% Pinot Gris
(13% alc.)
An excellent example that is much drier than almost all other village pinot gris. It has an attractive pale gold colour, a spicy nose with hint of passion fruit, very good texture, with ripe fruits, lemon grass, cinnamon and cardamom flavours enhanced by a mineral lift on the finish.
Léon Boesch
LES GRANDES LIGNES 2019
25yo vines planted in sandstone-clay soil above a limestone bedrock, the really long row (hence the cuvée name) are on an east facing hillside. A delicious wine with ripe citrus fruits that are cosseted by good acidity with a saline hint on the long finish.
Léon Boesch
LUSS 2020
30yo biodynamic vines planted in a limestone soil on an east facing hillside. Almost painfully mineral on the palate, very dry, with grapefruit flavours and a touch of ginger, this is so good.
Léon Boesch
BREITENBERG 2019
Matthieu decided to stop making a Riesling Grand Cru from Zinnkoepflé as the terroir there was so much better suited to gewürztraminer. Instead the top riesling from the domaine comes from 30yo vines at the western end of the Vallée Noble, where the vines are planted in a sandy topsoil with many fossils of ferns set in the sandstone below. It's a windy, cooler spot here where the grapes are harvested late despite a south facing hillside. You find stony, floral notes on the nose, the fruit is dense and tautly chiselled by the minerality typical of the soil, and on the finish, there is a distinct salinity, herbal and grilled almond notes. For drinking now to 2029+.
Léon Boesch
LES FOUS 2020
100% Gewürztraminer
(13% alc.)
Boesch's gewürztraminer shows the brilliant side of this grape when it is restrained by enough acidity. It beguiles with its rose, lychees and peach aromas, has good weight with freshness on the palate, and a gently spicy finish.
Léon Boesch
ZINNKOEPFLÉ GRAND CRU 2018
100% Gewürztraminer
(13.5% alc.)
Zinnkoepflé is a steep due-south facing hillside of limestone and sandstone that is especially suited to growing exceptional gewürztraminer. Half of the vines were planted in 1920, and the other half average 50yo. Bone-dry this is a powerful, dense and structured wine, combining good tension and delicious fruit: lychee and mango, with a notable dash of nutmeg and liquorice. Large to start with, this extraordinary wine has a very long and taut finish with distinct lip-smacking saltiness. For drinking now to 2028.
Léon Boesch
LES JARDINS 2020
100% Pinot Noir
(13% alc.)
30yo vines here (and yields of 50hh) produce this delicious pinot noir made from 100% whole bunches and a limestone dominant soil. Aged in 7-25yo 228ltr barrels, well balanced with crunchy red fruits and fine tannins. Sulphur level around 25mg/l total.
Léon Boesch
ZINNKOEPFLÉ GRAND CRU 2017
Vendanges Tardives
100% Gewürztraminer
(14% alc, 121.4g/l of rs)
This excellent Vendanges Tardives was harvested in two 'sorties' in early October and late November. It's an exquisite wine with complex aromas of nougat, grilled almond, stewed lemons, pine. On the palate it is at once both sumptuous and silky with perfectly ripe peach and mango fruit, and an incredibly long finish, that stays fresh with a saline hint. For drinking now to 2025+.