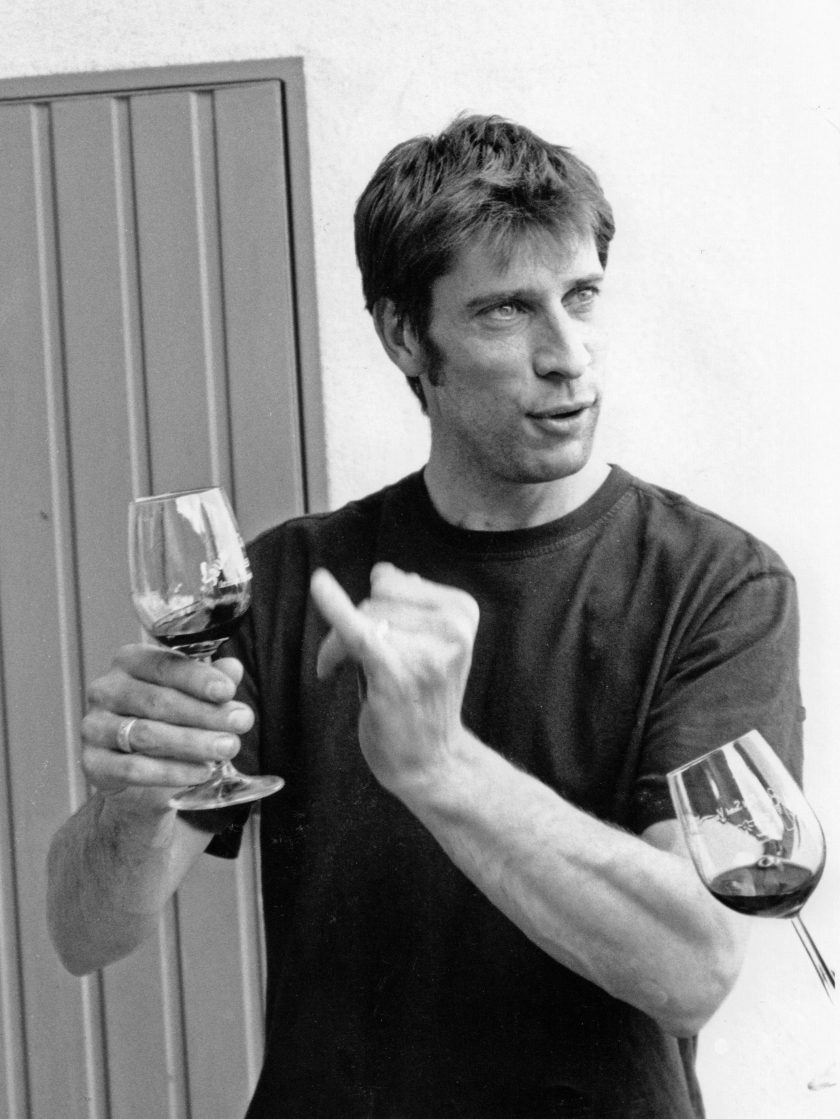 Le Petit Saint-Vincent
| | |
| --- | --- |
| Vigneron | Dominique Joseph |
| Location | Varrains (Maine-et-Loire) |
| Size of Domaine | 12 ha |
| Terroir | Continental climate with Atlantic influence. Sandy clay on cretaceous chalk. South west facing slopes mostly. 50-80m altitude. |
| Viticulture | Certified organic |
| | View Le Petit Saint-Vincent wines ↓ |
Dominique Joseph (aka Pélo as affectionately known by his friends) is a driving force in the community and appellation, tastings are always enlivened with the latest news and gossip, and one is likely to meet the locals (Antoine Foucault, Antoine Sanzay, Thierry Germain etc) when apéritif time arrives.
Located in the village of Varrains, the heart of the Saumur-Champigny AC, Dominique has been at the helm of the domaine since 1990 and is the fifth generation of his family in charge. His friendly, direct approach is reflected in his wines and the improvements he has made, switching to organic viticulture in 1992 (and finally sorting out admin to become certified in 2010!), separating out his top lieux-dits such as Les Poyeux (one of Clos Rougeard's top terroirs) in 2011, have earned his wines an amazing reputation.
Les Poyeux has to be one of the bargain fine wines on our list – here the soil is a 1.5m layer of incredibly fine orange and yellow aeolian sand (windblown sand) which, combined with vines 55 years of age give a wine of serious class.
Grapes are usually destalked, there is no punching down but pumping over instead for gentle extraction. Fermentation and ageing occur in concrete tanks except for Les Poyeux which sees oak. Two minimal doses of sulphur are added at pressing and 'en masse' (finished wine resting in a tank) one month before bottling, reaching a total SO2 of 35mg/l. All of Dominique's wines are aged underground in deep caves sprawling under the village and cut out of the tuffeau - a venue also used by Pélo and his friends for music jam sessions!
Le Petit Saint-Vincent Wines
Le Petit Saint-Vincent
SAUMUR CHAMPIGNY 2020
100% Cabernet Franc
(13.5% alc.)
A selection from the 50 different plots of the domaine, usually vines averaging 40yo on gentle slopes with sandy, gravelly and loamy soils. Macerated for three weeks in concrete vats this cuvée has an attractive black cherry nose, packed with peppery raspberry fruit and nicely underscored by crunchy acidity.
Le Petit Saint-Vincent
SAUMUR CHAMPIGNY 2016
Les Poyeux
100% Cabernet Franc
(13% alc.)
The most unique terroir in the appellation has a layer of very fine aeolian sand (1.5m on the highest part of the slope) over tuffeau, almost like a dune sitting on limestone bedrock. Vinified in concrete vats and aged for a year in new to 3yo barrels, the 0.87ha of 55yo vines yield a wine with great heart and the most velvety tannins (a typical feature of the sandy soils), the weight of red and black fruits is perfectly balanced by a very long saline finish. For drinking now to 2026+.