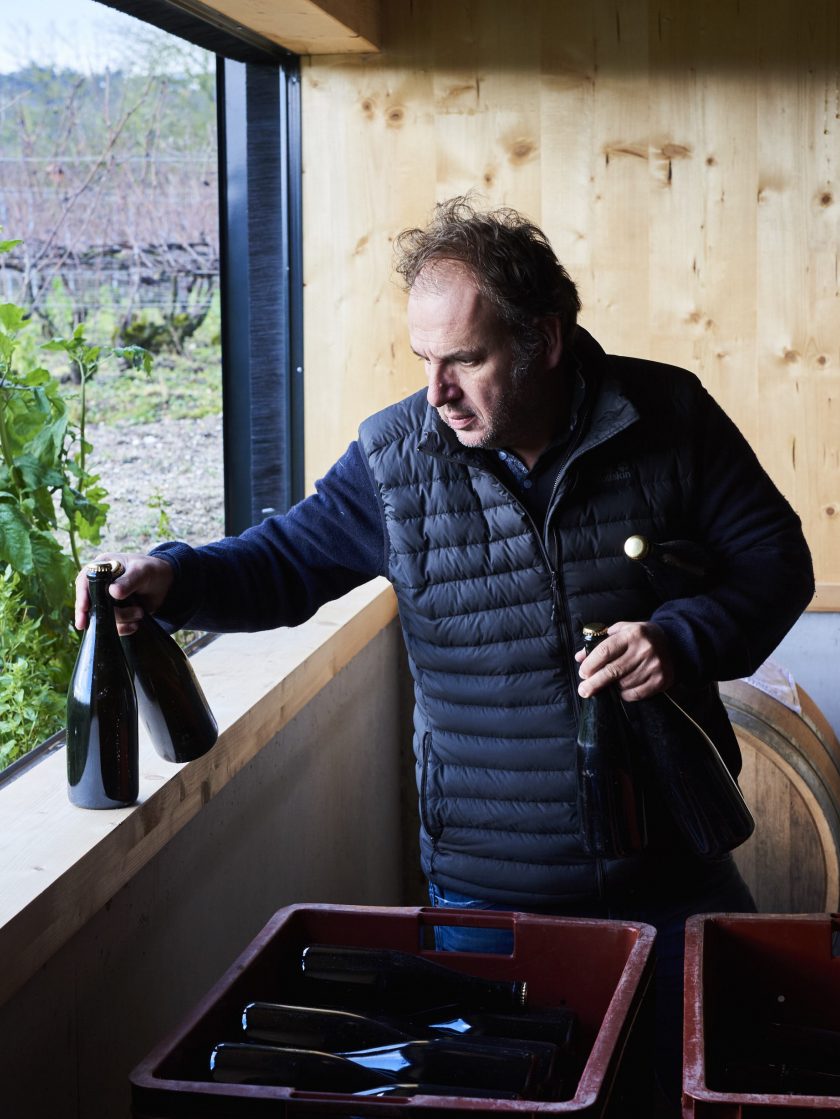 La Closerie,

Jérôme Prévost
| | |
| --- | --- |
| Vigneron | Jérôme Prévost |
| Location | Gueux (Marne) |
| Size of Domaine | 2.2 ha |
| Terroir | Continental climate with Oceanic influence. Light sandy soil and clay-limestone over chalk bedrock. Single vineyard. 120m altitude. |
| Viticulture | Soils are partially hand ploughed, no herbicide or insecticide. Sulphur and copper against mildew/oidium although fungicide might be used in case of extreme pressure. |
| | View La Closerie, Jérôme Prévost wines ↓ |
Jérôme Prévost started in 1987, taking over a 1.5ha parcel of pinot meunier vines in Gueux (to the west of Reims) called Les Béguines inherited by his mother, who spurred him into action by doubting whether he could ever make it as a winemaker. He sold the grapes on to the négoce for the first ten years, primarily because he didn't have a cave. He also worked with Anselme Selosse who allowed him to use his cellars in Avize from where he made Les Béguines from 1998 to 2003. He then made his champagnes in a garage behind his house, before moving in 2018 to a beautifully designed eco-friendly house and cave alongside his vineyard.

Jérôme is an artist at heart, working as a painter as a young man, and then later turning to sculpture and photography. He loves to scour local marché aux puces for tiny objets d'art writes poetry and organises literary celebrations.
Jérôme has an interesting angle when questioned as to whether a vigneron is similar to an artist. "You have to listen to nature with the sensitivity of an artist, perhaps. But then an artist seems to have mastery of their art. A good grower? No – as nature is ultimately the master."
He now works a 2.2ha vineyard where the 55 million years old (Thanetian) soils are deep strata of clays, sands and limestone, that weather out many marine fossils. Planted by massal selection on good rootstock in the 1960s before says Jérôme, "the industrial revolution arrived in the vineyards during the 1970s and clones and chemical solutions became the norm". Yields here are naturally low and give intense fruit, particularly important for the pinot meunier grape, which is not overly perfumed and gives little unless picked ripe. As it is very rarely picked at optimum maturity in the region it doesn't have the reputation that it deserves comments Jérôme.

Viticulture is straightforward although meticulous, light hand ploughing under vine at the end of winter, grass is allowed to grow naturally until summer when it is mowed, sexual confusion is practised against insects. His champagnes are made in an unmanipulated (no unnecessary use of gadgetry and use of electricity avoided wherever possible) natural style with indigenous yeasts, vinification and élevage for 10 months in a mix of new to 13yo barrels of all sizes from 225l to 600l. He neither racks, filters nor stabilises the wine, uses 23g/l for the secondary fermentation, then gives 14 to 17 months bottle age and disgorges with around 2g/l. His bottlings are the ultimate expression of champagne as fine wine, and always repay ageing for several years for anyone who can resist temptation and cellar a few bottles – Jérôme reckons that they start to open out when they are around six years old!
N.B. Concerned about the extreme weather encountered over recent vintages and their potentially devastating effects on yields, Jérôme recently started a mini-négoce. He works in close relationship with a few vignerons, tending some of the vines himself, and applies the same dedication and attention to detail as he does with his own vineyard. First release Autumn 2020 and available in a very limited quantity.
La Closerie, Jérôme Prévost Wines
Jérôme Prévost
LA CLOSERIE (2018)
Les Béguines
90% Pinot Meunier, 10% Pinot Noir, Pinot Gris & Chardonnay
(12.5% alc.)
The initial still wine from the 2018 vintage was oak aged in new to 13yo barrels for ten months, before being bottled and then disgorged in August 2020 at which point 2g/l dosage was added. Rich, vinous, dense, complex and extremely long on the palate but all the time beautifully fresh and balanced. VLQ.
Jérôme Prévost
LA CLOSERIE (2018)
Fac-Simile
90% Pinot Meunier, 10% Pinot Noir, Pinot Gris & Chardonnay
(12.5% alc.)
Jérôme has made this extremely delicately coloured fine rosé from the 2018 vintage, by the addition of one barrel of pinot meunier red wine aged for 11 months and then gently infused and married with the white wine – the idea of doing a saignée just for the sake of colour was not for Jérôme. It's an extremely fine example with layers of delicately perfumed spiced red fruits and an incredible textural finesse. Disgorged 10/20 - Dosage 2g/l. VLQ.
Jérôme Prévost
LA CLOSERIE
100% Pinot Meunier
(12.5% alc.)
This new cuvée comes from a handful of parcels in Gueux on the same Thanetian sands as Les Béguines, some of them tended by Jérôme and his team, others by the owners themselves – always in close collaboration i.e. both the date of harvest and sorting of the grapes are in Jérôme's hands. It is a blend of 80% 2018 (of which 20% comes from Les Béguines) and 20% reserve wine from 2017, vinified and aged in a mix of new to 13yo barrels (all sizes from 225ltr to 600ltr), bottled in spring 2019 and disgorged in the summer of 2020. Recent travelling restrictions have unfortunately prevented us from tasting it (yet!), but knowing Jérôme's eye for detail, this is certain to be another impressive take on Gueux's singular terroir. Disgorged 08/20 - Dosage 2g/l. VLQ.