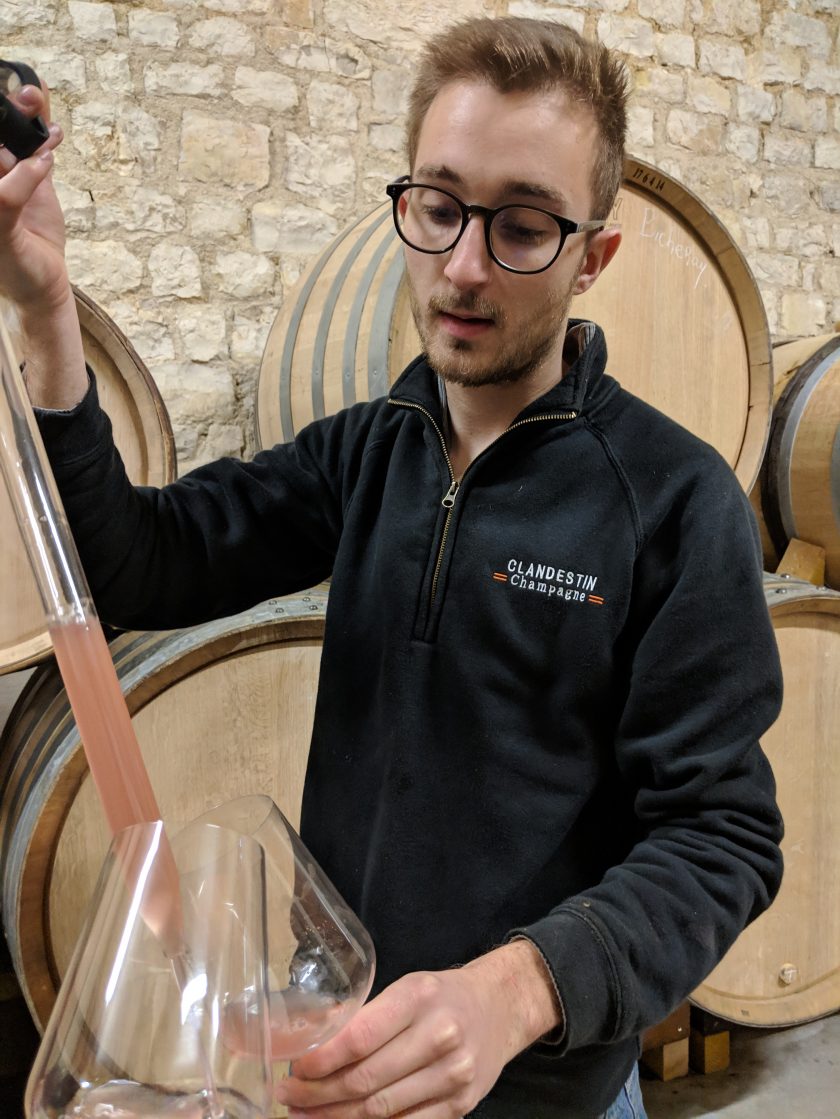 Clandestin
| | |
| --- | --- |
| Vigneron | Benoît Doussot and Bertrand Gautherot |
| Location | Buxières-Sur-Arce (Aube) |
| Size of Domaine | Micro négoce 8ha |
| Terroir | Continental climate. Kimmeridgian clay-limestone soil over hard limestone bedrock, some Portlandian limestone. Gentle slopes, various aspects. 140-220m altitude. |
| Viticulture | Buying from growers organic certified or in conversion. |
| | View Clandestin wines ↓ |
Freshly graduated from the lycée viticole of Beaune in the summer of 2015, the young and talented Benoît Doussot started a joint venture with Bertrand Gautherot called Clandestin. The pair make champagnes in a converted barn next door to Vouette & Sorbée, and the wines are aged in perfect conditions in a newly renovated cave d'élevage – a traditional vaulted cellar, 'sous terre' in the village of Landreville.

Benoît and Bertrand source grapes to showcase similar geological strata in the Côte des Bar, within a 25km radius of Buxières-Sur-Arce – the Gautherots' hometown. They solely buy sustainably-grown grapes, often on cool north-western oriented Kimmeridgian slopes – vineyards mostly overlooked by the Marne-based houses in favour of the southern exposed parcels. Production is gradually increasing, buying from two farmers in 2015 to six nowadays (of whom Bertrand's brother in Buxières has been the principal supplier).
Apart from making stunning champagnes, the main purpose behind Clandestin is helping the local growers through conversion to organics – the aim is to create a movement towards respectful viticulture, and bring the community together.
Benoît grew up in Beaune and trained with Jean-Philippe Fichet while studying – JP could not stop praising his ex-employee the last time we visited him in Meursault – Benoît's attention to detail, passion and Burgundian instincts have enabled him to quickly master vinification 'sous bois' and élevage. Indeed all of the Clandestin wines are vinified and aged in oak, Benoît and Bertrand are big fans of older 500/600ltr barrels – this size allows for reduction which lowers the need for sulphur to the bare minimum (if used at all). "It keeps the wine 'droit' and enhances purity", they explain.
The Clandestin wines are already making waves internationally, and we predict a lot more will be heard about this unique and exciting project.
Clandestin Wines
Clandestin
LES SEMBLABLES (2018)
Austral
100% Pinot Noir
(12% alc.)
The 15-35yo vines grow on different plots – all facing south (Austral) and planted in the same strata of Kimmeridgian limestone, hence the name Les Semblables (the similar ones). The wine was aged in older barrels before being bottled off and kept 'sur lattes'. It offers very pretty wild strawberry fruit on the nose, good balance with plenty of energy, zesty red fruits on the palate with a savoury finish. Disgorged 07/2020 - Non dosé.
Clandestin
LES GRANDES LIGNES (2018)
100% Chardonnay
(12% alc.)
The grapes for this cuvée come from the south-facing lieu-dit of Sorbée in Buxières-sur-Arce, where the limestone is Portlandian, considered one the finest terroir in the area. The viticulture here switched to organic practice in August 2015. Benoît's top cuvée is vinified and aged as per Les Semblables, this champagne has amazing depth and finesse, with tense citrus fruits tethered by notable chalky salinity on the finish. Disgorged 07/2020 - Non dosé.