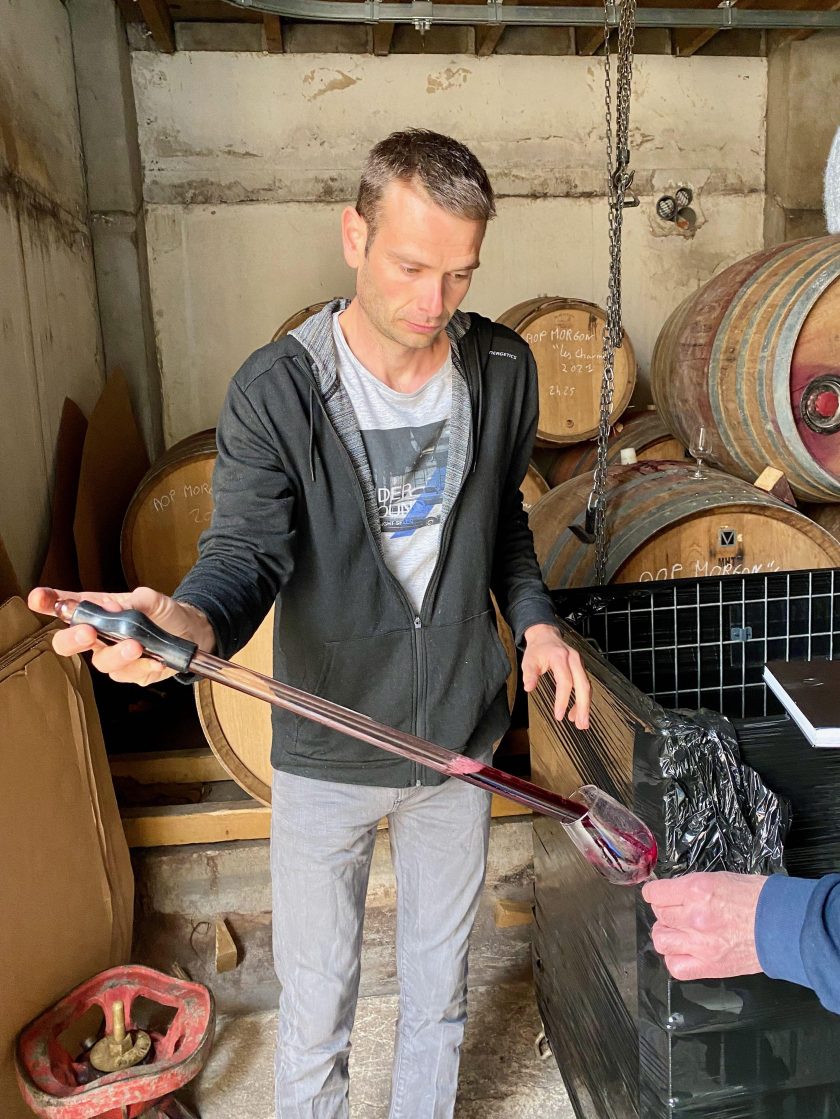 La Bonne Tonne
| | |
| --- | --- |
| Vigneron | Thomas and Anne-Laure Agatensi |
| Location | Villié-Morgon |
| Size of Domaine | 7.5 ha |
| Terroir | Continental climate. Schist, blue diorite and granite on steep slopes up to 40%; silica-rich clay and gravel down the slopes. 200-350m altitude. |
| Viticulture | Certified organic and biodynamic (Ecocert, Demeter) |
| | View La Bonne Tonne wines ↓ |
It was thanks to a tip from Camille and Marie Lapierre that we discovered the wines of La Bonne Tonne. Thomas and Anne-Laure Agatensi have the support of the whole Lapierre family who are full of praise for their endeavours.

The couple took over from Anne-Laure's parents in 2016, it was a bit of a gamble, but one they couldn't walk away from – the wines were being sold in supermarkets and, although he was fascinated by the world of wine, Thomas had neither education nor training. On the plus side, they inherited 3.9ha of very old massal selection in Morgon, split between the finest terroirs: Côte du Py (0.6ha), Charmes (1.6ha), and Grand Cras (1.7ha). Additionally, the vines had been certified organic in 2006 and tended biodynamically since 2007 – thanks to Marcel, Anne-Laure's father.

To rise to the challenge, Thomas went back to school, he studied at the 'Lycée Viticole' in Mâcon-Davayé and did his internship at biodynamic Mâcon producer Domaine de la Soufrandière. He is now in charge of the vineyards at La Bonne Tonne, but Marcel happily lends a hand – especially when reintroducing horse ploughing and propagating cuttings from the 1901 Charmes parcel. Thomas also added 2.6ha of Régnié to La Bonne Tonne's holdings – a dream of his since he grew up in the village – and 1ha of Beaujolais.

Unlike some of his peers, Thomas likes to harvest when phenolic ripeness is reached in order to fully express the potential of each vineyard. "We look for a crunchy, dynamic fruit quality combined with the imprint of terroir", he comments. The grapes are chilled overnight to bring them down to about 10-12C for a slow and even fermentation and keep bacteria in check. Given the natural concentration of the grapes from their low-yielding old vines, Thomas treads gently in the cellar, preferring infusion to extraction. He tends to work instinctively, opting to follow his gut feel when deciding on the length of cuvaison for instance. Semi-carbonic vinification takes place in cement tanks and élevage occurs in a variety of vessels, from fibreglass to barrels and demi-muids, although his preference is for the latter. SO2 is generally eschewed but tiny doses might be added before bottling (max 20mg/l) if the wine is deemed not strong enough.

What Thomas and Anne-Laure have achieved in such a short space of time is really quite special and it hasn't gone unnoticed – the notoriously hard to please French magazine Le Rouge & Le Blanc were full of praise for La Bonne Tonne in their Autumn 2021 issue, with one of the tasting committee confiding to Thomas that all samples were drunk to the last drop afterwards, a rare feat!

La Bonne Tonne Wines
La Bonne Tonne
RÉGNIÉ 2020
Agath' The Blues
Being a Régnié native, it was Thomas' dream to produce a wine from this underrated Cru – this particular cuvée met such praise upon release that it's become a real source of pride for the domaine. The vines are 60yo on average and come from two climats: 0.83ha in Le Mollard (sand and quartz over a pink granite bedrock), and 0.73ha in Buillats (clay). Aged in old barrels and concrete tanks, the sandy soils bring a floral, lifted quality to the nose. The palate is invigorating, showing wild strawberry and a touch of spice, with fine-grained tannins.
La Bonne Tonne
MORGON 2020
Grand Cras
Planted in 1955, the vines sit on ancient alluvial terraces (old river bed) made of silica-rich clay and gravel soils – Le Grand Cras climat is located south of the AC down the Haut-Morgon and Côte du Py slopes. The semi-carbonic maceration lasted about three weeks before spending ten months in 228 and 400ltr old barrels, and another six months in concrete vats after the 'mise en masse'. With yields of around 30hh in 2020, this is dense and concentrated on opening, a bit of air helps the wine relax. There's a savoury quality to it with a long and salivating finish. Hints of cherries and peonies emerge with air, as well as touches of black pepper and liquorice, all framed by fine tannins with a little grip.
La Bonne Tonne
MORGON 2020
Côte du Py
Of the 240ha that constitute this renowned climat, only a third sit on the famed 'roche pourrie' – a soil rich in iron and manganese made from eroded 'blue' schist of volcanic origin (locally named 'les pierres bleues'). Anne-Laure and Thomas are lucky to own 0.6ha of due-south 60-100yo vines with roots digging deep into the layers of schist. The whole bunches went through almost three weeks maceration before pressing and 12 months ageing in 400ltr old barrels. Bottled without SO2, it shows the amazing potential of this site with a sense of verticality and drive that sets it apart. The nose is discreet with hints of freshly picked mushroom, cherries, and gunflint; the palate is dynamic with crunchy, vibrant red fruits and violets, and firm but fine tannins. A lot of class and finesse here – the finish is long and complex showcasing an incredible mineral stamp.
La Bonne Tonne
MORGON 2019
Vieilles Vignes
Planted in 1901 in the prime climat Les Charmes (west of the AC), these are the oldest vines of the domaine. Only produced in the best years with yields that never exceed 15hh due to the age of the vines and the number of 'manquants', this cuvée is as confidential as it gets. The soil here is weathered granite with clay and sandstone over the granitic bedrock. Whole bunch maceration takes place in opened barrels for two to three weeks before pressing in a small vertical press, and ageing occurred in one single 400ltr barrel. The old vines bring a beautiful silky quality to the palate, and the many tannins, though present, seem coated in velvet. Fine and poised, it has a quality reminiscent of a top Volnay 1er Cru with complex notes of red fruits and spices, a long, multi-layered finish with earthy tones of undergrowth and cured meat.