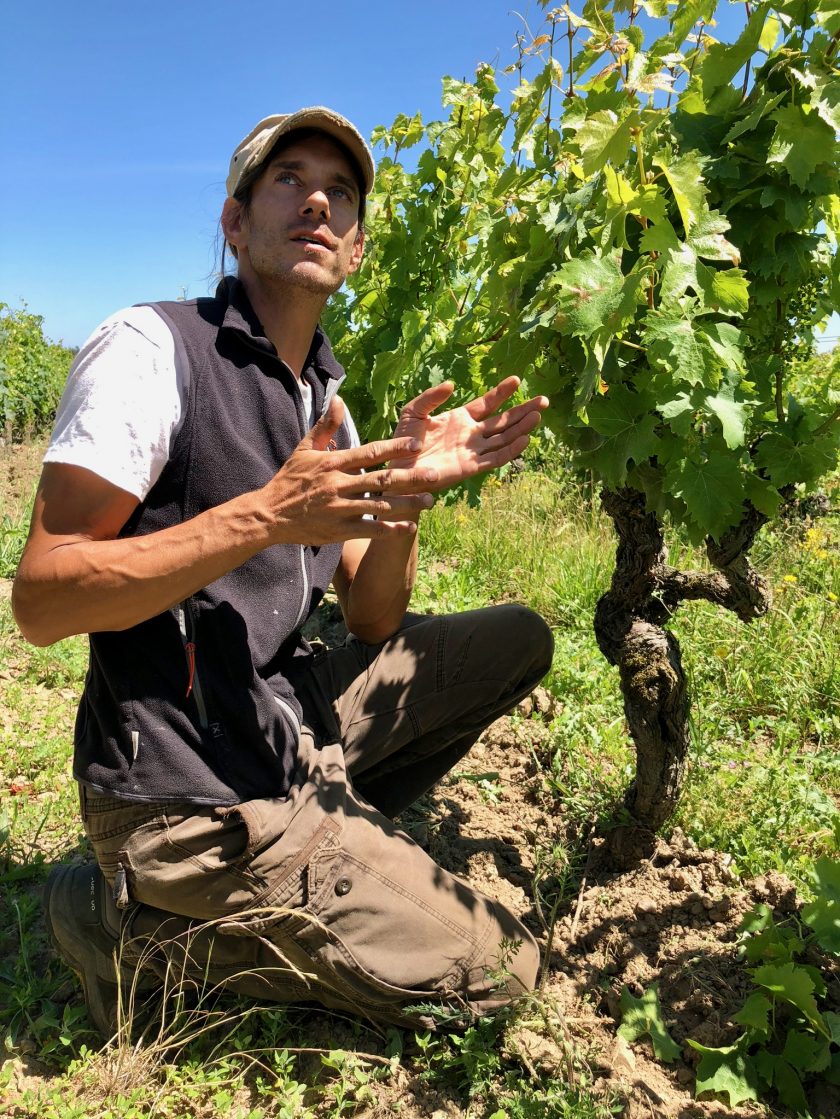 Julien Delrieu
| | |
| --- | --- |
| Vigneron | Julien Delrieu |
| Location | Faveray-Mâchelles (Maine-et-Loire) |
| Size of Domaine | 3.5 ha |
| Terroir | Continental climate with Atlantic influence. Sandy decomposed schist topsoil on schist bedrock, gravel and clay in some parcels. Gentle slopes, 50-100m altitude. |
| Viticulture | Practising biodynamic |
| | View Julien Delrieu wines ↓ |
We first met Julien in 2014 when he was the driving force behind Les Roches Sèches, a domaine he created with two friends before splitting up in 2017, at which point he set out on his own with 3.5ha of vines around Faveraye-Mâchelles.
Julien is a kind, sensitive and soft-spoken vigneron with a strong thirst for knowledge: as well as being a bee-keeper (a passion depicted on his labels), he studied winemaking in Dijon, brewed beer with monks in Belgium, made cheese in Italy and researched sake yeasts in Japan!

Returning to France he chose the Loire for its proximity to Brittany (where he grew up), and worked with two Vouvray growers, Vincent Carême and Sébastien Brunet, before settling down in the black Anjou. Moved by wines from Richard Leroy and Mark Angéli among others and enthralled by the electric quality of chenin on schist, Julien chose the (then) affordable Coteaux du Layon for his first project, Les Roches Sèches, in 2010.
Nowadays Julien rents a barn at the back of a farm, a rudimentary and DIY set up where wild-yeasts fermentations are carried out in fibreglass and oak, and sulphur is kept to a bare minimum if used at all. Planted in 1973 and 1955, his vines are scattered around five lieux-dits and they have been farmed organically for many years; the yields are low giving top-grade grapes which in return produce characterful wines.
Julien does have a special touch and the 2018s, his first solo effort, are a joy to drink with incredible sapidity despite the vintage's heat. A 'grand vigneron' in the making.
Julien Delrieu Wines
Julien Delrieu
PONT BOURCEAU 2020
Vin de France
100% Chenin Blanc
(12% alc.)
Most of the grapes come from the lieu-dit Pont Bourceau planted in 1973, with a touch of Le Jeau planted in 1955. It was fermented in fibreglass, 25% was aged in 228ltr barrels (bought from local hero Stéphane Bernaudeau), then bottled with 10mg/l sulphur in March, no fining or filtration. Fresh and quaffable there is a schist stamp which brings drive to the palate.
Julien Delrieu
LE JEAU 2021
Vin de France
60% Grolleau, 40% Cabernet Franc
(12.5% alc.)
This is a blend of two different lieux-dits: Le Jeau a west-facing schist slope overlooking the tiny Lys river, and Saint-Martin on deep gravelly soil with a good proportion of clay. Each variety is vinified separately in fibreglass vats, whole bunches are foot-trodden and ferment for a week with one pigeage a day by hand. Bottled on March 29th without fining or filtration, 20mg/l sulphur added. A delicious spicy and juicy fruit with surprising freshness for the vintage.