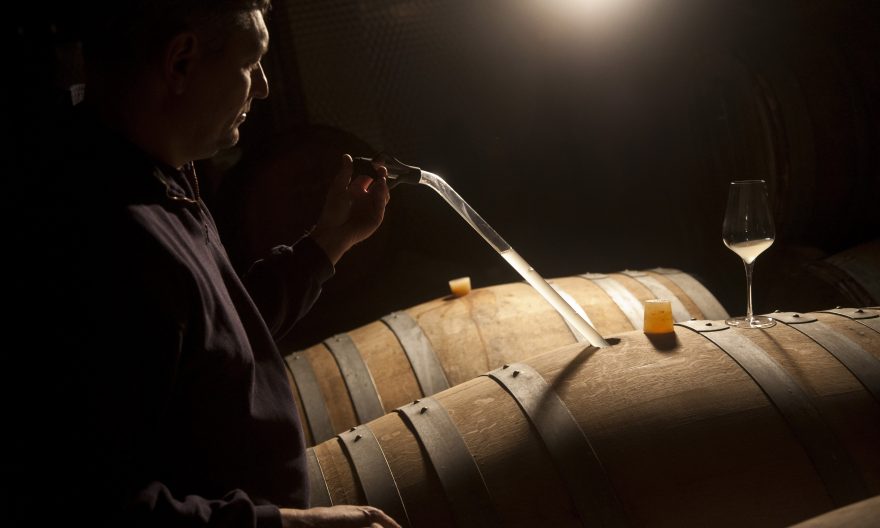 Jacques Lassaigne
| | |
| --- | --- |
| Vigneron | Emmanuel Lassaigne |
| Location | Montgueux (Aube) |
| Size of Domaine | 6 ha |
| Terroir | Continental climate with Oceanic influence. Shallow clay-limestone topsoil over upper Cretaceous chalk, some flint. Up to 20% slope, mostly south facing. 150-250m altitude. |
| Viticulture | Natural grass cover, light hand plough under vines. No herbicide, insecticide or fertilizer, sulphur and copper against mildew/oidium although fungicide might be used in case of extreme pressure. |
| | View Jacques Lassaigne wines ↓ |
Emmanuel Lassaigne owns a small holding (3.5ha) of old vine chardonnay, in the isolated village of Montgueux to the west of Troyes, also complementing this by buying grapes from trusted sources – 2.5ha of old vines planted on the slopes where he doesn't own vineyards in the village. Here there is a Cretaceous strata of chalk, 15 million years older than in the Côte des Blancs.
Back in the 1970s his father Jacques, together with three brothers, became only the second family in Montgueux to own a press (Champagne Beaugrand, still in operation today, was the first). The estate sold both grapes and bottles of champagne before running into financial difficulties in the late 1990s. At this point in 1999 Manu ditched a successful job with an international manufacturing company and came home to help his parents, motivated both by the prospect of his family losing the estate and also by a sense of frustration he felt at the lack of recognition for Montgueux. Most of the other areas in Champagne can point to centuries of wine-making history – Montgueux can't, and even when the négoce bought grapes from the village they tried to hide the fact. Manu explains, "To buy so much fruit and then deny it is not fair. I thought we must put Montgueux on our bottles and be proud of our terroir. I was born here. If people say where you were born is shit and you disagree, well you are motivated to do something about it".

To buy so much fruit and then deny it is not fair. I thought we must put Montgueux on our bottles and be proud of our terroir. I was born here.
The estate used to sell all the wines it produced at the door to the public, but with a clear vision, Manu changed this policy opting to look to the best restaurants and retailers to buy his champagnes, analysing what helped champagnes complement cuisine rather than just serve as an aperitif. It was a big risk. "By the end of 2002, I only had two customers, so it was not easy!" He also made changes in the way the domaine's vines were tended and in how the wines were made and packaged. Many changes were small and implemented on the back of his direct experience, and this gradual evolution is constant today. As Manu puts it, "Each step is a detail. One detail doesn't change anything. But all details together make a big difference".
In the vineyards biodiversity and healthy soils are paramount for Manu. Grass is allowed to grow and then pinned down with a rolofaca to create a mulch, the soils are lightly worked by hand 'sous le rang' only, and a good proportion of the vines are weaved as opposed to trimmed. He works only with old vines and in the winery each parcel of grapes is kept separate, sulphur is added only at the press, most of his wines are cuve aged (a small proportion of oak is used to benefit texture in LVDM and Le Cotet), although there are two micro-cuvées La Colline Inspirée and Clos Sainte-Sophie aged 100% in barrels. He doesn't fine or filter, uses a very low 20mg/l for the secondary fermentation, disgorges by hand and adds no dosage. "The only goal here is to catch and keep the aromas of the terroir, that's the sole focus". As well as the domaine's emblematic cuvée Les Vignes de Montgueux, Le Cotet, Millésime and La Colline Inspirée, Manu also produces the occasional rare and experimental bottlings, and makes a quite brilliant Coteaux Champenois that is only released in ripe vintages.
There is a restless energy about Manu – every year he pushes the bar a little higher for himself and makes life more difficult but consistently interesting… and the champagnes that emerge are just exquisite. Blessed with a wicked sense of humour, with a naughty glint in his eye, and generous to a fault, he is also the uncrowned master of epic visits - be prepared for something quite out of the ordinary if ever you get the chance!
Jacques Lassaigne Wines
Jacques Lassaigne
LES VIGNES DE MONTGUEUX
100% Chardonnay
(12% alc.)
Comprising fruit from eight different terroirs on the hill of Montgueux, LVDM is based on 2017 with about 60% wines from 2016 and 2015, Emmanuel is forever restless in his search for improvements, and this cuvée is more complex and vinous than ever given greater use of reserve wines. This has ripe citron fruit with exotic notes, lovely salivation with great play on the palate and terrific texture. Just 20g/l for the secondary fermentation, it has a very fine gentle bubble. A pinch of SO2 at press only. Zero dosage although Manu prefers to label it as Extra Brut (like Le Cotet). Disgorged 07/20.
Jacques Lassaigne
LE COTET
100% Chardonnay
(12% alc.)
This lieu-dit cuvée comes from 0.6ha of 45yo vines. It's a blend of about 75% 2016, 15% of oak aged 2015 and 10% 2014, 2013, 2012, 2011, 2008, 2006, 2004 and 2002 finished bottles of le Cotet that Emmanuel has opened up and 'remis en cercle'. It has a very pure, bracing fruit (making for a superb apéritif) mixed with hints of honeysuckle, straw and hazelnut, an amazing complexity from the older wines. Disgorged 09/20 - Non dosé. VLQ.
Jacques Lassaigne
MILLÉSIME 2010
100% Chardonnay
(12% alc.)
This is a blend of old vines in Lassaigne's three top vineyards of Les Paluets (40%), Le Cotet (40%) and La Grande Côte (20%). It is always vinified 100% in stainless steel which Emmanuel feels captures the purest expression of the terroirs. This has excellent balance with peach, stewed lemon and mango fragrantly ample and inviting, with an intense, detailed stony chalkiness (from Le Cotet). As this ages it takes on a Meursault character, a stunning wine finely showcasing the power of Montgueux. Disgorged 09/19 - Non dosé. VLQ.
Jacques Lassaigne
LA COLLINE INSPIRÉE
100% Chardonnay
(12% alc.)
The 'Inspired Hill' is the one main cuvée produced by Manu that is vinified and aged in oak, in this instance from 15 x 228ltr Burgundy and 1 x 500ltr older barrels. It is a blend of vintages, from 2013 (48%), 2012 (35%) and 2011 (17%). The grapes come mainly from the lieux-dits Haut Revers du Chutat and Grand Côte (plus five other plots across the hill of Montgueux). It was bottled off in May 2015 and disgorged 'a la volée' (by hand) without dosage in May 2018. It has perfectly integrated the oak, the fruit mixes stewed lemons, tropical fruit and hazelnut, it is rich and textural, perfectly balanced by a lovely saline cut on the finish. VLQ.
Jacques Lassaigne
CLOS SAINTE-SOPHIE 2013
100% Chardonnay
(12% alc.)
Clos Sainte Sophie is one of the 13 official Clos in the whole of Champagne (think Clos du Mesnil, Clos des Goisses etc), and the only one located in the Aube. Enclosed by walls and a towering iron gate, it reached such a level of fame towards the end of the 19th century (long before Montgueux was officially included in the appellation) that in 1886 two Japanese gardeners were sent to study the Clos. A hundred cuttings were taken from the 20 varieties planted at the time, and they were used to plant the first vitis vinifera vineyard on Mount Fuji. "A befitting story for the best vineyard in Montgueux" as Manu puts it. There's almost no topsoil here so the roots plunge deep into the Cretaceous chalk. Manu selected the oldest parcels of chardonnay (planted in 1968 and 1973), and chose to vinify them in 500ltr barrels previously used to age Burgundy, Jura, and even Cognac. There is such strength, concentration and energy in this wine that the élevage is barely noticeable. It is deep and structured, tightly coiled, with impressive dry extract and a tannic-like chalkiness. It displays Mongueux's typical exotic perfume in a restrained manner, with intense iodine notes, it'll be very interesting to follow this wine over the next decade. Disgorged 02/20 - Non dosé. VLQ.
Jacques Lassaigne
SOPRANO, ALTO, TENOR
Acte IV Scènes 1, 2, 3
100% Chardonnay
(12% alc.)
Manu makes a few one-off wines privileging experiment and an off-the-beaten-track spirit, these special bottlings are labeled as acts and scenes. Soprano, Alto and Tenor are part of Acte IV, a trio of cuvées differentiated by a single detail, the length of time they spent in barrels before bottling. Harvest took place on 17 September 2012 in La Grande Côte, a south-east facing plot that sits just below Le Haut Revers du Chutat. Planted in 1963, the vines sit on a very shallow layer of silty clay over chalk, soaking up the sun from dawn till dusk. The grapes were loaded into a single Coquard press and the juice transferred into three 500ltr barrels. The first barrel was bottled after 8 months ageing on the lees (Soprano), the second one after 20 months (Alto), and the third one after 32 months (Tenor), and all three spent the best part of five years resting in bottle 'sur lattes' before disgorgement without dosage. It will be fascinating to see how these three wines evolve over time, and whether they will become more alike as time passes by. An amazing opportunity to delve deep into Montgueux and better understand the impact of élevage on terroir expression. Soprano (Scène 1) – bottled 05/13, disgorged 02/18. Alto (Scène 2) – bottled 05/14, disgorged 02/19. Tenor (Scène 3) – bottled 05/15, disgorged 02/20.
Jacques Lassaigne
COTEAUX CHAMPENOIS 2017
Haut Revers du Chutat
100% Chardonnay
(12% alc.)
This exceptional still wine is only made in limited quantities in riper vintages (2010, 2015 were the previous versions) when the juice naturally hits an alcohol level (12.2%) that is too high to produce champagne. Made from vines planted in 1968 at the top of a south facing limestone slope, aged in six older fûts and a 500ltr barrel for 22 months, the balance of this wine is exemplary, putting many fine Côte de Beaune wines to shame. It shows exotic ripe fruits cut through with a vein of acidity and an electrifying stamp of saline minerals. Very low sulphur. For drinking now to 2027.