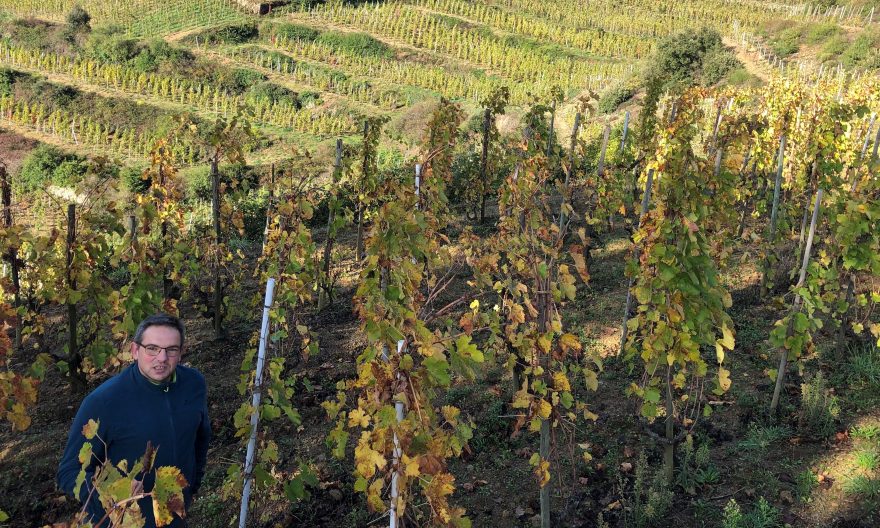 Guillaume Gilles
| | |
| --- | --- |
| Vigneron | Guillaume Gilles |
| Location | Cornas (Ardèche) |
| Size of Domaine | 5 ha |
| Terroir | Continental climate, Mistral (northern wind) influence. Granite with limestone and clay, decomposed granite, on very steep terraced slopes. 200-350m altitude. |
| Viticulture | Certified organic |
| | View Guillaume Gilles wines ↓ |
Although Guillaume Gilles was born in Lyon, from the age of eight he dreamed of following in the footsteps of his grandfather Marcel Juge, a highly-respected vigneron in Cornas.
The opportunity presented itself in 2000 when Robert Michel, a leading grower in the same appellation, offered him a job as an apprentice. He worked with Robert until his retirement in 2006, followed by a stint for Jean-Louis Chave in Hermitage before striking out on his own in 2007 and finally renting 2ha from Robert in the fine lieu-dit of Chaillot. Here the vines average 40yo with a myriad of massale clippings and clones (planted by Robert) in the plots of Les Terrasses and Les Grands Murs on extremely steep south to south-east facing slopes.

My job is to try not to screw it up in the cellar by interfering as little as possible
Guillaume now farms a total of 5ha, mostly in Cornas, including one that he planted in the lieu-dit Les Rieux at 400-450m altitude, from which he makes a more delicate and perfumed version of Cornas that rarely goes above 13% alc. He's also planning to build his winery and house there to be immersed in nature, as it's such a magical place with breath-taking views over the valley and its vineyards. For now he still vinifies and barrel ages his wines underneath Robert Michel's house, in an old atmospheric cellar in the centre of Cornas at Number 1 Grand Rue.

Guillaume's approach in the vineyard is impeccable, in his 30s he works like a dynamo to help his vines produce the best fruit possible. Everything is done by hand, he became certified organic from 2020, the soils are ploughed (although only lightly and infrequently during the recent run of warm vintages) by a mix of horse, tractor, trident plough and winch. The vines are pruned to limit yields to about 35hh.
Having learned the trade from such purists as Robert Michel and JL Chave, it's no surprise that Guillaume sticks to the traditional way and ferments his reds with whole bunches, he also follows a hands-off approach in the cave with native yeasts fermentation, and no fining or filtration. "My job is to try not to screw it up in the cellar by interfering as little as possible", this is the way he puts it. SO2 is added after completion of the malos and rectified at bottling (around 50mg/l total). Ageing occurs in older demi-muids and 400ltr barrels for 18 months in perfect conditions.
Surprisingly approachable in their youth, but with the capacity to age extremely well, his wines have a true Cornas character, classy bottlings with outstanding quality. A future star in the making.
Guillaume Gilles Wines
Guillaume Gilles
CORNAS 2018
Les Rieux
Guillaume purchased Les Rieux in 2010, the land never held vines before and was mainly planted with massales from Les Bessards (Hermitage). Sandy granitic soil to the south west of the appellation at 400-450m, the south-facing vines soak up the sun throughout the whole day. Guillaume gave this wine a shorter cuvaison otherwise vinified and aged in the same way as the Chaillot cuvée. Showing really well already despite the young vines, it is very floral (violets), supple and elegant but with a distinct mineral stamp. Excellent value. For drinking now to 2025.
Guillaume Gilles
CORNAS 2017
Chaillot
From the exceptional climat of Chaillot where a myriad of massal clippings and different clones were planted by local legend Robert Michel. Very steep S/SE facing slopes, specifically the lieu-dits of Les Terrasses (1.2ha on pure granite planted in 1978), Les Grands Murs (0.7ha on granite with loess and sandstone planted in 1976), and La Combe (0.5ha on granite with clay planted in 1981). The cuvée La Combe de Chaillot will not be made anymore as the vines are now of age and the wine is so good that it incorporates into the senior cuvée Chaillot, adding depth and complexity to the assemblage. The bunches were kept whole and the wine has been aged in two-thirds 400ltr barrels and bottled without fining or filtration. A seductive nose, lovely weight of rich red/black fruit and liquorice on the palate, imprint of terroir, notably irony and very fine tannins – it's all very harmonious, un grand vin! For drinking now to 2035.