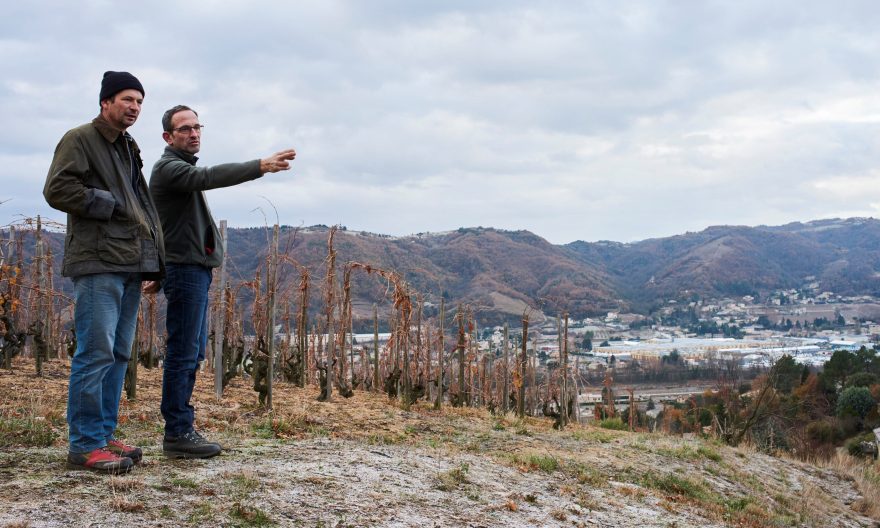 Pierre Gonon
| | |
| --- | --- |
| Vigneron | Jean and Pierre Gonon |
| Location | Mauves (Ardèche) |
| Size of Domaine | 10 ha |
| Terroir | Continental climate, Mistral (northern wind) influence. Decomposed granite, gneiss, calcareous limestone, ancient Rhône alluvium and loess on granite bedrock. Steep terraced slopes overlooking the Rhône, 180-280m altitude. |
| Viticulture | Certified organic (Ecocert) |
| | View Pierre Gonon wines ↓ |
Pierre Gonon was a mainstay at Mauves for many years, making quietly understated wines. He was joined by his two sons Jean in 1986 and Pierre in 1988, with the brothers sharing most tasks. Their father had to retire early due to ill health in 1989, and since then the brothers have worked with a passion to raise this domaine to the point where it is now generally considered as the leading domaine in Saint-Joseph.

The brothers initially made wines from two cramped cellars, but in 2002 they finished construction of a new winemaking cave, still linked to one of the two ancient, atmospheric cellars. The domaine's vines are planted in the original heart of the St-Joseph appellation, the granitic terraced hillsides of Mauves and Tournon (a good number of the vines in Mauves were planted by German prisoners of war during the second world war), and their wines came from these two sources until 2004 when they started renting old vines in St-Jean-de-Muzols from the legendary Raymond Trollat – they eventually purchased 3ha from Raymond (which now represents around 40% of their main red cuvée).

And Jean explains, "the St-Jean-de-Muzols granite is composed of very small particles and isn't as rich as the Tournon soil, indeed the Tournon granite contains some 'mica' and has larger grains, as well as some clay – it's less degraded." Obviously these differences are translated into the different wines and bring complexity as well as depth to the final blend.
All the vines that go to make the red St-Joseph are from 'sélection massale', no clones are used whatsoever. They plough by horse wherever they can – a Jura Comtois breed called Samson took the strain when we spent a week working in the vines in June a few years ago. They do so in around 50% of the vineyard, and when it is too hot or steep for a horse the brothers use a trident plough attached to a cable and winch, plus a small caterpillar tractor.
Yields are in the low 30hh on average, and after picking the grapes are destalked on average 85%, transferred by conveyor belt directly into ancient wooden vats, punched down by foot twice a day during a 2-3 weeks fermentation, with one remontage a day during the cuvaison. They are then aged for 12 months minimum in new to 15yo 600ltr demi-muids, assembled in cuve for 5 months before bottling unfined and unfiltered at the end of February with a low total sulphur level of around 40mg/l.
As well as the main cuvée of red, they produce an excellent white St Joseph from marsanne and roussanne planted on the lower slopes of Mauves in the Les Oliviers vineyard, in soils of ancient Rhône alluvium and some loess on a granitic bedrock. They occasionally bottle off one demi-muid from the old Raymond Trollat vines in St Jean de Muzols, but this cuvée is quite anecdotal – an allocation of 12 bottles per importer when the brothers choose to release the wine! They also make a syrah cuvée called Les Iles Feray that comes from parcels of young vines, and a little old vines chasselas from the Trollat vineyards too.
We met Jean and Pierre in 1992, just three years after Vine Trail was born in 1989, the same year the brothers took over from their father. Watching them grow and develop to become one of the Northern Rhône's leading domaines and the reference point in St-Joseph has been an immense joy.
Pierre Gonon Wines
Pierre Gonon
ST-JOSEPH 2020
Les Oliviers
80% Marsanne, 20% Roussanne
(13.8% alc.)
Les Oliviers, just to the north of Mauves, has a soil of ancient Rhône alluvium and some loess on a granitic bedrock. Harvested from August 26th, it was aged for a year in 228ltr barrels and then assembled in a stainless steel vat for a further three months before bottling in December. There's a beautiful balance in 2020, a lot of class, and a welcome lower 13.8% alc – the east part of Les Oliviers gives freshness from soil and exposure. Textured, complex fine orange zest and brioche notes, with a noble bitterness, anis, salinity and ginger on the finish, with more freshness than usual. As Jean noted, "there's usually more exuberant fruit such as apricot, but this year it's a root wine with gentian, and lovely bitter notes." Total sulphur 60mg/l.
Pierre Gonon
ST-JOSEPH 2020
This bottling incorporates 3ha of 80yo vines purchased from the legendary Raymond Trollat in St-Jean-de-Muzols (representing around 40% of the wine). Jean notes that no clones are used at all now for this wine, just massal selections. Made from 90% whole bunches in 2020, harvested from August 26th. A really beautiful dark, black cherry colour that extends right out to the edge, right from the start the class and elegance of the 2020 is evident. It's so harmonious with blackberry fruit and notable tapenade and liquorice, a perfect 13.03% alcohol, much more freshness and cut than 2019, and then an irony grip on the finish with the palate staining quality typical of fruit from St-Jean-de-Muzols. The dry extract and mineral print from this vineyard are phenomenal and provide a perfect backbone to help the wine age very well – as a guide Jean Gonon recommends six years. Fined by egg white but unfiltered. For drinking from 2023 to 2030+.
Pierre Gonon
ST-JOSEPH 2015
Vieilles Vignes
The Gonon brothers made this wine from vines purchased from Raymond Trollat that were planted in 1910 and the 1920s on the steep hillsides of Saint-Jean-de-Muzols (where the soil is a crumbly granite). It's a confidential cuvée made from time to time (the last vintage before this was 2010), to evidence what their work on the exceptional terroir of St Jean de Muzols can produce in the best vintages. They produced just one demi-muid of this dark, inky purple coloured wine. It has a brooding nose with ripe black raspberry, cassis and violets as well as vibrant notes of white pepper, allspice and smoky minerals, all part of an astonishingly complex bouquet. The palate presents stylish fruit, effortless 'gras', richness, with snug tannins that fit like a glove. The juice is elegant, the tannins are excellent, with a finish that is like essence of crumbled stone with an irony core, that sucks the saliva out of the mouth. This is complete, total, long-lived wine. Jean told us that he had no idea when this remarkable but extremely small-production wine would be released (and importers will be lucky to be offered even one case) but he did say that he didn't expect that he and his brother Pierre would be in any rush to do so. For drinking to 2040.
Pierre Gonon
PAYS DE L'ARDÈCHE IGP 2020
Les Iles Feray
The Gonon brothers use juice from their youngest vines in St-Joseph for this really good IGP, giving it less full bunch maceration (50% in 2020). The nose shows mulberries and raspberries, with some bacon fat, and the palate bears a concentrated heart after a bright attack, there's evident sun in this with mineral notes and iron, and finely grained, nicely integrated tannins. It has character, more forward and 'pointu' than the St-Jo, like a ripe Crozes from Gervans – the northern granitic sector of that appellation.