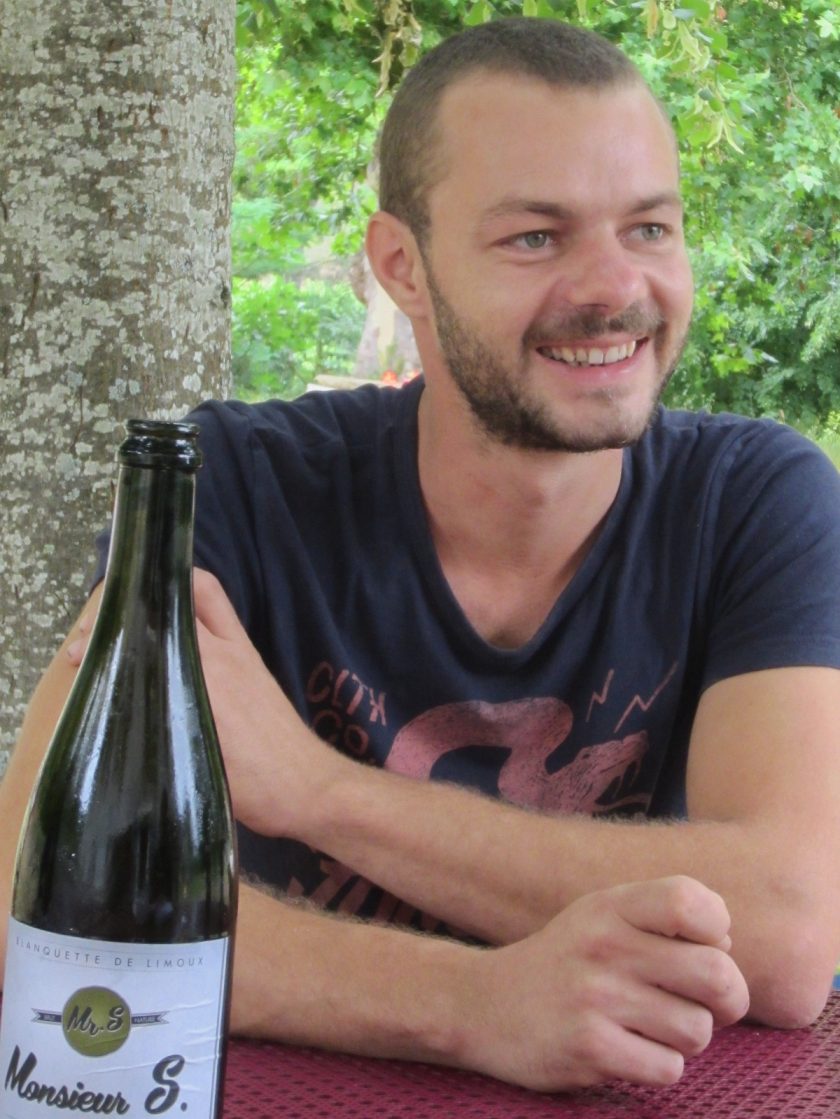 Étienne Fort
| | |
| --- | --- |
| Vigneron | Étienne Fort |
| Location | Bouriège (Aude) |
| Size of Domaine | 11 ha |
| Terroir | Mediterranean climate with Atlantic influence. Clay-limestone soils. 20-30° slopes. 450m altitude. |
| Viticulture | Practising organic |
| | View Étienne Fort wines ↓ |
Prior to 2011, in his early twenties, Étienne Fort used to sell the high-quality grapes from his family's property, the Château St Salvadou, to the local co-op where they ended up in a generic sparkling wine.
With 11ha of older low-yielding vines in deep limestone-clay soils located at 450m altitude (the highest blocks of vines in the appellation), Étienne knew that the fruit he was giving away was a cut above. So he decided to produce his first domaine bottled Crémant and Blanquette de Limoux in 2013. Inspired by great champagnes from the likes of Anselme Selosse, all farming is respectful of his exceptional terroir and the fruit is harvested manually.
Dad wanted Etienne to call the domaine Château St Salvadou, but tagging them S (Monsieur S) was as far as Etienne would go.
The Blanquette cuvée spends 12 months 'sur lattes' before release while the Crémant sees 24 months on lees – emulating the best Champagne growers. They are made without any dosage which leaves them dry, refreshing, saline and very expressive of their regional identity.

Étienne Fort Wines
Étienne Fort
LIMOUX 2021
Samo
100% Chardonnay
(12.5% alc.)
SAMO, this is named after Jean-Michel Basquiat's political and poetical graffitis in late 1970s NYC – Étienne is a fan! A still wine Limoux AC made from 40yo massal-selected vines at high altitude (the two plots are respectively at 400 and 520m), this was vinified and aged in older demi-muids for 10 months. It retains an incredible freshness and limestone-induced acidity, well balanced and at ease (with low SO2), this puts us in mind of good Jura chardonnays – pure pleasure and top value for money.
Étienne Fort
BLANQUETTE DE LIMOUX
Monsieur S
Étienne Fort makes brilliant sparkling wines by the 'méthode traditionnelle' (as for champagne), from parcels at 400-500m altitude on limestone soils in the foothills of the Pyrénées. This is based on the 2020 vintage which was aged for six months in cuve, some reserve wine from 2019 was added before being bottled off for ageing 'sur lattes' – disgorged in March 2022 with no dosage, this exceptional value fizz has a fine bubble, and fruit-forward spicy flavours typical of the local mauzac variety.
Étienne Fort
CRÉMANT DE LIMOUX
Monsieur S
65% Chardonnay, 25% Chenin, 10% Pinot Noir
(12.5% alc.)
Étienne's Crémant is a more complex sparkling wine (compared to the Blanquette), sourced once again from low-yielding vines at high altitude which helps preserving freshness and cut. Wild yeast fermentation in wooden foudres, 12 months ageing in old 'demi-muids' before being bottled off for second fermentation and ageing 'sur lattes'. This is based on the 2020 vintage with some reserve wine from 2019, disgorgement in April 2022 with zero dosage – the wine has attractive citrus fruits, syllabub and lime blossom, a limestone-induced saline freshness and gentle bitters on the finish.