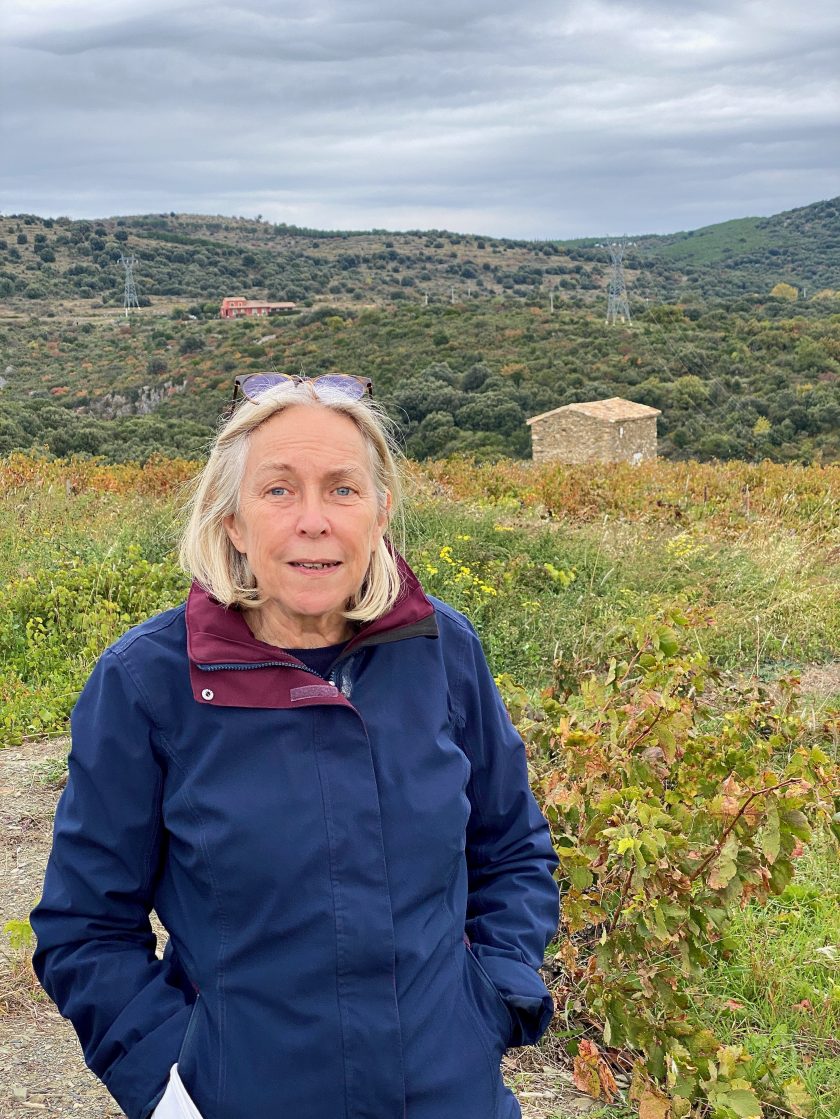 Domaine de Cébène
| | |
| --- | --- |
| Vigneron | Brigitte Chevalier |
| Location | Faugères (Hérault) |
| Size of Domaine | 10.5 ha |
| Terroir | Mediterranean climate. Schist from the Carboniferous. Coteaux and terraces, various expositions. 250-320m altitude. |
| Viticulture | Certified organic (Ecocert), practising biodynamics. |
| | View Domaine de Cébène wines ↓ |
In 2006, well-known oenologist Brigitte Chevalier purchased a few hectares of gnarled old vines in Faugères north of Béziers. The qualitative and dynamic Faugères AC is renowned for its "grand terroir de schiste" – thin soils developed on underlying schist, here evident in brittle, thin layers, with lots of iron. A geological homogeneity which makes for characterful and age-worthy wines with verticality and sapidity.
Another big draw for Brigitte was the altitude and cool climate of the AC, swept by winds coming down from the Massif Central via the Haut-Languedoc, "I've always wanted to make vin du nord in the south!", she likes to state.


Nowadays she farms 10.5ha with the help of her husband Pierre Roque, a local consultant in agronomy and oenology. She mostly owns parcels on north-facing hillsides, either terraced or planted 'en foule' (ancient bush vines), and located at the northern border of the appellation around 300m altitude. Adept at preserving biodiversity and traditions she saved a few old parcels from being grubbed up, working them by hand (light 'griffages' with a hoe) and using them for massal selections.
She also favours the blend of different varieties in her wines with a special affinity for mourvèdre which "might be the most suited grape for the local schist, it's a bit like the yin and yang, that particular soil tames down the power of mourvèdre."

Working with very low yields of around 20hh, Brigitte harvests by hand, uses different percentages of whole bunches (average 50%) for each fermentation in stainless steel; extraction is gentle with no 'remontages' whatsoever and only a few 'pigeages', ageing occurs in vats and in bottle (often for a few years before release). From the 2014 vintage Brigitte moved her operations from a cramped space in the nearby village to her own gravity-fed cellar, dug out of a hillside and surrounded by her own 100yo bush vines of carignan. The wines gained in precision and depth which allowed her to further reduce the level of SO2, only 20mg/l is added at bottling following a light filtration.
After many years of hard work and dedication the gentle and soft-spoken Brigitte is at the top of her game, she makes superb terroir-driven wines that age beautifully and represent astonishing value for money. In doing so she has become one of the stars of Faugères, arguably Languedoc's most distinctive and exciting appellation.
Domaine de Cébène Wines
Domaine de Cébène
FAUGÈRES 2017
Les Bancèls
60% Syrah, 20% Mourvèdre, 20% Grenache
(14% alc.)
Les Bancèls, old patois for terraces, is an extraordinary 1ha north-facing (NE to NW) vineyard terraced by "les anciens". They carved into a rocky schist hillock (320m) following the elevation contours to prevent leaching of the soils. This is one of Brigitte's favourite plots to work on for its "vibration and energy" as well as the stunning panoramic view. Mainly syrah and some grenache were replanted a little more than 20 years ago, and Brigitte blends them with mourvèdre from a due south-facing plot. The terroir and power of schist help to imbue the fruit with a signature stony mineral flavour. Black cherry and blueberry fruit is abundant and dense, with spicy and wild garrigue notes, and this wine opens out really well with a good carafeing (or enough bottle ageing). For drinking now to 2027.
Domaine de Cébène
FAUGÈRES 2018
Belle Lurette
85% Carignan, 10% Grenache, 5% Mourvèdre
(13.5% alc.)
This wine is based on the 6ha parcel of 70-100yo vines surrounding the cellar, Brigitte purchased the plot when the former owner was thinking of digging the vines up. The parcel yields just two bunches per vine and two vines make one bottle of wine! The vineyard is planted in an iron imbued schist, it mainly faces due north at 300m altitude and is regularly swept by the cool Tramontane. Made from two-thirds whole bunches and cuve aged, this has exceptional balance, length and verticality – a typical feature of schist. It is savoury, earthy, spicy and tastes very close to the grapes; a stunning wine that will benefit from carafeing, bottle ageing and big glasses. "Il y a belle lurette" is a French saying referring to the old times – a wink to the venerable age of the vines. For drinking now to 2028.
Domaine de Cébène
PAYS D'OC IGP 2016
Ex Arena
90% Grenache, 10% Mourvèdre
(13.5% alc.)
The only wine in the range not made from vines on schist – ex arena means 'from sand' in Latin – it takes its name after the deep bed of sandy marine deposits in Corneilhan, 25km south of Faugères closer to the Mediterranée. Yields are very low, between 10 to 20hh. Vinified and aged in cuve, this wine has a lovely dark plum but translucent colour. A 100% whole bunch fermentation provides an excellent structure, and the wine has spicy, black cherry fruit with a most attractive freshness.